The festival of Raksha Bandha needs no introduction as it's the day on which siblings rejoice their exciting yet sour and sugar mixed relationship with brothers and sisters. Pertaining to this naughty relationship siblings share, many online rakhi stores all over the world have started offering online rakhi delivery services.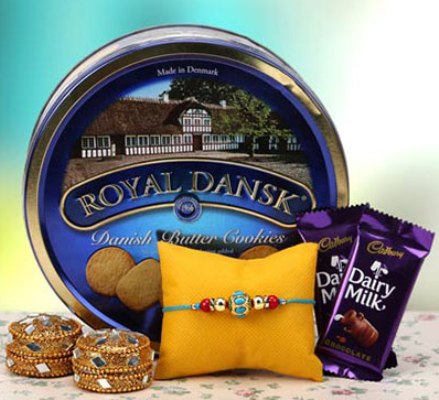 Whether you want to Send rakhi to UK, USA, Canada or any other place your brother lives into, just click your mouse and let your auspicious thread arrive there on time. Just a click away rakhi threads from any location is what taking away the pain sisters bear due to long distance.
If you want to make your brother feel special this Rakhi, plan a surprise for him! As it's your day, why not make him cry in joy when he would receive your sent rakhi with gifts!
If you haven't figured it out as what to send as gifts to your brother, keep reading until your reach the bottom.
Message Jar: How about picking an old jar, giving it a little sparkle and filling it up with some appreciation notes? Find out the great traits of your brother, and write it over a small piece of paper and fill the jar with. Trust me, it's hell of a new idea that will remind your brother that you care for him and remember his every little detail!
A Cartoon Scrapbook: Did you remember the days when you and your brother used to draw random cartoons to portray yourself and him? How about reliving those old memories through a cartoon scrapbook? Make a scrapbook, draw the cartoons you both used to draw during your infancy and send it to him. In every possible way, he would be surprised!
A Rakhi Gift Hamper: It's the right of sisters to expect a token of love from their brothers, however, sending a rakhi gift for brother to UK means you adore him. Choose a gift hamper having a few goodies together and send it to UK as a perfect rakhi gift for brother.
Rakhi with Sweets: No festival in India is said to be complete if not munching on sweets that too desi sweet, right? Then send a pack full of ladoos, barfis, rasgullas and other delicacies quite famous in India. I'm damn sure your brother would be delighted to the core!
Rakhi Thali: In case you want to express the real essence of Raksha Bandhan, Send rakhi to UK to your brother with a traditional rakhi thali. There is nothing more traditional than a rakhi thali with an auspicious thread, tika, roli and sweets.
So, don't lag behind and order rakhi in advance so as to let it reach its destination on time!