Raksha Bandhan is around the corner, and the festive preparations have already begun in so many households. And if you are not celebrating Raksha Bandhan this year because your sibling lives in the UK and can't visit you for the festival, you must ask yourself a few questions.
How many do we stop practicing something because of distance? Many times. But when we want to do something with all our heart, when we are passionate about something, we don't let anything stop us from getting it. So are you not passionate about celebrating Raksha Bandhan with your siblings, or don't love them enough? We know that's not the case. It's just the distance that's causing you trouble. And rakhibazaar.com is the solution to this trouble and answer to all your prayers.
This Raksha Bandhan, don't let distance be the hurdle between your celebrations. Make the impossible possible and celebrate the festival by sending rakhi to UK. Here's how you can take our help and have blockbuster celebrations this year despite living in a different country than your family.
Rakhi Bazaar – Your path towards Raksha Bandhan Celebrations in the UK:
Rakhi Bazaar has a history of strengthening sibling bonds and letting a loved one get Raksha Bandhan gifts every Raksha Bandhan. We deliver rakhi essentials worldwide to let everyone cherish the festival of love, bonding, and siblinghood. And this time, we are here to help you with your rakhi delivery to UK.
Here are some of the reasons why you must send rakhi to UK or send return gifts to UK this year:
You can't let distance blur your relationship with your sibling. As Raksha Bandhan is a sole festival celebrating siblinghood, you must not let distance take away this happiness from you.,




Raksha Bandhan is celebrated worldwide by the Hindu community, and you shouldn't be missed out on this grand celebration.




You have portals like Rakhi bazaar.com delivering on-time rakhis internationally, and you must use their facilities in your best interest. Rakhi Bazaar also has a free shipping policy worldwide, so your rakhi to UK is more economical and full of happiness.




Your sibling is waiting for your rakhi gifts. Don't leave them alone in the festive season and let them down. Show them your love and do something for their happiness.




Now that you have enough reason to make the final decision of sending rakhi to UK, you must know all that you can send and all the services provided by the rakhi bazaar to support your initiative of playing your part in the celebrations.
Rakhi Bazaar – Your online showroom of online rakhi shopping and delivery:
Our website is flexible and fully loaded with all your Raksha Bandhan needs. You want it, and we will deliver it to your doorstep. That's how we work. Here's a complete range of products we provide to the UK every year with our newest additions with latest designs:
1. A massive range of rakhis: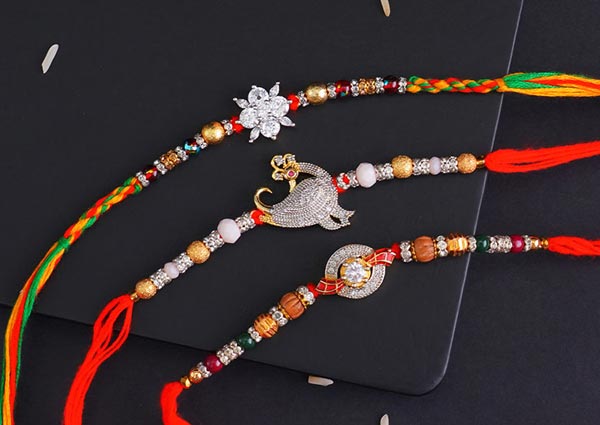 Our website is a hub of rakhi designs ranging from Lumba rakhi to kids rakhi and brother's rakhi. There's no limit to the further collection of each of these categories. In the brother's rakhi section, we have bracelet rakhis, auspicious rakhis, designer rakhis, gold and silver rakhis, Kundan and sandalwood rakhis, evil eye, and veera rakhis, and the list goes on and on.The kids' rakhi section is loaded with superhero rakhi, minion rakhi, Chota Bheem Rakhi, angry bird rakhi, motu patlu rakhi, and many more fictional characters. A wide range of Lumba rakhi with traditional and modern designs and matching brother rakhis are also available, and all of them are deliverable to the UK.
2. Sweets: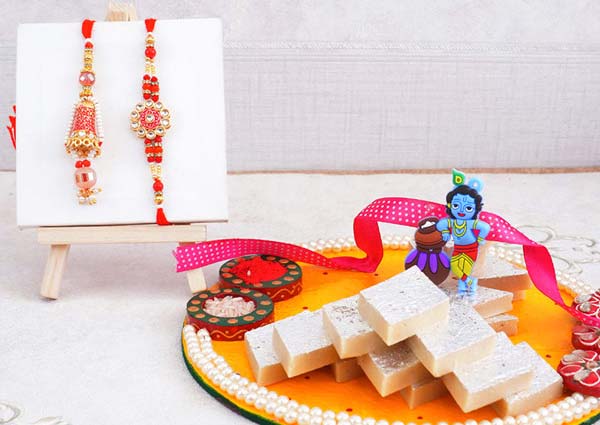 We deliver traditional Indian sweets of so many brands to the UK and worldwide. You can choose your favorite type of sweets and get them delivered to your doorstep in the UK or send it to your loved ones in the country.
3. Return gifts: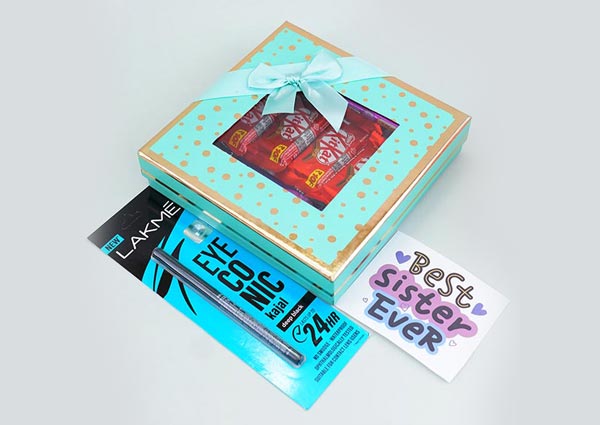 An entire range of return gifts for everyone. Wristwatches, handbags, wallets, accessories, perfumes, branded water bottles, books, skincare, and many exciting gifts for brothers and sisters. You can send return gifts to UK to your siblings and complete your festival gifting ritual efficiently.
4. Personalized gifts: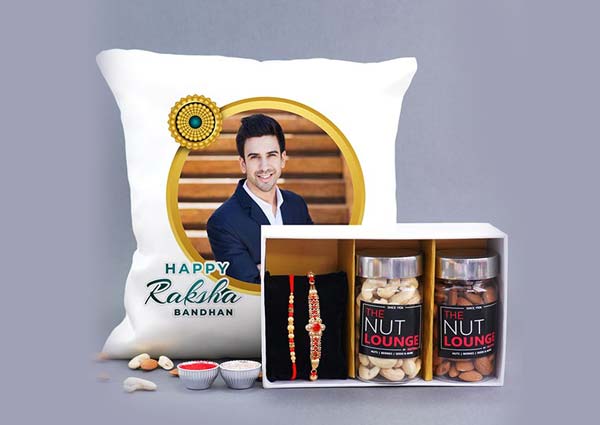 Big and small gifts like cushions, keychains, mugs, and photo frames are ready to be customized on your order and delivered to the UK. Go to our website and check out this section, then send your pictures to get the selected gift customized.
5. Chocolate boxes and dry fruit packs: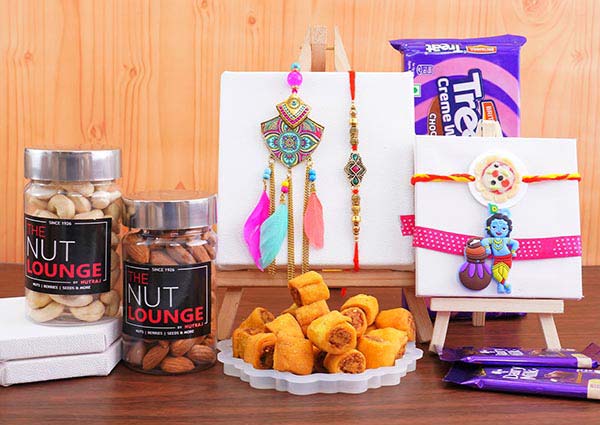 Our celebration range includes exotic chocolate boxes and loose chocolates to send to the UK. A collection of fresh and crunchy dry fruits are also available to ship to the UK. Order them and experience their rich taste in the United Kingdom.
6. Pooja thalis: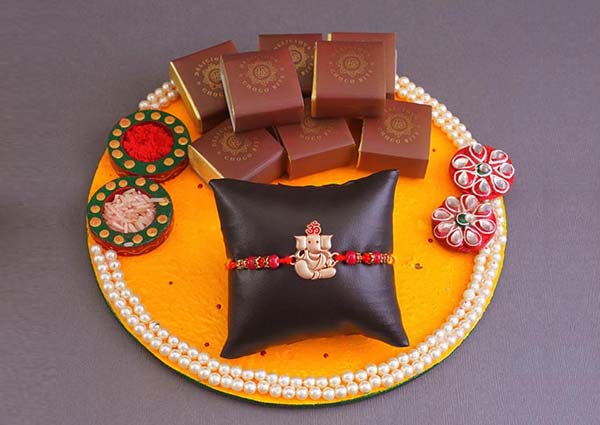 Whether you live in the UK, US, or India, you need a puja thali to perform the Indian rituals fully. This is why we deliver beautifully decorated pooja thalis worldwide to satisfy the need to perform ceremonies in the best way possible. You can send rakhi with pooja thali to UK and help your sibling celebrate a fully-traditional Raksha Bandhan.
7. Rakhi with plants: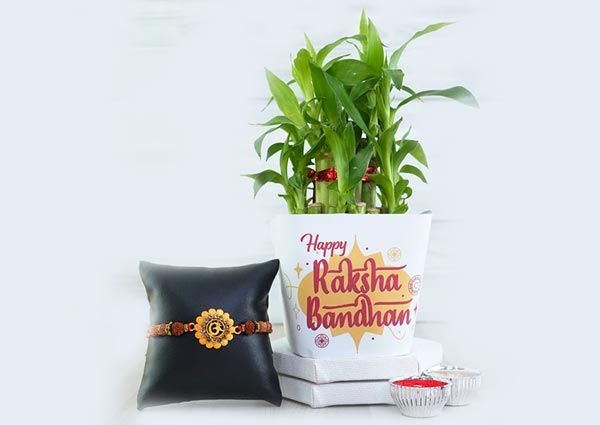 A plant is a metaphor for growth and abundance. And everyone wants their relationship with their siblings to grow and bloom just like a plant. Hence, sending rakhi with plants to the UK is a great idea to celebrate a greener and merrier Raksha Bandhan. We recommend sending snake plants, bamboo plants, and jade plants as they represent purity (in the air), growth, and good luck, respectively.
8. Complementary section: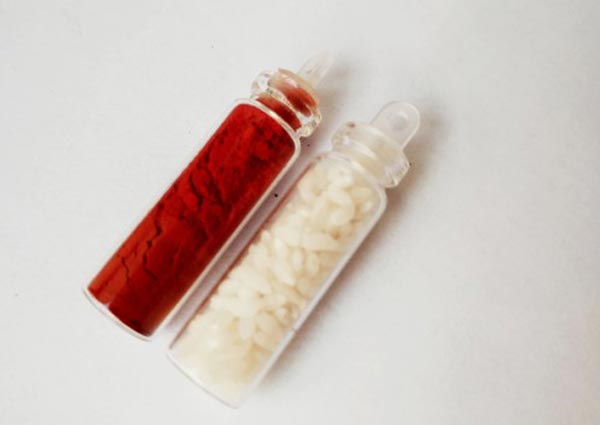 it is often not easy to get roli in the UK. You anyway have to order it from somewhere with a little hard work. And to help you save time, money, and festival, we give complimentary packs of chawal and roli with every rakhi. After all, what's Raksha Bandhan's celebration without putting tilak on your brother's forehead.
9. Auspicious statues and show pieces: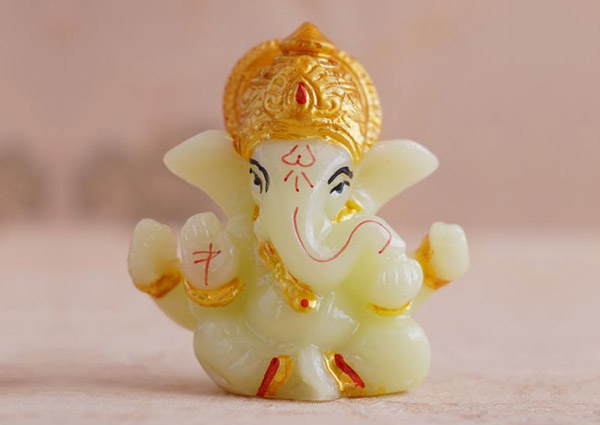 Mini exquisite statues to put on a tabletop and use as show pieces at various places in your house. Showpieces of Adi yogi and Buddha are the best token of luck and blessings for anyone. The best part is that they are deliverable to the UK, which means you can send your blessings and abundance of auspiciousness from India to the UK.
10. Greeting cards: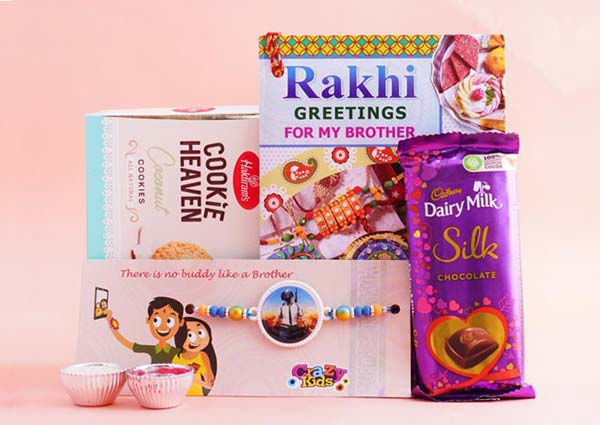 Rakhibazaar.com sends greeting cards worldwide and adds your personal touch to them. Mini notes with short messages are also available on our website to attach with any of your selected gifts. You can choose a rakhi greeting or a rakhi note and send us the details to add to it. We then deliver your desired card/note with your heartfelt wishes on it and send it to the UK.
Now you have all the details you need to send rakhi to UK. So, don't wait anymore. Take help from our guide and do the needful asap. Send rakhi gift hamper to UK via Rakhi Bazaar and change how you celebrate Raksha Bandhan forever.