Have you been the sweet little dear sister of your brother all these years? That thought must be making you feel bad this Raksha Bandhan because your brother will be in UK with his wife and your sister-in-law for a project completion. The festival of Raksha Bandhan seeks to bridge the gap between brothers and sisters that has been created for some reason or the other. In that regards, if there's a way via which you can send Rakhi gifts for Bhaiya and Bhabhi, it will assuage the pain of being away from him.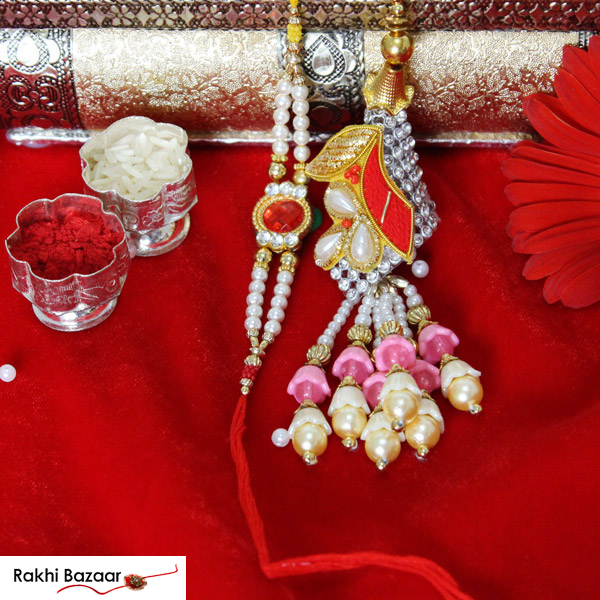 There is a silver lining after every dark cloud and if your brother and sister-in-law are in UK, you can always send Rakhi gifts to UK (www.rakhibazaar.com/rakhi-to-uk-25.html) for them. They will love to receive the whim of love from their dearest sister on this special occasion. There are a variety of Lumba Rakhi sets and other gift hampers available at various online portals that everyone will love to get.
Here are a few of the amazingly beautiful Bhaiya Bhabhi Rakhis that sisters can send to UK to garner their love for Bhaiya-Bhabhi.
1. Zardosi Lumba Rakhi Set with Thali
The celebration of Raksha Bandhan is celebrated in general spirit of ethos that enhances the love between brothers and sisters. If you are choosing to send gifts for your Bhaiya and Bhabhi in UK then it's quite necessary to do it on your full discretion. A beautiful Zardosi Rakhi that is made with stunning shining thread coupled with a well embellished thali will surely sweep your Bhaiya & Bhabhi off their feet.
2. Golden Lumba Rakhi set with Divine Ganesha Idol
We all know that, every single auspicious occasion that begins with the blessings of Lord Ganesha is believed to have both a great beginning and a great end. An amazingly beautiful Golden and glittering lumba rakhi embellished with stones and beads along with a small idol of Lord Ganesha will be a great gift for your Bhaiya and Bhabhi in UK.
3. Pearl Lumba Rakhi set with Sweets
The beauty of pearls shrugs off all the boundaries!! A beautiful Designer Lumba Rakhi embellished with glittering pearls, for Bhabhi and a similar one for your dearest Bhaiya coupled with their favourite sweets like Kaju Katli, Saon Papdi and alike will make them realise your love. Rakhi Bazaar is such an efficient portal that provides a very simple way to send gifts for Bhaiya and Bhabhi to UK and other countries like USA, Canada and others.
4. Silver Lumba Rakhi Set with Chocolates
You can't find a person who does not like two things, silver and chocolates!! No matter what your Bhabhi and Bhaiya must be chocolate connoisseur who will love to receive this special delight from you! The set of silver and shining pair of Lumba Rakhi available with it will elicit the enthusiasm of Raksha Bandhan 2023 celebration.
Well, these are only a few of the ideas one can bank upon while sending gifts to their distant brother and sister-in-law in UK. And, this really helpful online Rakhi selling portal Rakhibazaar.com will guide you through in making it a glaring experience for both your brother and sister-in-law. This Raksha Bandhan 2023, make sure that you keep no stone unturned in making them dance with ecstasy.