Rakhi is one of the most widely celebrated festivals of India. It is commemorated in the month of Shravana on a Full-moon day. It has different names in different places, such as Rakhi Purnima in northern part, Kajari Purnima in U.P, M.P, Upakarman in A.P, T.N, Kerala. The auspicious occasion of Raksha bandhan is celebrated to rejoice the fraternity of siblinghood. It signifies the rich affection and love between sisters & brothers. The preparation for Rakhi starts 2 days before the celebration. Shops are filled with colourful rakhis, exclusive gifts and special sweets are offered at discounted prices, while siblings living at distances make plannings for the special day with much delight and fervour.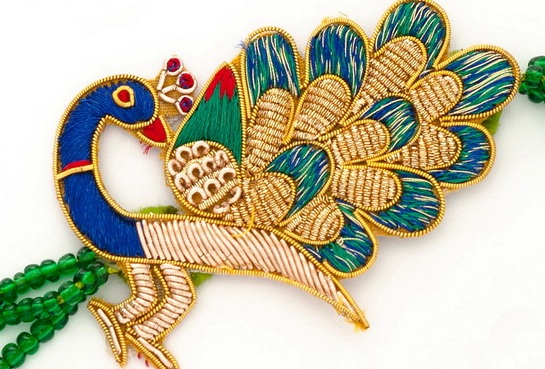 On the sacred rakhi morning, the sister takes an early bath and gets ready for the rituals by arranging the beautiful rakhi threads, roli, akshat, diya, incense sticks, sweetmeats & money in the Rakhi Puja Thaali. The holi thread of rakhi is worshipped before offering it to the brother. Meanwhile the brother also gets ready for the ritual and after making offerings to the god, the sister performs aarti of her brother with the prepared puja thaali. The ritual includes tying the pretty sacred rakhi thread on the brother's wrist and applying tilak of kumkum on his forhead. The sister also recites a sacred Mantra for the well-being and long life of her brother and is regarded as very auspicious. The rice grains are dispersed on his head signifying blessing. The money is given out to the poor, and finally the sister offers sweets to her adorable brother.
Raksha bandhan is a celebration of joy and to be rejoiced forgetting about the distance. So if your brother or sister is in London and cannot get on with each other on the auspicious day of Rakhi, you need not worry about that. With RakhiBazaar, you can Send Rakhi to London from India or any other part of the world.
At Rakhibazaar.com, our send Rakhi to London range has been made truly unique and eye catchy with variety price options so that every sister could find the best gift for her brother. Be it a designer rakhi, Lumba Rakhi for the wife of your brother, traditional rakhi, fancy rakhi, exclusive rakhi gifts for your siblings, RakhiBazaar is here to help you convey your dearest wishes to you sister or brother living far away.
Keeping in tune to the latest varieties of rakhis, Rakhi Bazaar has come forward with amazing range of rakhis. This year, there is great variety of colours, patterns, designs and materials in Lumba Rakhi. The exciting range of Lumba Rakhi is sure to help you in making the right choice for your sister or sister-in-law.
With wide network of super-fast online rakhi delivery system of Rakhibazaar.com to any parts of UK, you can send Rakhi to London in a convenient and hassle-free way. So shop online and make this festival unforgettable to your loved ones.