Countdown has begun for the distinctive festival of Raksha Bandhan. This festival attracts not only the people in India but also the people who are living far away in other countries too. They commemorate this pious festival in all the good spirits. So if you are wondering what it would be like for your brother—who is living in London – To celebrate Raksha Bandhan alone, then you can send your warm regards to him by Sending Rakhi online. You can just sit here and send your Rakhi to London with the help of just one click!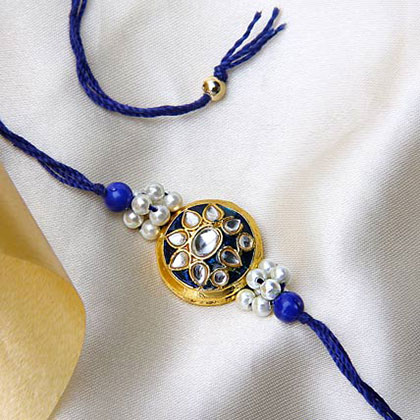 We here at www.rakhibazaar.com provide you a full 'bazaar' of Rakhis to choose from where you can select any Rakhi or a combo of your choice and send your Rakhi to London without getting into any clamor. Have a look at some of the impeccable products that we offer:
Designer Rakhi:
We have a diverse range of beautiful and exquisite Designer Rakhis that would set apart in the crowd. For the designer brother residing in London, send him a designer Rakhi so that he would wear it with ease and show it off to his friends.
Silver Rakhi:
Another one of our exclusive Rakhis is – Silver Rakhi. These are beautiful silver Rakhis that are made just right for your need. Buy a silver Rakhi from our online gifting portal and send that Rakhi to London. This beautifully designed Rakhi had intricate work and comes in various neatly woven threads.
Lumba Rakhi:
While sending Rakhi to your special brother, don't forget to add a beautiful Lumba Rakhi (www.rakhibazaar.com/lumba-rakhi-111.html) for your lovely sister-in-law. These Lumba Rakhis are made with such a design that it can be worn even on bare wrists and also can be entangled in the bangles. For your modern day sister-in-law, this Lumba Rakhi will be a matter of pride and engrossing show of affection.
Rudraksha Rakhi:
Since your brother is so far away from you, you might be worried about his well being all the time. To avoid this unnecessary worry, bless him with a Rudraksha Rakhi so that it will protect him far away in London and he will be safeguarded from all the evils and bad things that might happen to him.
Pearl Rakhi:
This beautiful Pearl Rakhi will be the talk of the town once you Send Rakhi to your brother in London. Its stunning looks and finishing is so beautiful that anyone who wears it will fall in love with it. This pearl Rakhi comes in variable shapes and sizes and are the most appealing thing that you can send to him in London.
Another one of our brilliantly amazing product is:
Rakhi Gift Hamper:
You can also send Rakhi Gift hampers to London which will contain one or more of your favorite Rakhi and a special treat for your loving brother and his family. We have a collection of various kinds of gift hampers from which you can choose your favorite one and can get it delivered to his home.
So why the barrier of distance lessen the love of the siblings, go and buy one of the amazing product from our catalog and send your favorite Rakhi to London! www.rakhibazaar.com wishes you and your family the best of both world on this Raksha Bandhan!