Raksha Bandhan is the grand celebration of the sacredness and bliss of the sibling bond in an auspicious manner. The festival of Rakhi observes sisters offering their prayers to God to bless their brothers with healthy, wealthy, and long lives; whereas brothers give an everlasting promise of protection to their sisters. Such is the panorama of this amazing festival which makes every sibling's heart pound with happiness and exhilaration with its arrival in the calendars.
Even after the globalization and a wave of Westernization have taken over the Indian subcontinent, the people still celebrate festivals with due diligence, following every religious custom in the most perfect manner. As a Puja thali is an indispensable item in every religious ceremony, the festival of Raksha Bandhan also revolves around a Rakhi Puja Thali which is lauded as an important ingredient for perfect Rakhi celebrations. It is a designer plate of emotions of sisters for their brothers comprising Rakhi(s), roli or kumkum, Rice, and sweets used to perform Rakhi tying ceremony.
Below are wonderful Rakhi Thali ideas which will make the celebrations of Raksha Bandhan a pleasant and memorable affair for the siblings.
1. Wooden Pearl Rakhi Puja Thali
Raksha Bandhan is not all about vibrant colored Rakhis embellishing the wrist of handsome brothers, but also attractive Puja Thalis which will be used to perform a Tika ceremony on this festival. This one made of wood and decorated with bright colors and pearls will add so much grace and charm in your Rakhi celebrations. It also has wooden containers for Roli and Rice attached on it.
2. Paisley Wooden Rakhi Puja Thali
Paisley or "Ambi" design is the popular one used while making a Rangoli or a Mehendi on festive occasions. This time, it has been used to create an eye-pleasing Rakhi Puja thali that will sway everyone's heart present for the Rakhi celebration in your home. As it is made with good-quality wood, it will be with you for many more Raksha Bandhan to come.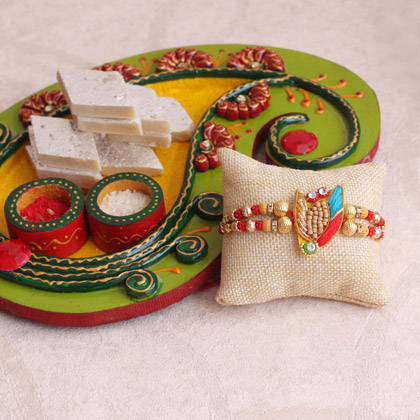 3. Designer Motif Rakhi Puja Thali
To add more beauty and festiveness in your Raksha Bandhan, this Rakhi thali is a perfect choice to go for. Decorated with designer motifs and pasted with good quality fabric to enhance its beauty, this one will certainly leave everyone awestruck with your choice.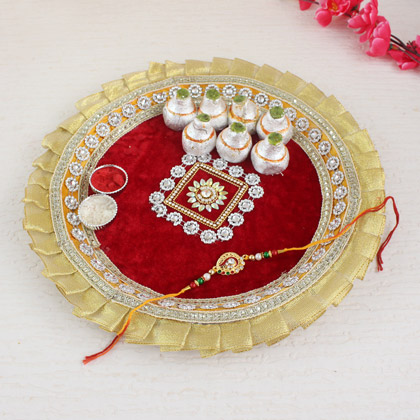 4. Betel Leaf Designed Rakhi Puja Thali
Betel leaf is widely used in various religious ceremonies as it is believed to have an auspicious value in the Hindu culture. Therefore, this Thali designed in the shape of this leaf makes it even more propitious for Raksha Bandhan celebrations. Embellished with pearls and other designer materials along with attached containers for kumkum and rice, the unique shape of this thali will infuse happiness in your celebrations.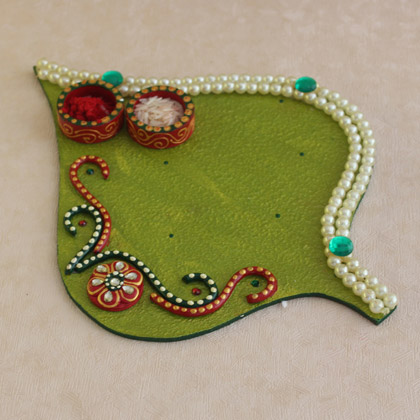 5. Designer Wooden Rakhi Puja Thali
If you are looking for a stunning Rakhi Thali to perform Puja ceremony of your brother on Raksha Bandhan, then this wooden designer thali will be a wonderful choice for you. The beautiful designs using wood and bright colors will bring so many colors and exhilaration in your Rakhi celebrations.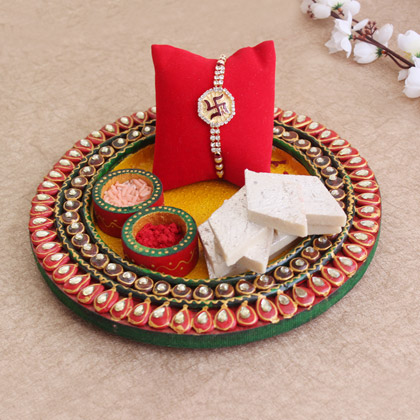 6. Ganesha Rakhi Puja Thali
Not only Ganesha rakhi, but there is also a plethora of Rakhi Thalis available in the markets designed with a picture of the Lord in the middle. This thali will bring more auspiciousness and vibrancy in your Rakhi rituals on this amazing day of the siblings.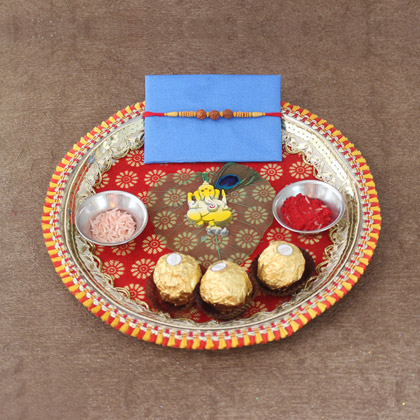 7. Golden Rakhi Puja Thali
Golden color has always been associated with the festivities. Therefore, an incredible collection of Golden Rakhi Puja Thali has taken over the offline and online markets considering the popularity. Shiny and gleaming, they are certainly the best options to go this Rakhi season.
8. Laced Rakhi Puja Thali
The bright colors and the beautiful golden lacework make this Rakhi thali a suitable choice for the sisters wishing to perform Rakhi ceremony religiously this time. As blingy things attract girls more, this plate designed with eye-pleasing laces will make them just go awe in surprise.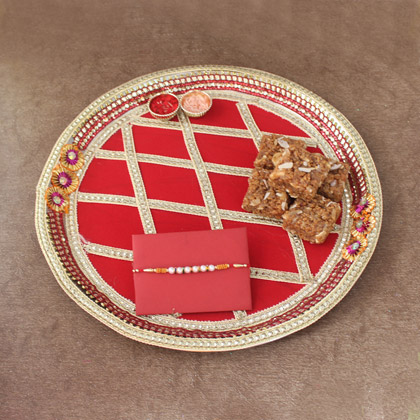 9. Silver Rakhi Puja Thali
As the silver metal is touted as an auspicious metal in the Hindu religious customs, this Rakhi Thali for Puja ceremony is considered an amazing option to go for this upcoming Raksha Bandhan. As silver thalis have been used to perform various religious ceremonies for a long time, this one superbly fits in the auspicious Rakhi celebrations.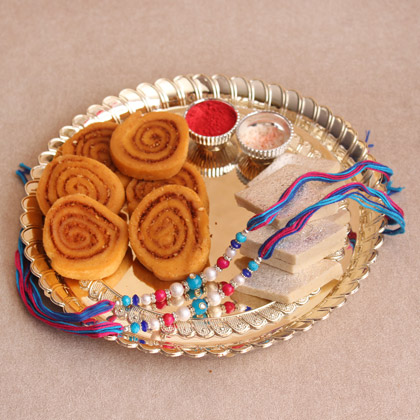 All these Rakhi Puja Thalis are symbols of true elegance and ethnicity which will make the siblings go awe in their praises. Designed in different shapes and sizes using a variety of decorative materials, each one of them will undoubtedly incorporate festive flavors and magnificence in your Raksha Bandhan jollifications.
Rakhibazaar.com is a website which offers a wonderful range of these amazing and eye-pleasing Thalis that can wonderfully pump up celebrations and moods on the Rakhi festival. The website also offers Rakhi combos which contain these thalis, Rakhis, sweets, dry fruits, chocolates, and other edible Rakhi gifts to perk up sibling celebrations.