India is a country that has been known as a reservoir of rich Indian culture and traditions all over the world for ages. According to the prestigious words said by Mark Twain, "India is the cradle of the human race, the birthplace of human speech, the mother of history, the grandmother of legend and the great grandmother of tradition." Every nook and cranny of this country is brimming with traditional and cultural forms of art and craft which make it hold a significant valuable piece in everyone's heart. These forms of popular Indian artworks impart an artistic quality and creativity to the rich Indian heritage which is loved and cherished all over the world.
The festival of Raksha Bandhan also reflects the richness of the Indian culture and traditions not only through the religious customs but also through the beautiful threads of Rakhi. With more Indian forms of art like Kundan work, Zardosi embroidery, and Meenakari work getting promoted on traditional Rakhi threads, people are getting closer to their rich and precious heritage. Not only these, but there are also other Rakhis as well that manifest the religious culture of India and the faith of people in the power of God.
Find the best and attractive Rakhi ideas for brothers that will make him get acquainted with the richness and diversity of the Indian culture.
1. Zardosi Rakhi
The embroidery of Zardosi is a gift to India from the craftsmen of Persia. As per the literal translation of this word, "Zar" means gold and "dozi" representing embroidery. A popular form of traditional Indian artwork, Zardosi Rakhi is handcrafted using the golden or silver Resham threads on various fabrics to create beautiful motifs for Rakhi. Available in a variety of designs and colors, they are now designed with multicolored silk threads, Zari work, stones, and other decorative materials to impart it an artistic and ornate look.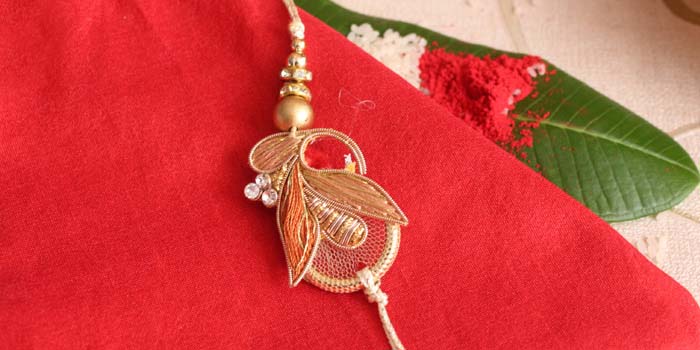 2. Kundan Rakhi
Kundan embroidery is a well-known and much demanded form of Indian artwork by people. The antique look and the shimmer of Kundan work make it a perfect choice for festive occasions. The history of this work dates back to the Mughal Era and enormously prospered in the regions of Gujarat and Rajasthan when artisans from nationwide expressed their interest in learning it. The gleaming stones foiled on the golden or silver metal in the Kundan work make Kundan Rakhis popular sacred threads chosen by sisters for their brothers.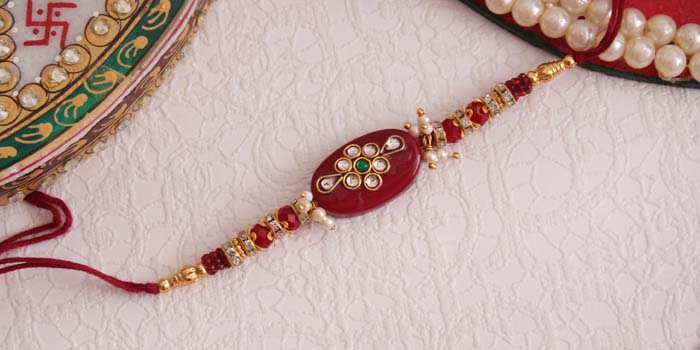 3. Meenakari Rakhi
A famous form of Persian art, Meenakari was brought to India in Varanasi in the 17th century in the Mughal period by the Persian artists and from thereon it prospered and became extremely popular in every nook and corner of the country. It involves coloring the surface of the metals with bright colored enamel colors. Initially it was used to design traditional Polki jewelry and now, it can be seen on designer Rakhis embellished with this attractive form of artwork. This kind of work goes through a series of the process involving artisans and craftsmen that works dedicatedly to create masterpieces to design the wrist of brothers on Raksha Bandhan.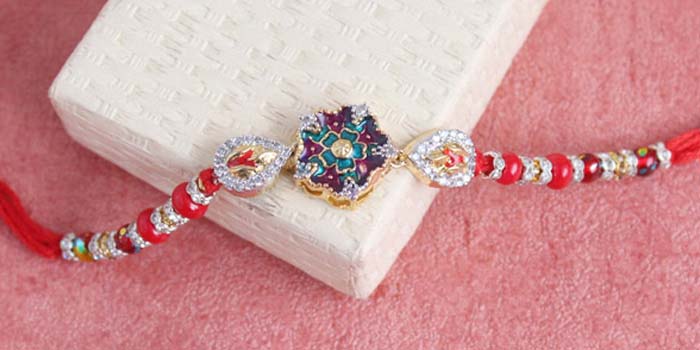 4. Mauli Rakhi
The thread of mauli is an indispensable part of the all religious ceremonies that is tied on the right or left hand of the people. These threads are also called 'Kalavah' or 'Dori' and are lauded as extremely sacred in Hindu religion. Considering the traditionalism of this religion and the auspicious factor attached to these holy threads, an immense transformation has been made in their designs to make them absolutely suitable for the Rakhi celebrations.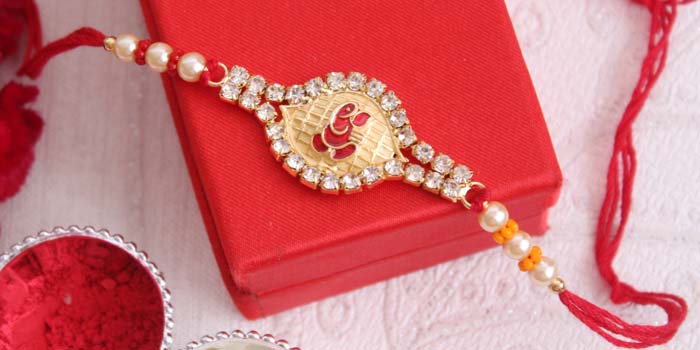 5. Chandan Rakhi
Chandan or Sandalwood holds enormous significance in the Indian religion as it used as a tikka to be applied on the foreheads in religious ceremonies. It is also a popular ingredient used in the manufacturing of incense sticks owing to its amazing aroma and auspiciousness. This Raksha Bandhan, tie a Rakhi on your brother's wrist made with sandalwood or Chandan to infuse happiness and the aromatic fragrance of the Chandan in his life.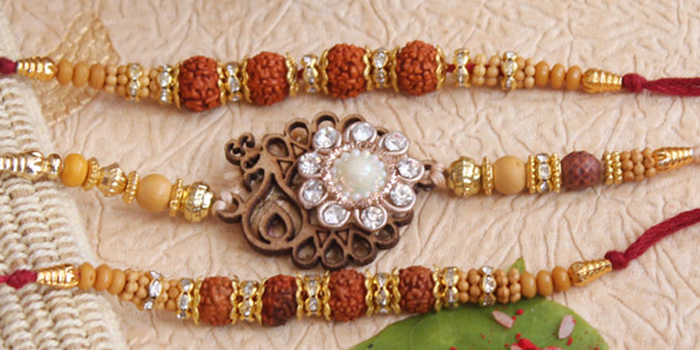 6. Auspicious Rakhi
India is a country which firmly believes in the power of God. Every now and then, religious ceremonies are performed by people to bless their families with good health and prosperity. The firm belief in God has led to the rising popularity of the auspicious Rakhis among people. They prefer to go for Ganesh Rakhi, Rudraksha Rakhi, Swastika Rakhi, Om Rakhi, and others for their brothers to bless them with good health, wealth, and long life.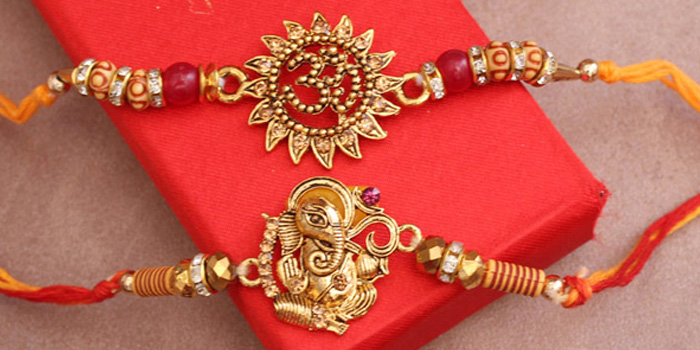 7. Navratna Rakhi
According to the Indian astrology, there are nine gemstones or Navratna which have immense values in the minds of Indians as they are believed to represent spiritual and healing properties. Even the historic legends state the significance of these gemstones in great detail which makes people have faith in their power. The Navratna comprises Diamond, Ruby, Emerald, Yellow Sapphire, Garnet, Blue Sapphire, Pearl, Cat's eye and Coral. So on this Raksha Bandhan, buy a Navratna Rakhi for your brother that is as precious as him. It will bless him with health, wealth, prosperity, and long life.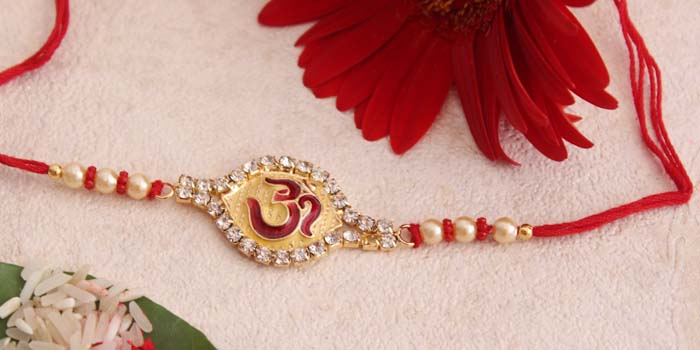 If you too wish to bring your brother closer to the richness of his culture, tie any of these Rakhis on his wrist and make him feel extremely joyous for having such an amazing sister like you. If your brother stays in an international country where Westernized culture is followed, sending a traditional Rakhi is always the best idea to make him feel more connected to his country and applaud the diversity and cultural panorama of India. Rakhi Bazaar helps you send Rakhi to India and worldwide wherever your brothers reside and let you jollify in the Rakhi celebrations despite the topographical barriers.