Every child looks up to his or her parents as perfect married couples with great compatibility and understanding and dreams of having the same relationship with his or her spouse. But, there is another couple which gives everyone perfect relationship goals making us vouch for building the same level of understanding and equation with our partners. Undoubtedly, they are Bhaiyas and Bhabhis who are strong examples of amazing duos, who eat together, sleep together, stay together, and enjoys life inseparably. Raksha Bandhan is a wonderful opportunity given to us by our rich Indian culture to strengthen our bonds with this beautiful pair of swans with charming and appealing Bhaiya Bhabhi Rakhis.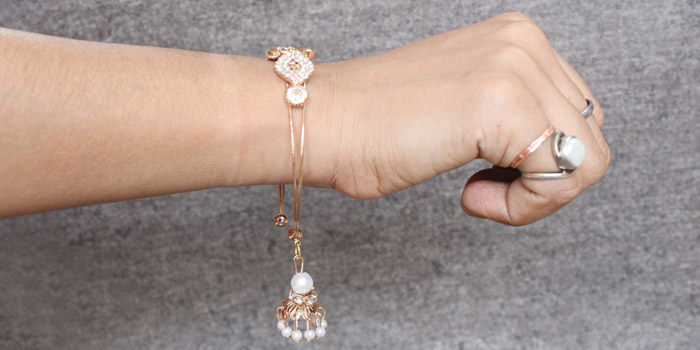 With the popularity of the Marwari tradition of Lumba Rakhi among other Indian communities, people have begun 'smelling the roses' of the contributions of the sisters-in-law to the family. She is now considered equal to the daughters of the family and deserves a special and unshakeable place beside her husband in all religious ceremonies. Now, Raksha Bandhan is no more about buying only designer Rakhi for brother but involves surprising beautiful Bhabhis with ravishing Lumba rakhi. As this couple is integral to each other, the gifting industry has come up with Bhaiya-Bhabhi Rakhis coupled together just like them. These designer threads resonate with a unique theme and remarkably embellish their wrist without a miss!
Here are 7 stunning Bhaiya-Bhabhi Rakhi ideas that will leave them spellbound with their looks and festive appeal.
1. Zardosi Bhaiya Bhabhi Rakhi
Zardosi is a traditional form of art that is highly admired by people for their appealing look and intricate work. There is a craze among people for attires and other fashionable items embellished with this handwork owing to the vibrancy of the bright-colored silk threads and the sheen of this artful embroidery. This work has quickly captured a big place in the Rakhi industry due to its popularity and some really amazing Bhaiya-Bhabhi Rakhis are designed and crafted using it. This Raksha Bandhan, opt for such Rakhi designed with Zardosi motifs for that perfect festive celebrations.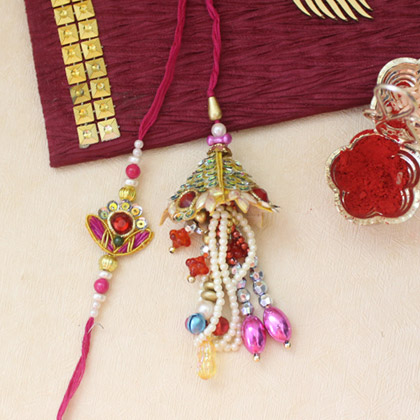 2. AD Stone Bhaiya Bhabhi Rakhi
Indians on festivals like to wear things which are glossy and sparkling. Amaze your precious Bhaiya Bhabhi with couple rakhis studded with gleaming American diamonds to infuse flavors of magnificence and charm in your Rakhi celebrations. These sacred threads will impeccably embellish their wrists and make it look more stunning and shining. The shiny crystals carefully embossed in these rakhis provide a lustrous sheen to it making it look more festive and intriguing.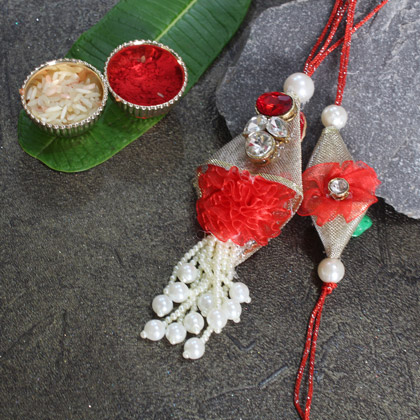 3. Golden Bhaiya Bhabhi Rakhi
Golden is the color of festivities. This Raksha Bandhan, surprise your brother and sister-in-law with a golden Bhaiya-Bhabhi Rakhi that will make them feel super duper elated and happy. The brightness and sheen of the golden color infuse more festive vibes in the Rakhi celebrations and make it brimming with happiness. There is a multitude of options available for this category of Rakhi embellished with stones, beads, or beautiful Kundan work. Whatever be your choice, these will grab as many eyeballs which you cannot even imagine!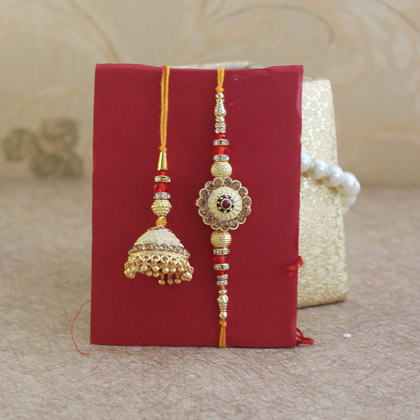 4. Pearls Bhaiya Bhabhi Rakhi
Jewelry studded with pearls has always been an elegant and sophisticated pick by people. With the growing popularity of pearls among the people, the Rakhi industry has instilled these sea gems in creating the most beautiful and stunning looking pearl rakhi that will make the wrist of its wearer look dashing and intriguing. Decking up the wrists of Bhaiya Bhabhi with Rakhis decorated with colorful pearls makes them awe of you. Nevertheless, these protection bands provide them with a sense of peace and strength to tackle complicated situations that come in their way.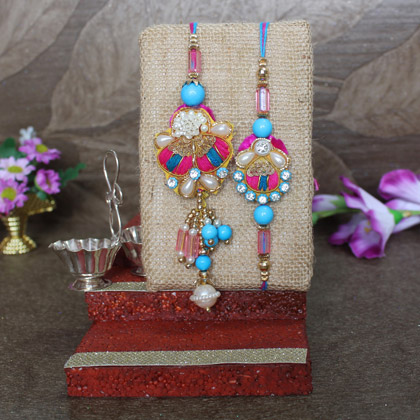 5. Kundan Bhaiya Bhabhi Rakhi
Kundan is a traditional handicraft work ornamented on apparels and jewelry using stones and real gold or gold-plated metals. Understanding the high demand of products embellished with Kundan work, the Rakhi craftsmen have been creating Kundan rakhis for both ladies and gentlemen. The intricate designs embossed on the metals and studded with stones or colorful glass pieces results in the creation of true masterpieces. This one is the perfect choice for your glamorous Bhaiya and Bhabhi who have inclinations towards traditional yet snazzy items.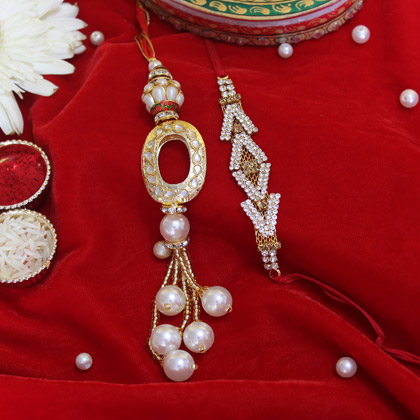 6. Peacock Bhaiya Bhabhi Rakhi
As peacock is regarded as an auspicious symbol in the Hindu religion, tying a peacock Bhaiya Bhabhi Rakhi on their wrists is definitely a wonderful idea. The bird finds its association with Goddess Saraswati and Lord Krishna and symbolizes benevolence, patience, kindness, compassion, and knowledge. The beautiful Meenakari, Kundan, Zardosi, or just stonework on these vibrant colored Rakhis gives them an alluring appeal.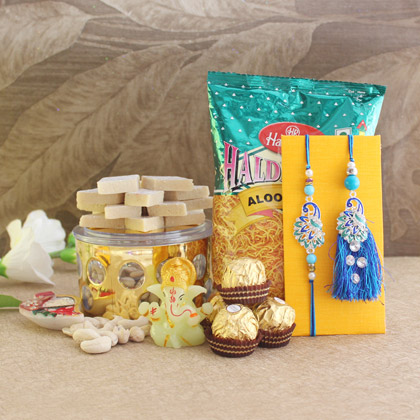 7. Beads Bhaiya Bhabhi Rakhi
The colorful beads in different shapes and sizes stringed in a rakhi thread impart a beautiful appearance to it. As Bhaiya and Bhabhi holds a special place in your heart and fills your life with colors, make them happy as clams on this upcoming Raksha Bandhan by tying a beaded pair of rakhi on their wrists. The stunning bead and stone work on these Rakhis imparts them an appealing appearance making it a must buy this Rakhi season.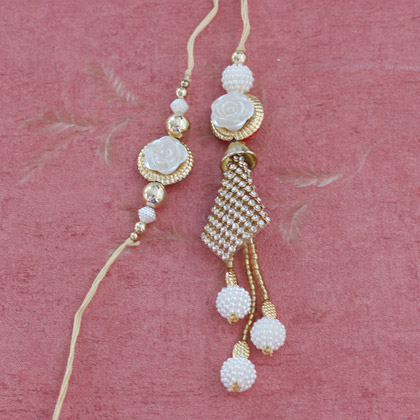 Feeling enthralled to see such a splendid collection of fabulous Bhaiya Bhabhi Rakhi here. Well, these are just the popular ones and there is much variety of them waiting to be explored by you. Rakhibazaar.com is a trusted online Rakhi store having an array of such designer pair of Rakhis and Rakhi gifts in its collection which will certainly leave you astounded as soon as you see them. So, browse through it and get the orders placed for the best one!