The sacred thread of Rakhi is a beautiful and heartwarming manifestation of an incredible bond shared by brothers and sisters. But, there is more to the celebrations of Raksha Bandhan in India. This festival is no more just a moment of merriment and gaiety for the siblings but has included beautiful sisters-in-law in the Rakhi celebrations.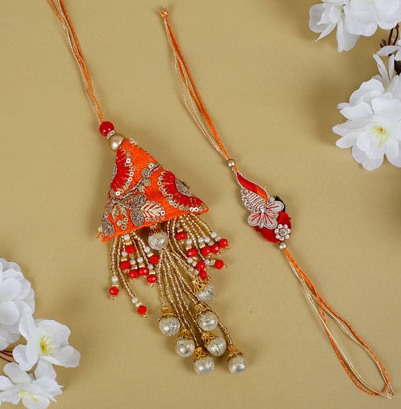 According to the Marwari traditions of celebrating this festival in Rajasthan, a Bhabhi is the one who takes immense care of the brother and the entire family, so she deserves an equal place beside her husband on all special occasions and festivals. Therefore, the tradition of Lumba Rakhi sprang up and spread across the country witnessing sisters tying Rakhi on the wrists of their married brothers along with their Bhabhis. This Rakhi thread is a wonderful way of thanking her for everything she has done for the family and showering love and respect which she truly deserves.
Significance of Tying Lumba Rakhi to Sisters-in-law
Lumba Rakhi is not just a tradition, but it also plays a massive role with fruitful consequences in the traditional Indian family setup.
Firstly, Raksha Bandhan is not just about performing the traditional ritual of tying a Rakhi to Bhabhi, it also involves other aspects which strengthen the bonds within the family and unites them to each other forever. As Lumba Rakhi creates a strong and special connection between sisters and Bhabhis, a bond of friendship and trust gets developed between them.
Secondly, a Lumba Rakhi is not just a sacred thread that is tied on the wrists of the Bhabhi along with the brother, it also helps solidify their bond of marriage. This ritual will promote a sense of emotional support and confidence to the Bhabhi who is a new addition to the family and make her feel secure with your love and affection. It gives her an idea that she is no longer the daughter and sister of her biological family, but she is now a crucial part of her husband's family.
Lastly, the tradition of tying this Rakhi to sister-in-law is the clear manifestation of your love and respect that you hold for her in your heart. As a Bhabhi is an Ardhangini or better half of your brother, she is equally respected and venerated on special occasions and festivals alongside her husband. This will give her a sense of pride in coming into such a wonderful family who treats their daughter-in-law just like their daughters.
Kinds of Lumba Rakhi
With the popularity of this traditional yet a modern ritual in this contemporary world, there is a separate line of Lumba rakhis which gets launched every year to flabbergast the stunning sisters-in-law on the splendid occasion of Raksha Bandhan. Below are some unique yet trendy Lumba rakhi which can be bought from any online Rakhi store at really reasonable and amazing prices.
1. Zari Work Lumba Rakhi
The charm of the antique zari work never vanishes away! Intricately handcrafted using the traditional zari work, this Lumba Rakhi is no less than a stunning masterpiece specially created for the stunning Bhabhis out there. The traditional handwork made with fine golden or silver thread on these Rakhi adds a festive appeal to them. This work imparts a royal appearance to Lumba Rakhi and makes it a popular pick by sisters every Raksha Bandhan.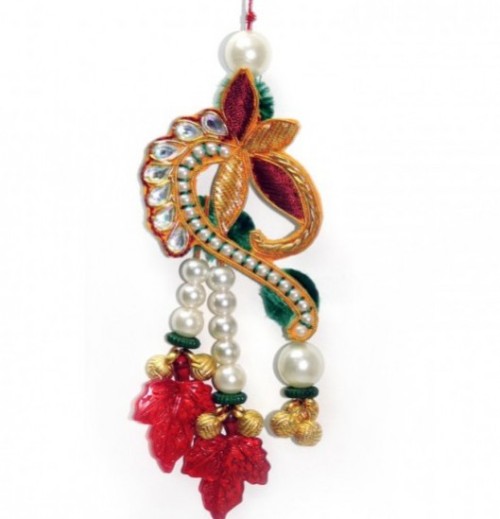 2. Zardosi Lumba Rakhi
Renowned for their beautiful and vibrant appearance, Zardosi Lumba Rakhi is certainly the one to look out for this Raksha Bandhan 2019. The fine work of the colorful threads imparts it a festive appeal that is worth applause. These Lumba Rakhis have a traditional touch to them and make your sister-in-law feel extremely special and honored receiving this rakhi from you.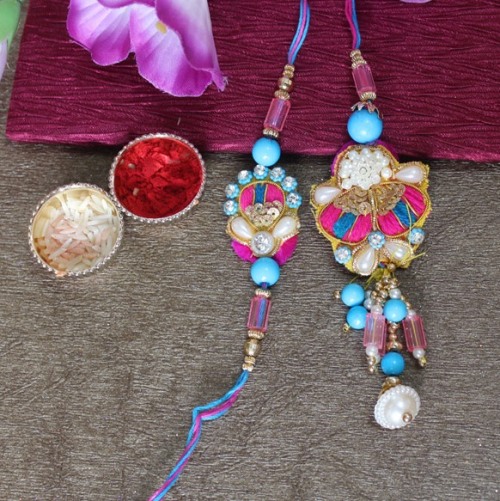 3. Pearl Lumba Rakhi
Pearls have always been associated with delicateness and elegance. Pearl Lumba Rakhi gives a subtle yet vibrant angle to your rakhi celebrations with your Bhabhi. Studded and strung with multiple pearls and stones, this range of Lumba Rakhi will certainly be a charmer on the occasion of Raksha Bandhan.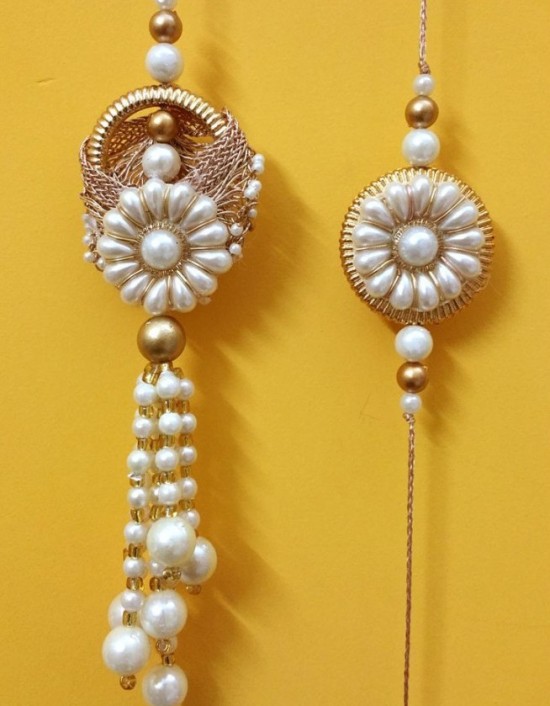 4. Gota Patti Lumba Rakhi
Exceptionally bright and alluring in looks, a gota patti Lumba rakhi will definitely steal the show this Rakhi 2019. Handcrafted with immense precision using bright colored fabrics and good quality materials in different shapes and designs, this Lumba Rakhi will sway your Bhabhi's heart with its beauty and sophistication.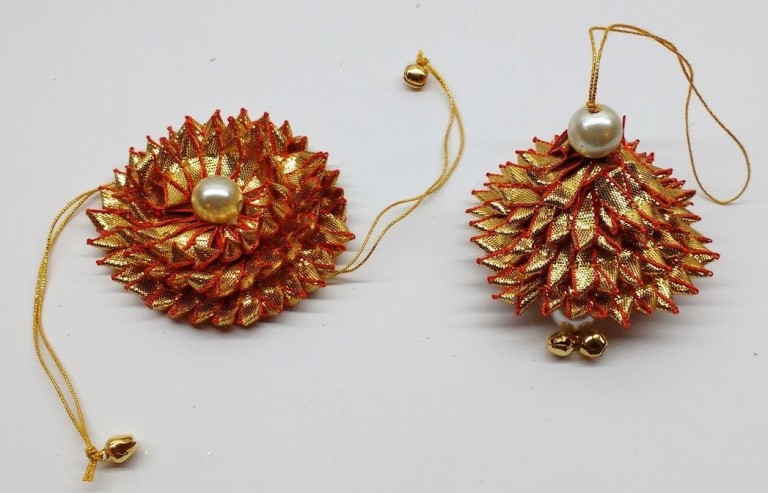 5. Meenakari Lumba Rakhi
This sort of Lumba Rakhi is certainly going to be hit for a Bhabhi who is an avid jewellery lover. The captivating designs and the brightness of the colored enamels instantly lighten up the Rakhi celebrations. This beautiful Persian work on the rakhi pendent imparts this designer Rakhi a charm and appeal of the Mughal era. This one is royalty in all ways!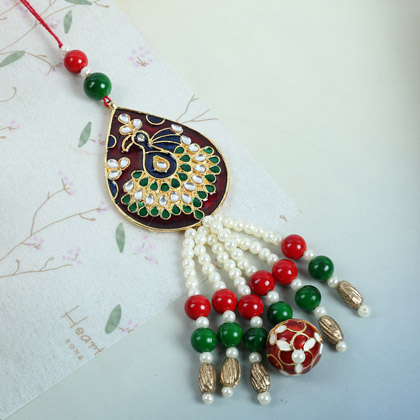 6. Stone Studded Lumba Rakhi
The brightness and the shine of the stones spruce up any occasion or festivals. As festive celebrations in India is all about the glitter and shimmer, this stone Lumba Rakhi definitely deserves a place on the top ten Lumba rakhis of this Rakhi season. The intricate studding of the white or colorful stones on these Lumba rakhis will infuse a festive look to these designer threads and make your sister-in-law as happy as a clam on Raksha Bandhan. This one is definitely the best way to make someone feel loved and honored.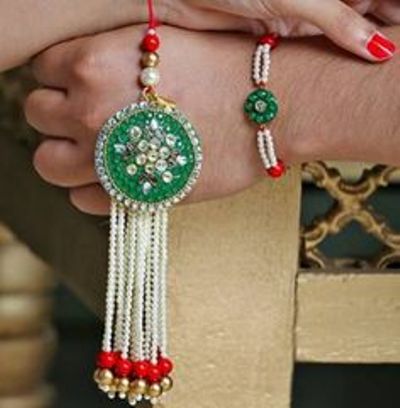 7. Peacock Lumba Rakhi
As peacock in Hinduism stands for kindness, luck, and patience, a Peacock Lumba Rakhi will certainly impart a glorious appeal to the celebrations of Raksha Bandhan. Bedecked with Meenakari work, Zardosi work, or simple stonework, these Rakhis are true stunners on the festive occasion of Rakhi. The multicolored hues on this Lumba Rakhi infuse a festive touch to your celebrations and strengthen your bonds with your Bhabhis.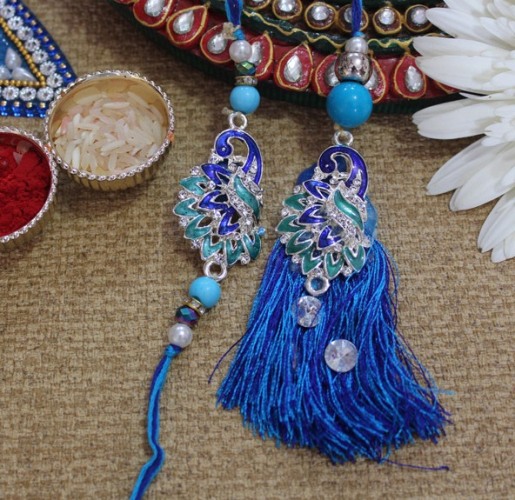 8. Kundan Lumba Rakhi
An alluring embroidery work from the beautiful land of Rajasthan, Kundan work is extremely popular among women for its sophistication and extravagance. Be it any piece of jewelry or any traditional attire, they just love to buy stuff decked with this masterpiece handwork. Lumba Rakhi created and embellished with this embroidery work will be an absolute show stopper this Rakhi 2019.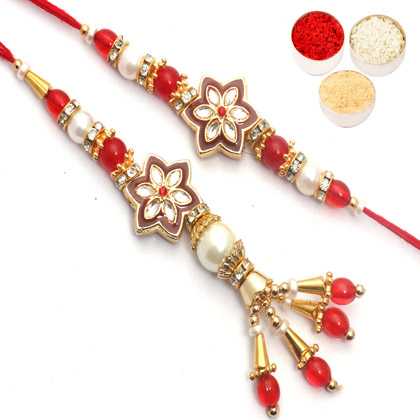 9. Pom Pom Lumba Rakhi
With the bright colors of the soft pom pom balls, this Lumba Rakhi is like a bright rainbow across the sky. This one is certainly the best reflection of your love and respect for your Bhabhi. As jewelry studded with pom pom balls are raging in the market, this Lumba rakhi is the best way to walk hand in hand with the latest fashion trends. Available in Latkan as well as in bracelet style, you just need to pick an appropriate one for your Bhabhi.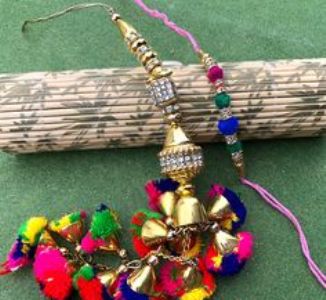 10. Golden Lumba Rakhi
As golden is the color of success and celebrations, this Raksha Bandhan, so create a successful bond of love and friendship with your Bhabhi with golden Lumba Rakhi. The sheen of this Lumba Rakhi will dazzle you Bhabhi with your stunning choice and add so many flavors in your Rakhi celebrations. These Rakhis are available in a variety of patterns like a bracelet, danglers, or latkans.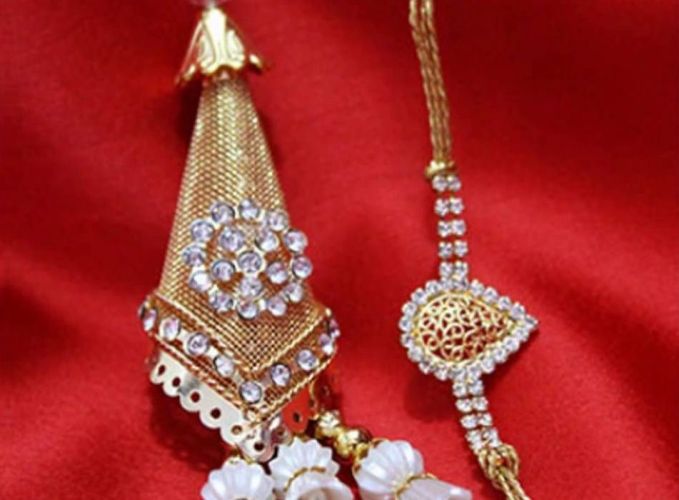 11. Jhumka Style Lumba Rakhi
This Latkan style Lumba Rakhi is a fabulous choice for your beautiful Bhabhi on the upcoming occasion of Raksha Bandhan. The Jhumka attached at the end of this Bhabhi Rakhi gives it a perfect and enchanting look making it a wonderful piece of jewelry that can be worn with different and vibrant ethnic attires.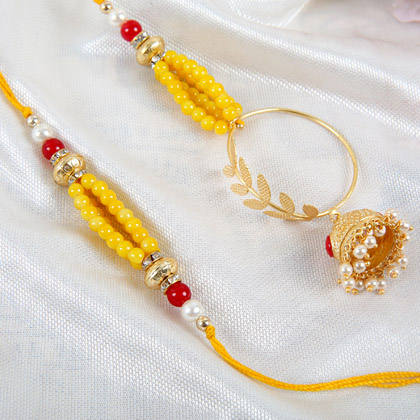 12. Beaded Lumba Rakhi
This one is certainly the most popular ones based on their intricate and multicolored beads stringed and studded in the designer Rakhis. The beads of multiple hues add so much zest and exhilaration in the Rakhi celebrations and bring an ear to ear smile on your Bhabhi's face. This beautiful Lumba Rakhi will look amazing decked on the wrist of your Bhabhi and make her feel special on the auspicious occasion of Raksha Bandhan.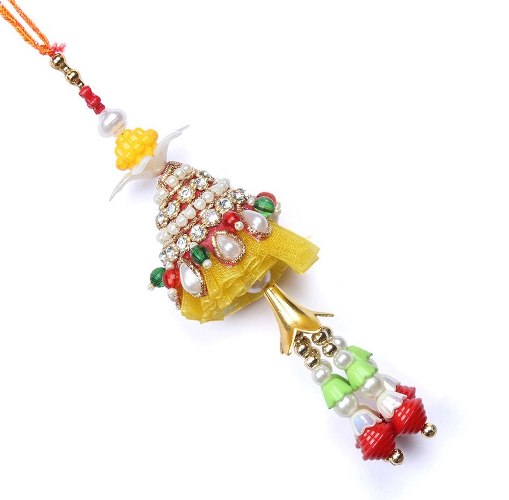 13. Bangle Lumba Rakhi
This perfect piece for jewelry is handcrafted and designed considering the latest fashion trends and the fan frenzy of women behind stylish and wonderful bracelets. A bangle Lumba Rakhi will incredibly embellish the wrist of your sister-in-law and make her supremely regarded and loved by you. She can amplify her ethnic look by pairing this amazing Lumba Rakhi with her designer dresses.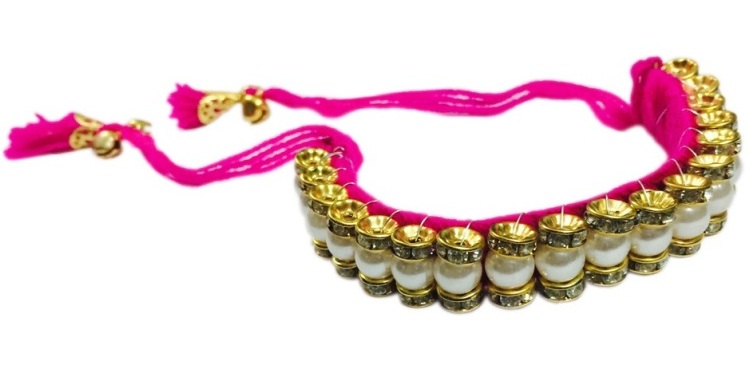 14. AD Lumba Rakhi
Studded with semi-precious American diamonds, this Lumba Rakhi is a great option to buy for your affectionate Bhabhi this Raksha Bandhan. This beautiful piece of art by the craftsmen is going to a perfect choice for your sister-in-law as it is as shining and glistening like her happy face. Available in multiple options, these designer and incredible Rakhis will make you more connected with her.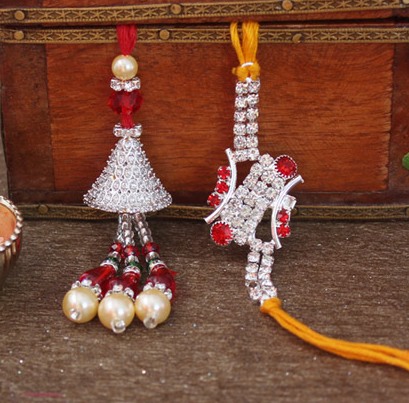 15. Bracelet Lumba Rakhi
Although it looks like a regular golden or silver bracelets studded with colored stones that have immense popularity among womenfolk, this Rakhi will add so much glamour and style in your rakhi jollifications. Intricately designed with stones, pearls, and good-quality golden or silver-plated metal, this Rakhi will certainly embellish the delicate wrist of your Bhabhi with elegance and festivity.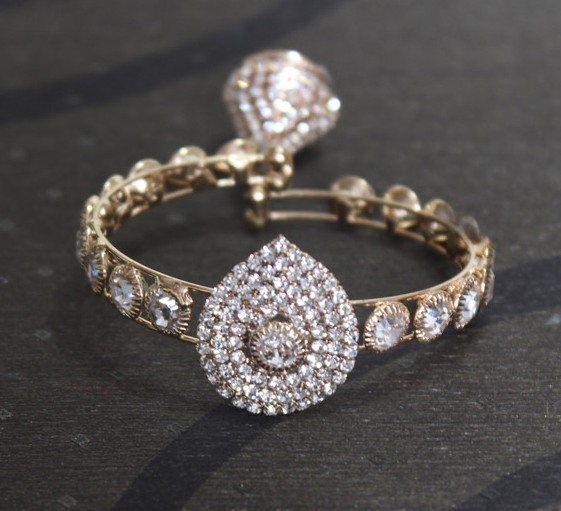 Thrilled to such huge options for Lumba Rakhis? Well, it is just a gist; there is a lot of such Rakhis available with several online Rakhi stores. Rakhibazaar.com is a highly recommended online Rakhi shop having a profuse collection of such designer Rakhis in its inventory at really amazing prices and offers. Since it's a well-known brand, it will always fulfill its promise good quality products created by the experienced craftsmen from all over the country. So, are you ready to shop for them for your adorable Bhabhis?