A cake is not just about the butter, flour, sugar, and frosting, it is a culmination of happier emotions. Any celebration can be made more special by the inclusion of lip-smacking cakes. This sweet delicacy is loved to be relished and enjoyed by everyone in the company of their dear ones. The rich and creamy cakes can also be used to perk up the festival of Raksha Bandhan and to bring more joy and exhilaration in the Rakhi celebrations. As this festival observes a family get together in which everyone gorges on delicious delicacies while having a good time in each other's companion, cakes can be used as surprising gifts for siblings to make Raksha Bandhan an even more magnificent and sumptuous affair.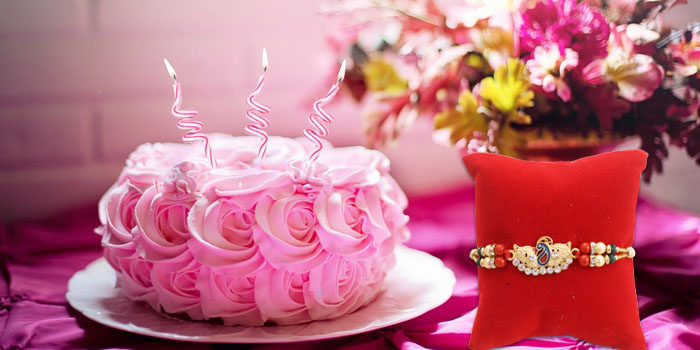 This Raksha Bandhan, let cakes do the talking and make you bonds with your brothers and sisters stronger and deeper line never before. Explore the below most amazing Rakhi cakes that you can go for to astound your siblings this Rakhi festival 2019.
1. Photo Cakes
Siblings are like two peas in a pod who are always together. Celebrate this strongest bond of siblinghood over a Rakhi cake that is designed with the most memorable photograph of both of you. Photo cakes are a hit among people nowadays, so choosing this one for the Rakhi celebrations is certainly a great idea.
2. Multi-Tier Cakes
To celebrate the sacred and magnificent occasion like Raksha Bandhan that epitomizes sibling love, there has to be a cake that is as special as the sibling bond. A multi-tier cake marks the celebration of an overtly special occasion, and therefore, going for it is definitely a wonderful idea to jollify the festival of Raksha Bandhan with the entire family.
3. Cakes with Rakhi Designs
With the latest trend of Rakhi cakes capturing the attention of people, many online, as well as offline bakery shops, have invented special cakes decorated with the designs of a Rakhi to specifically cater to the celebration of Raksha Bandhan. These cakes are available in a variety of flavors and designs to suit the needs of every kind of customer.
4. Superhero Cakes
Are you blessed with only little brothers in your life? Well, if yes, then going for superhero cakes of their favorite characters is certainly a great idea. Choose any of their common superhero characters and get a cake ordered in a similar theme to make them feel supremely happy and flabbergasted on the occasion of Rakhi. You can also go for cartoon cakes in case your little brother is fond of a cartoon character. The big smile on their faces is your return gifts for this special day!
5. Chocolate Cakes
If there is cake that is extremely versatile and goes well in every occasion and celebration, then it is undoubtedly a chocolate cake. The richness and the creaminess can melt anyone's heart and make the tongue water at its very sight. Order a fresh and supremely delicious chocolate cake from a well-known shop and bring immense joy in your Rakhi celebrations.
Does your mouth getting started to water looking at these cakes? Well, you can buy them all from a popular online gifting portal by the name Rakhibazaar.com. It offers a wonderful variety of Rakhi with cakes online with the facility of rakhi same day delivery in its Rakhi collection which can be ordered to make Raksha Bandhan a blissful and scrumptious affair for the siblings.