Raksha Bandhan not just celebrates the wonderful bond shared by brothers and sisters all around the world, it also marks the amazing relationship shared by a sister with her brother's wife a.k.a. Bhabhi. There is affability that connects these two females and the love they share for a common man, i.e. the brother.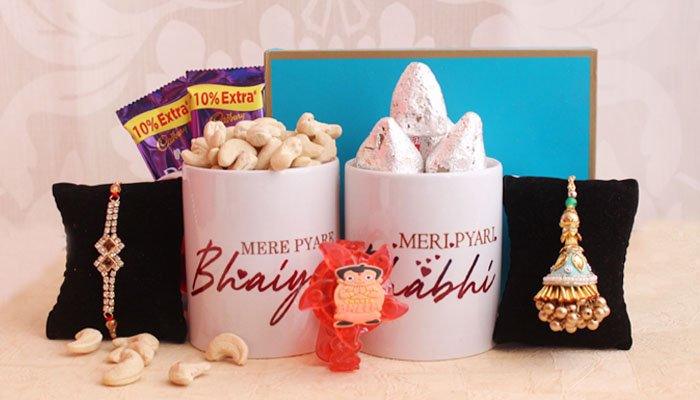 With the popularity of the tradition of Lumba Rakhi among Indian households, every home in India witnesses this ceremony being observed by sisters who not only ties the sacred thread of Rakhi on the wrist of brothers but also ties or hangs a Lumba rakhi on the wrist or bangle of Bhabhi. Apart from tying Rakhi, sisters also shower their Bhaiya and Bhabhi with splendid Rakhi gifts to express their love, care, and admiration to them. I
If you too are planning to flabbergast your brother and Bhabhi, then we have listed down ten most incredible Rakhi gifts for Bhaiya Bhabhi that speaks of your affectionate hearty feelings for them.
1. Designer Box of Dryfruits
The universality of dry fruits as gifts for every occasion makes them perfect picks for the festival of Raksha Bandhan. As dry fruits indicate good health and long life, they make excellent expressions of your love and care for your Bhaiya and Bhabhi. Available in a variety of designer boxes and other packing styles, you can buy the best one for this stunning couple to surprise them on this upcoming Rakhi festival.
2. Idols of Gods & Goddesses
To bless your Bhaiya and Bhabhi with all the happiness and prosperity, this one is certainly a perfect choice. As the statues of Gods and Goddesses have become popular gifting items to shower their blessings on the loved ones, getting an idol or idols of Gods most worshipped by them is definitely a great idea. The idols of Lord Ganesha make the most bought gift items on all the special occasions.
3. Showpieces
There is an abundant variety of showpieces available in the markets that are meant for gifting purposes. Whether it's about the Feng Shui items like crystal tortoise, the popular Gautama Buddha statue, or any other gift showpieces, you can choose the best one for your darling Bhaiya Bhabhi depending on their tastes and preferences. They are excellent home décor products that will heighten the beauty of their home interiors.
4. Lucky Plants
With the increasing demand for lucky plants as gifts for all occasions due to the factor of auspiciousness, siblings too find them as wonderful rakhi gifts to give to their siblings. The lucky bamboo plant is a popular gifting plant that has captured the attention of everyone with a wide range of benefits it provides when placed in homes. This Raksha Bandhan, send lucky plants to Bhaiya and Bhabhi and bring happiness and prosperity in their homes and lives.
5. Photo Frames
Make Bhaiya and Bhabhi reminiscence the beautiful memories of the past by bringing them all on a photo frame that will serve as the best gift for Raksha Bandhan till date. So, quickly gather all the wonderful photographs of them alone as well as with the family and get them arranged in a photo frame for a perfect surprise for them.
6. Conventional Paintings
With people moving more towards the contemporary forms of paintings to decorate their homes, give a traditional and antique touch to the home/room interiors of your Bhaiya Bhabhi with conventional paintings. As they are strong depictions of our rich cultural heritage, they are incredible Rakhi gifts to give to impart a rustic look to the house.
7. Personalized Gifts
As personalized gifts like photo frames, cushions, and mugs winning more preference over other gifts, getting personalized rakhi gifts for your adorable brother and sister-in-law for Raksha Bandhan is a mind-blowing idea. The memorable photographs with which these gifts are designed will bring back all the amazing memories of the past in front of the eyes.
8. Chocolates & Sweets
A special occasion like Raksha Bandhan truly deserves something sweet and delicious to sweeten everyone's mouths. This Raksha Bandhan, send Rakhi with sweets and chocolates online to your Bhaiya Bhabhi and let them spend this festival applauding your efforts.
9. Rakhi Cakes
With cakes becoming a famous Rakhi gift nowadays, people are just going crazy for them. You can too surprise your Bhaiya Bhabhi with this cakes online complimented with your beautiful Bhaiya Bhabhi Rakhi. Receiving this scrumptious delicacy on Raksha Bandhan from you, they will jump in joy.
10. Couple Wrist Watches
If your brother and his wife is the most wonderful and adorable couple in your eyes after your parents, then the time is coming to amaze them with your smashing gifts for Raksha Bandhan. Gifting them beautiful and elegant couple wristwatches is a wonderful idea to embellish their wrists not just with Rakhis, but also amazing gifts.
Feeling somewhat sorted finding this amazing list of Rakhi gifts for Bhaiya Bhabhi! Depending on your budget and preferences, you can select the best one for this lovely couple and make the occasion even more special for them. You can place your orders for such gifts at Rakhibazaar.com which is a trusted online Rakhi store and shop for your favorite gifts for Raksha Bandhan conveniently.