Raksha Bandhan has always been a memorable affair for both brothers and sisters. Wrapped with fun, Masti, love, respect, and many other emotions of siblings, this festival holds much importance in the sibling's life. With vermilion threads, Rakhi gifts, wishes, and prayers; sisters show their hearty gesture to the brothers and in return, brothers with many unspoken words and promises take the responsibility to protect sisters from all the evils around. This is the beauty of Raksha Bandhan which is celebrated to commemorate the siblinghood.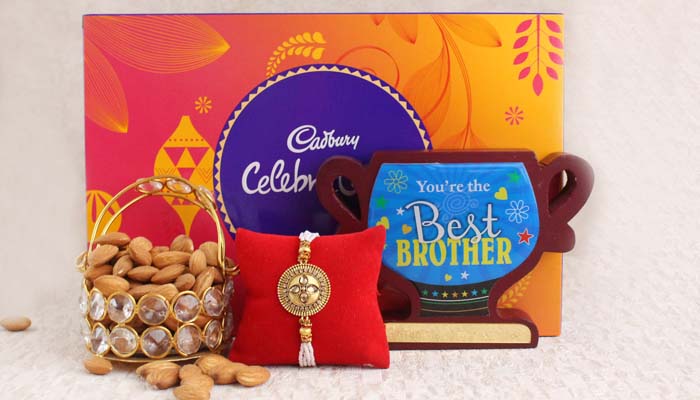 Like all other Indian festivals, Raksha Bandhan is all about giving gifts to each other. But, finding a perfect gift for your partners in crime is not that easy task. To solve this problem, here are some of the gift options listed below categorically divided into brother's and sister's slot. So, don't scratch your herd and scroll down:
You might not have that good shopping sense, but he has a loving sister by his side on whom he can trust for all the latest trends. So, on this Raksha Bandhan, get a pair of cool shades for your brother as a Rakhi gift.
Backpacks are something that is a very important part of day-to-day life. Whether your brother is an office going guy or a college student, this gift will always work.
Peep into the life of your brother and try to find out his needs. Ditch fancy items and give your brother an electric trimmer which he can use. He will surely love this gift from yours.
Outfit for Raksha Bandhan
You have always been his personal stylist, so on this Rakhi gift your joker brother something trendy and stylish so that he can rock the Rakhi festival.
In this busy hectic life schedule, ignoring the problems and problematic people is very important. So, gift your brother a noise cancelation headphone that will be his best companions while traveling.
Essential Oil Infused Bath Bombs
Prep your brother by relaxing his mind as well as body giving him bath bombs as Rakhi gift. The exotic aroma will calm his nerve, and he will feel relaxed.
If you have a book worm brother who gets indulged into book reading whenever he gets time, then make his reading experience better by gifting him a kindle.
You can also fix his appointment in his favorite salon where he loves to go, on Raksha Bandhan and can reduce his stress and tension. This gift will give him some moments of happiness and relaxation.
At last but totally not the least, you can plan a family vacation to some cool and scenic beauty place where he forgets all his workload. After the vacation, he will return will new energy and new enthusiasm.
Gifts for sisters
Which female doesn't like to decorate her house? It's hard to find one. So, take this as your rescue and give your loving and creative sister some unique and niche house décor items which she can place in her bedroom, in the drawing-room, or anywhere else where she wants.
Memorable Photo Scrapbook
Females are obsessed with keeping memories. Also, they like to admire efforts. So, take out some time from your busy schedule and gift her handmade photo book with all those photos which carry some beautiful memories.
Makeup and females go hand in hand. No other gift will be as good as a make-up kit for your beautiful sister. She will love you to the moon and back for her dream gift.
Dress for Rakhi Celebration
No festival is complete without new clothes, and this same applies to the Raksha Bandhan also. If you know your sister the best with all her favorites and dislikes, then you can pick a beautiful outfit for her. She should also know how good they taste of his brother is.
One more thing that can make a wonderful Return gift for sisters is some unique and quirky wall hangings that can make her room look good.
You must have noticed those little initials and other dangling on the bracelets and neckpieces? Those trinkets are the new trend. You can also go with the flow and can gift your sister a cute heart beat or her name initial trinket as Rakhi gift.
Girl's wardrobe is incomplete without the handbags. They often have a huge collection of bags either matching to the dress or with the footwear. On this Raksha Bandhan, add more to their collection by gifting her classy and trendy handbag.
Soft toys are the second love of females; the first one depends on their mood. Jokes apart, if you also have a sister who still sleeps with teddies on the bed, then no this year give her a giant teddy bear that will always be with her.
Everyone should have a fair chance to enjoy the weekend. Either for your married sister or your little cutie, a perfect weekend trip is one of the best Rakhi gifts.
With all these simple and decent gift items, you are all sorted to celebrate this Raksha Bandhan with some amazing moments. Raksha Bandhan has always been an occasion that holds the affection for the brothers and sisters. So, don't leave any stone unturned and shower your love on your hearty ones.
If you are looking for some designer Rakhis and hearty Rakhi gifts, then you can visit Rakhi Bazaar, an online Rakhi store which is loaded with a wide stock of gleaming Rakhis and Rakhi gift hampers through which you can express your hearty feelings to your favorite partners in crime.