No siblings like it when they cannot celebrate Raksha Bandhan because they live far from their family. Since Raksha Bandhan is the time of family reunions and celebrating the spirit of siblinghood, the celebration remains unfulfilled if your brother lives abroad.
With such advancements in technology and the internet flooded with options to get the impossible done effortlessly, you can easily connect with your brother who lives abroad. And one such method is called sending Raksha Bandhan gifts online. It takes a few clicks and will do your work even before realizing it. So, start planning to surprise your brother on Raksha Bandhan and see all the steps mentioned below. Follow these steps to celebrate Raksha Bandhan by sending a rakhi to your brother living abroad from the comfort of your home.
How to send Rakhi Gifts to your brother living abroad while sitting at home:
1. Find a website: look for an online website that delivers rakhi and rakhi goodies to foreign locations. It won't take too long as there are plenty of websites like rakhibazaar.com and rakhi.in to send rakhi hampers to various countries. After landing in one such country, see if they deliver gifts to your brother's native location. If yes, then continue browsing the website. If not, then look for another website that does.
2. Select a Rakhi: Now that you have finally landed on a website that will reduce the distance between you and your brother by delivering your Raksha Bandhan gift to him, it's time to start looking for the present and rakhi you want to send. There are innumerable options available on rakhibazaar.com and rakhi.in to have the best rakhi gift ideas for bhaiya bhabhi. From traditional rakhi to modern rakhi and from pearl rakhi to rudraksha rakhi, there are so many different types of rakhis available online that have various options to choose from.
3. Select a gift: After finding the rakhi of your choice, it's time to look at the gift section. Be creative and choose something that will be useful for your brother, and he will admire it at the same time. Show your Raksha Bandhan spirit and send a love-filled gift to your brother living abroad.
4. Select chocolates: What's a festival without having some sweets too much on? Chocolates increase the taste and happiness of Raksha Bandhan, and so you must send a box full of your brother's favorite chocolates along with the gift hamper and rakhi.
5. Add details: Now that you have finally selected everything you want to send to your brother on Raksha Bandhan, it's time to do other needful things, and that's adding the details. Punch in the address correctly and make sure not to make any mistakes while typing the delivery details as it might cause problems.
6. It's time to pay: the last thing includes paying for the total sum of your home delivery of the rakhi hamper. Do the payment method and finish the process asap so that your rakhi gift can reach your brother on time.
And that's the best and easiest way to celebrate Raksha Bandhan with your brother who lives away from you. The steps mentioned above are not only to send rakhi to the US or send rakhi to Canada. Follow these steps to send rakhi to your brother who lives within the country.
Do you know the other ways of celebrating rakhi with a brother who lives away from you? Let's check them out too.
Celebrate Raksha Bandhan Virtually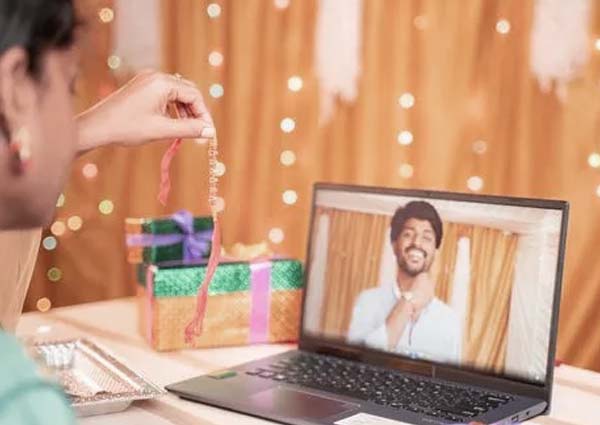 There are many more ways of celebrating Raksha Bandhan when you cannot meet your brother. Apart from sending gifts, this is how you can celebrate Raksha Bandhan with your brother virtually:
1.Send him a video: One of the best ways of celebrating Raksha Bandhan is by looking at all the childhood pictures of each other and compiling them into a video to present to you. You can also add special videos of your siblings to this combined video and make it an occasion for him to recall his entire life through a video. Then send this video along with a heartfelt note and see how you make his day a lot better and festive.
2.Organize a virtual sibling party through video call: Ask your brother living abroad to join you in a virtual part where all your other siblings are present. Give good wishes to each other and celebrate Raksha Bandhan virtually with your loved ones.
3.Play their favorite and popular sibling songs: There are so many songs that define the bond of siblings in different languages. Pick up the music that makes you miss your brother the most and play it for him when you wish him Raksha Bandhan on call. This will be an emotional reminder to them about how much you miss and love them.
4.Watch your favorite childhood movie online: We all have a childhood movie that we love watching only with our siblings. Whether it's a Christmas movie, an animated movie, or a classic one, plan and schedule your timings with your brother and watch a movie with them from your respective places. Stay connected through a call and discuss your favorite scenes with your siblings to live your childhood again. This will make your Raksha Bandhan all the more worth it.
5.. Play video games with them online: If you want to do something different apart from wishing Raksha Bandhan to each other, you can also plan to play your favorite video game online. This will make you feel the presence of your siblings even though they are miles away from you.
There are plenty of ways to celebrate Raksha Bandhan with your brother who lives abroad. But sending them a gift with a rakhi is still the best way.
Frequently Asked Questions:
1.What is celebrating rakhi virtually?
Virtual Rakhi celebration is when you cannot physically meet your sibling, but you don't let the distance stop you from celebrating the festival. You celebrate it virtually, i.e., online, and strengthen your bond with your sibling.
2. How to celebrate Raksha Bandhan uniquely?
You can decorate your house, make rangolis, cook delicious meals and buy unique gifts for your siblings like plants or scented candles to make this Raksha Bandhan memorable for everyone.
3. How can I send rakhi to my brother?
You can send rakhi to your brother anywhere across the globe from Rakhibazaar.com or rakhi.in
4. What should I gift my brother this Raksha Bandhan?
You can send rakhi with chocolates, rakhi with sweets, or rakhi with dry fruits to your brother. You can also buy him accessories he likes and gift him on Raksha Bandhan.
5. When is Raksha Bandhan 2023?
Raksha Bandhan is on Thursday, the 30th of August 2023.