Undoubtedly, the bond between a brother and sister is one of the most pious and selfless bond that people can share. Everyone cherish those childhood memories of fights, differences, favor, care and affection. We keenly want to live those moments again and again and cannot get enough of it. The festival of Raksha Bandhan honors this enduring bond between brother and sister therefore once in a year we get chance to recall those moments and to strengthen this bond.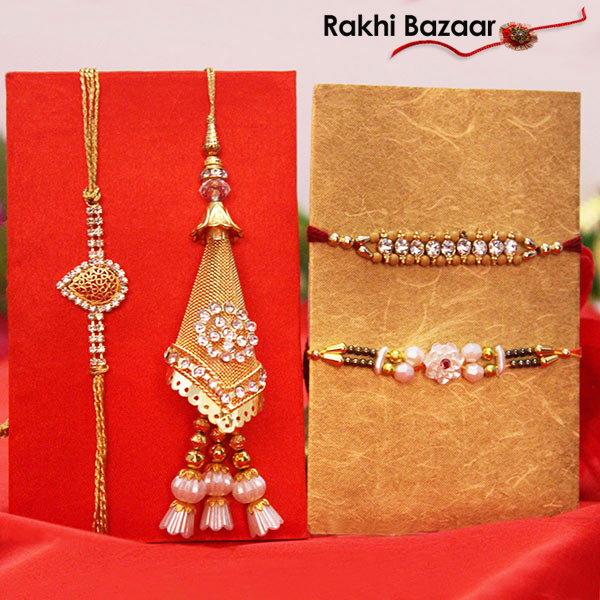 This year Raksha Bandhan is falling on 18th of August and you might be planned to rejoice the occasion. On this day, sister beautifies her brother's wrist with the elegant sacred thread (Rakhi) and prays for their wellbeing and lifelong success. In return, brother vows to shield her sister from all ills and evils of this world and treat her with attractive gifts.
As Rakhi thread is the most significant asset of Raksha Bandhan festivity, every sister wants to adorn her brother's wrist with best Rakhi available. She might explore all marketplaces and Rakhi stores around her, in order to get best suitable Rakhi for brother. With the purpose of helping sisters to Buy Rakhi Online and to make choice for best Rakhi thread for brother, Rakhibazaar has come up with its brand new collection of Rakhi for Raksha Bandhan 2016. Therefore, you can chose from some of the best selling Rakhis of the portal mentioned below as:
Designer Rakhi:
To bejewel the bond and to add more grace to the brother's hand, portal presents its matchless collection of Designer Rakhi. From Stone Studded Silver Rakhi to Pearly Rose Rakhi and Bracelet Rakhi, you can choose best one out of most mesmerizing designs from its collection of Designer Rakhi. Arty and elegant these Rakhis will positively hit the chords of your brother's heart and will bring him back to the memories no matter how busy he is. Being thoughtful and eye-catching, Designer Rakhi can be preserved as a token of siblinghood.
Zardosi Rakhi:
These brilliantly designed Rakhis are the most frequently ordered Rakhis of the portal. They are stunning, eye-catching yet trendy that they will simply steal the hearts in first look. Zardosi Rakhis include intricate designs made of wire, silk thread and fabric. Previously, zardosi work used intricate work with gold wire; however, other metals such as silver and copper are also used to design zardosi rakhis. Zardosi Rakhis are precious because of their intricate designs and brilliant hand work.
Bracelet Rakhi:
Bracelet Rakhis are elegant and trendy that surely be admired by wearer and viewers find them graceful and can't stop themselves asking from where you have bought this Rakhi.  Along with its stunning design, this Rakhi is one of the most frequently ordered Rakhi of the portal and continuously redefining the fashion as it is a perfect blend of tradition and style, Besides Rakhi, it can also be used as an elegant fashion accessories after the festival.
Jewelled Rakhi:
Jewelled Rakhi is quite admired nowadays. Brothers can put on a Jewelled Rakhi as a stylish piece of accessory even after the end of Raksha Bandhan. Different types of gems, stones, beads, and ornamental items are used to make these Rakhis featuring strips of silk or metal. Gold, silver, copper or brass are used to make straps of these Rakhis and came in tangled chain, plain chain and more. Jewelled Rakhi makes a gratifying and thoughtful gift for Raksha Bandhan.
Above mentioned Rakhis will not only function as pious thread but they will also reflect your emotion and sentiments that you have for your dearest brother. Get one of these Rakhis to beautify your brother's wrist at Rakhibazaar.com. On the portal you can get plenty of more adorable Rakhis in diverse color range, patterns and designs. So don't think much and place your now.