Raksha Bandhan is a very significant festival for siblings. This festival is the most revered festival for brother and sister living in India as well as outside. It is true there is no love that is purer and deeper than the love shared by siblings. It is a glorious occasion that celebrates the unbreakable bond of siblings. On this day siblings wish each other with gifts and prayer. This year's Raksha Bandhan falls on 18th August and I'm sure you are preparing well in advance to grace the event in an extraordinary way.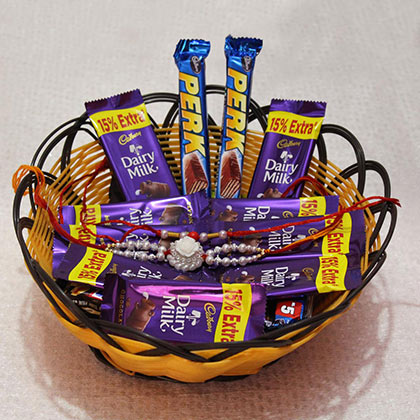 If you happen to have brother or siblings residing in the capital of Bihar (Patna) then you can make this year's Rakhi celebration much more memorable than ever. Create a cherish-able and grand moment for your sibling and Send Rakhi Gifts to Patna.  At Rakhibazaar.com you can carry out Rakhi Gifts Shopping for your adorable siblings from the range of eye-popping Rakhi gifts collection available.
As you shop for this upcoming festival, here are the some of the ideal gifting ideas you may like to look through:
Gifts for brother
Raksha Bandhan is a festival of siblings and on this propitious occasion you may want to show your love and affection towards your adorable brother with meaningful and cherish-able gifts. You can check out some of the breath-taking gifts items for brother.
•    Latest gadgets: For your loving brother living in Patna you can send latest widgets such as mobile, camera, earpiece, mp3 player, laptop, tablet, etc. I'm sure your brother who is a gadget freak will be so happy to receive such lovely gift.
•    Fashionable wallets & bags: You can also drop in-trend wallet and bags for them. Wallets and bags are types of items everybody needs and hence sending this gift will be a nice idea to greet your brother on this fete.
•    Perfumes that are pleasant smelling: Gift item for your brother living in Patna can consist of pleasant smelling perfumes. This is a common gift item and I'm sure your brother will be so happy to get such a sweet gift from a sweet sister like you.
•    Memorable personalized gifts: You can also dispatch memorable personalized gifts for brother such as personalized mug & cushion, personalized lamp, personalized cup, etc.
Gifts for sister
Sisters are fond of gifts and as a brother you can show your love and acknowledgement for your sweet sister on this Raksha Bandhan with fascinating and heart-taking gifts such as:
•    Sweet smelling perfumes: Girls are fond of perfumes and fragrance and your sister will not be an exception. So, on this upcoming festival you can present her sweet and memory creating perfumes and keep her cheerful.
•    Admirable accessories: You can also surprise your sweet sister with loveable accessories such as earrings, necklace, hair clip, etc. These items are small yet very valuable and hence, make your sister feel special with this adorable gift.
•    Thought evoking good luck plants: On this Raksha Bandhan you can also elate your sister living in Patna by sending thoughtful gift such as fern good luck plant, yellow bamboo good luck plant, money plant, bonsai plant, etc and wish her luck in abundance.
•    Adorable soft toys: sisters are fond of soft toys and on this Raksha Bandhan gifts item for your sister can consist of cute soft toys such as panda soft toy, teddy bear, jumbo soft doll, etc.
For your little siblings living in Patna you can also send them attractive and eye-catching gifts such as cute soft toys, accessories, apparels, playing kits and plenty others. For your bhaiya bhabhi you can also send your love in the form of gifts such as jewelleries, accessories, good luck plants, clothes and others.
Log on to www.rakhibazaar.com and explore the wide range of Rakhi gifts accessible on this site. This is a reputable online directory that offers online Rakhi gifts with prompt delivery.