Last Updated : 09 July 2022
"Bittersweet"- This is the word that perfectly describes the whimsical relationship of brothers and sisters with each other. If there is a person on this planet you love like crazy and despise with equal passion, it can only be your sibling. Childhood is filled with sweet and hilarious memories of the fights together and how pulling each other's hair was so into the trend. You were the best partners in crime while being rebellious of the house. The bond of siblinghood is hard to describe in words as it is the sweetest and the quirkiest relationship of all times. Indeed, it is the strongest bond that anyone can be blessed with in their lives. As said by Tiffany Shlain in her words, "Siblings are the longest relationship you'll have in your life. They know the good times, the bad, the neuroses, all that shared history."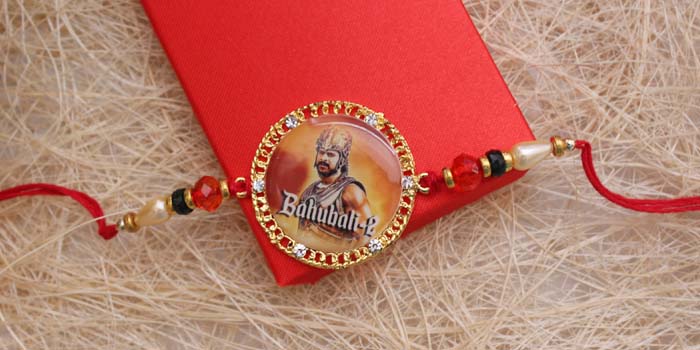 Celebrate your bond with your siblings on this upcoming Raksha Bandhan in the most unconventional way by going for trendy and unique Rakhi for brother this upcoming Rakhi 2023. Specially construed and designed considering the sweet and sour relationships of siblings, these Rakhis are no less than funky wristbands embellishing the wrists of brothers in the most attractive manner. Whether you plan to buy rakhi online for big and small brothers, you'll find a great range of quirky Rakhis available in the stores near you for off-the-wall Rakhi celebrations.
If you are interested in getting such offbeat rakhis for your brothers, we have listed some options you can consider while shopping for such incredible and fashionable threads or bands of love.
1. Pubg Bhaiya Rakhi
With the growing popularity of Pubg video game amongst boys, the goodies embellished with the features or characters of this game are very much in trend. This fan frenzy has taken over the spectrum of rakhi designing and resulted in the springing up of designer PUBG Bhaiya Rakhis for ultimate PUBG fans.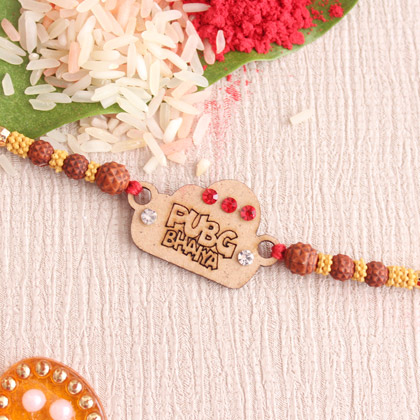 2. Nautanki Bhaiya Rakhi
One of the most indispensable elements that capture the true essence of a sibling relationship is the playing of pranks by brothers on their sisters. The funny cap of prankster which a brother dons makes him an undoubting 'Nautanki' for his sister. So, considering this aspect of his nature, the Rakhi industry has come up with a new collection of "Nautanki Bhai" Rakhi self-explanatory of his fun-loving personality.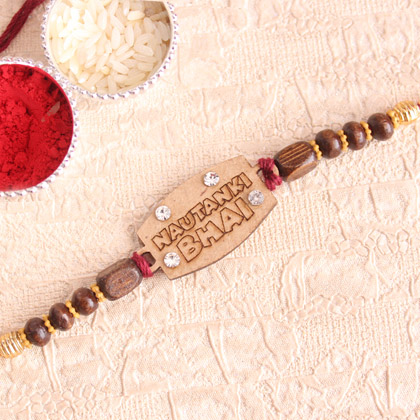 3. Bahubali Rakhi
"Bahubali" is a person having immense physical power while having brains. As your brother is a strong individual who will support you and take good care of you no matter what, he is no less than a Bahubali in your life. As Raksha Bandhan promises lasting protection from a brother to a sister, this Rakhi is a great pick for your brother with unshakable spirits.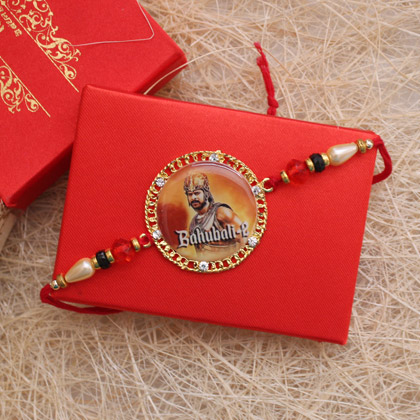 4. Bro Rakhi
The sibling relationship is no longer formal as in traditional times. With the changing patterns of society and family setups, people are getting more informal while calling out to their siblings. "Bro" is the most popular word sisters are seen referring to their brothers. This Raksha Bandhan, please your brother with this stylish and sophisticated Bro Rakhi made with wood and deepened your bonds with him.
5. Om Leather Bracelet Rakhi
Every sister wishes for the long and healthy lives of their brothers. Tying auspicious rakhis on their wrist is like tying a sacred band on their hands to protect them from all the upcoming adversities in their lives. This upcoming Rakhi festival, please these amazing souls with this fashionable yet divine Om bracelet Rakhi with a leather touch to adorn their sturdy wrists. It is very voguish and beautifies their hands enormously with their rustic look.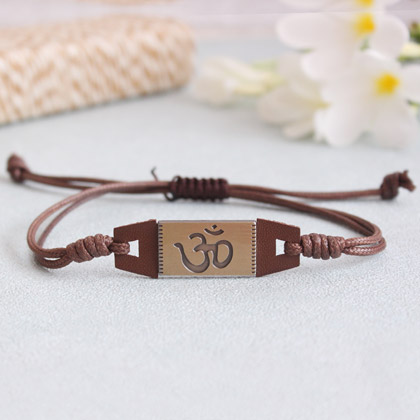 6. Swag Wala Bhai Rakhi
Living life on one's terms and conditions without worrying about what others say or do is what best defines the word "SWAG." If your brother too believes in this ideology and gives little attention to the other people, then he is your "Swag Wala Bhai." Amaze him with this super cool and chic designer rakhi that will make him jump with joy.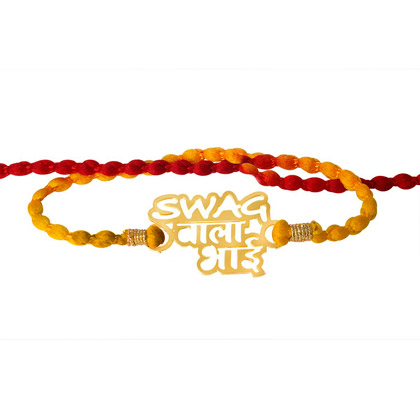 7. Fidget Spinner Cartoon Rakhi
As a massive fan frenzy has been noticed among kids for both fidget spinners and cartoons, the latest Rakhi collections boast of rakhis designed with both elements into one. A wrist band attached at the back, and the effects of the multi colored lights in these rakhis make them a perfect deal to buy this Raksha Bandhan.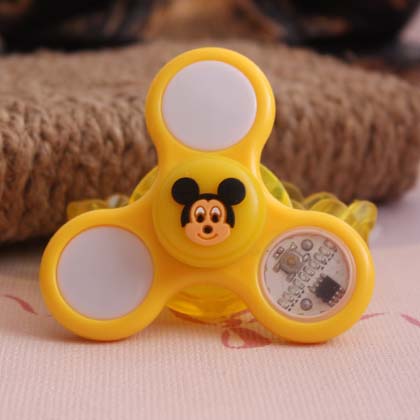 8. Cartoon LED Rakhis
Kids Rakhis with LED lights is a dazzling way to show your love and affection to your adorable little brothers. As cartoons hold a special place in their hearts, and they can never say no to any items with their favorite cartoon character embellished, such cartoon rakhis with LED lights are an instant hit among children. So, quickly grab one for your brother and surprise him with another interesting goody on Raksha Bandhan.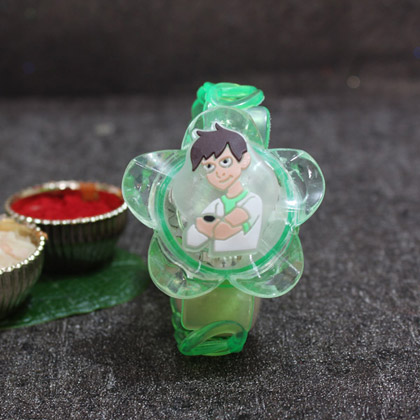 Are you enthralled to see such incredible and groovy Rakhi ideas here?You can get your favorite one for your brother by placing your orders at any online Rakhi store at unbelievable prices. Rakhibazaar.com is one such website that has such an impressive Rakhi collection in its catalog for brothers and helps sisters send Rakhi to USA, UK, India, Australia, Canada, etc., in a timely and efficient manner. Without waiting any more, quickly grab one now for your brother!!!