Last Updated : 20-08-2023
The sister ties a rakhi on the brother's wrist with all love, performs aarti, and provides sweets to the brother during Raksha Bandhan ceremonies. In exchange, the brother promises to safeguard the sister and the two exchange gifts to fulfill the sister's wish and make her happy with an exquisite basket of chocolates and gifts. Online you can get the best Rakhi Gift Ideas.
When you are separated from your brother, who lives abroad, you can surprise him with thoughtful but budget-friendly gifts. Brother and sister play quite distinct roles in one other's lives. So, everyone knows that the relationship between a brother and a sister is unlike any other. During Raksha Bandhan, this particular and priceless link is celebrated with passion and excitement.
Let's honor this unbreakable bond by exchanging Raksha Bandhan gift Hampers, and makes it simple for you by sending gifts to your siblings that you choose and at your specified delivery time. You only need to choose your sibling's favorite product and place an order for them to surprise them on this beautiful occasion of Raksha Bandhan. With the growth of technology, gift portals are the ideal way to buy Rakhi with gifts online and deliver it quickly.
Rakhi presents are another specialty of the online gift business in addition to Rakhi. It is now easy to acknowledge one's presence at a celebration by ordering and sending gifts to loved ones. If you cannot see your sibling, send your love with surprises. Below are some of the Budget-Friendly Gifts Online for the upcoming Rakhi celebration:
Designer Rakhi with Flowers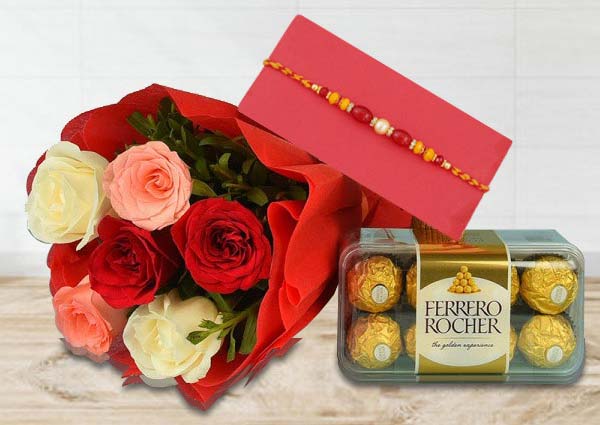 When it comes to expressing your feelings and respect to someone, flowers are the ideal and budget-friendly option. They are the best thing in the world. So, send a flower and Rakhi gift basket to your brother to demonstrate your unselfish love and affection. This hamper will include a lovely designed Rakhi and a lovely floral bouquet of his favorite flowers.
Rakhi Customized Gifts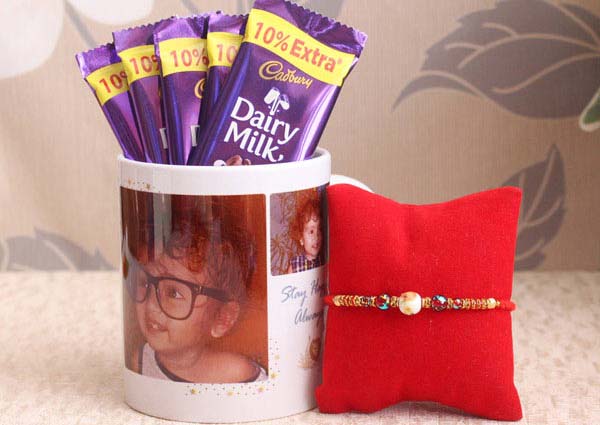 What could be more special than a present with a personal touch from the sender? Personalized gifts are the way to go if you're looking for something special to give your brother to brighten his day.Personalized gifts for Raksha Bandhan will never go out of style and will never fail to bring a big smile to your brother's face. Mugs, cushions, and other goods can be personalized using cute and memorable images and heartfelt sentiments.
Traditional Rakhi with Photo Gifts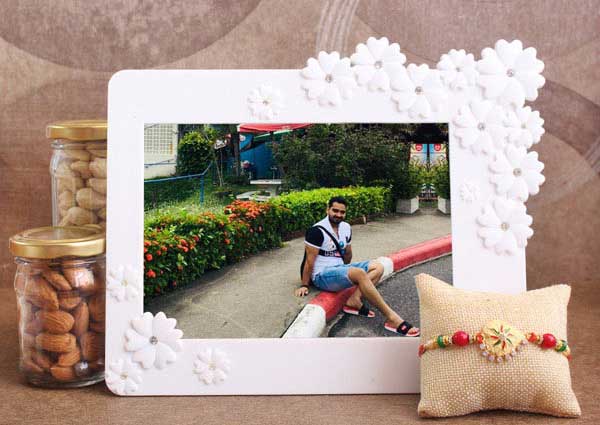 You can choose to offer your brother Traditional Rakhi with a photo gift if you want to bring back all of the happy memories you've shared with your beloved siblings. Walk down memory lane and collect all of the images that have a hilarious occurrence, then turn them into a beautiful album, photo collage, scrapbook, or whatever else comes to mind. This will be the most excellent Raksha Bandhan gift your brother has ever received, and he will cherish it for the rest of his life.
Watch Gift for Raksha Bandhan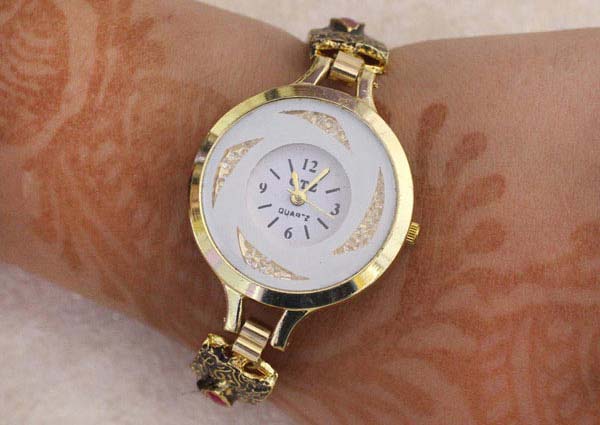 Watch is one of the lovely and ideal gifts for your loved siblings. When it comes to giving things, the one that meets the recipient's needs should be chosen. If you aren't the kind of person who thinks of such fantastic gifts, there's no need to feel self-conscious; keep it simple. The watch is the one accessory that will never let you down.
Unique Rakhi with Chocolate Gifts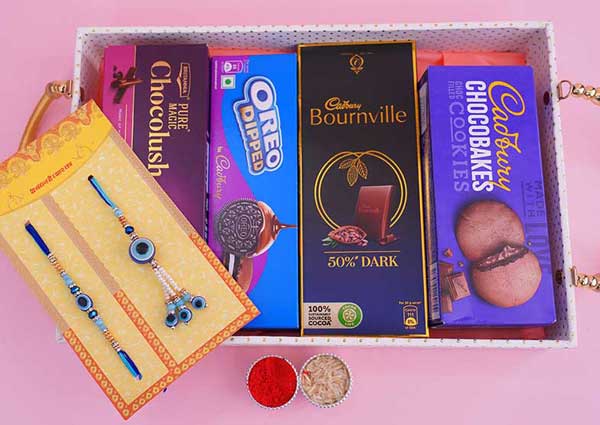 With chocolate gifts, observe the joy on your loved one's face. Consider what you could do if you could put this dazzling smile on your brother's face with the Chocolate gift hamper. Yes, you certainly can by selecting a gift basket with delectable chocolates. So, on this Raksha Bandhan, remind your brother of all the fond memories he has of chocolates by surprising him with a sweet Rakhi surprise.
Greeting Card with Auspicious Rakhi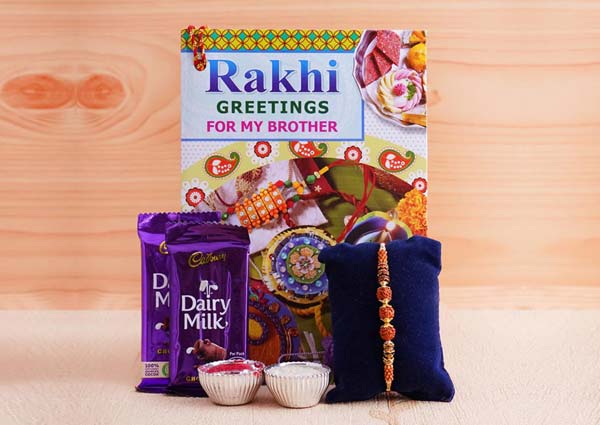 Celebrate the forthcoming Rakhi festival with auspicious greeting cards to ensure your wishes reach your loved ones in a lovely manner! The Rakhi festival, which celebrates brother-sister love, is returned, and it's time to get ready for the most fun festivity ever with these budget-friendly gift ideas! Greeting cards have been the ultimate way to express feelings beautifully for a long time— Rakhi greeting cards with wonderful brother-sister sentiments and quotes will cheer them back to their childhood days. So, get ready to bring joy to others with unique cards and rakhis!
Raksha Bandhan Plant Gifts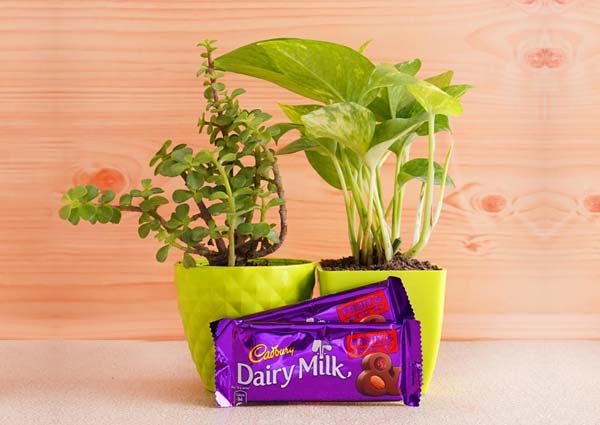 Plants are one of the auspicious and precious gifts for Raksha Bandhan. You can offer your loved siblings a charming houseplant that will purify the air and give them pleasure, and a new vibe, improving their mood and allowing them to focus on the essential things. These plants are ideal Rakhi gifts because of their uniqueness and the work you put into selecting the appropriate gift.
Trendy Rakhi with Rakhi Pooja Thali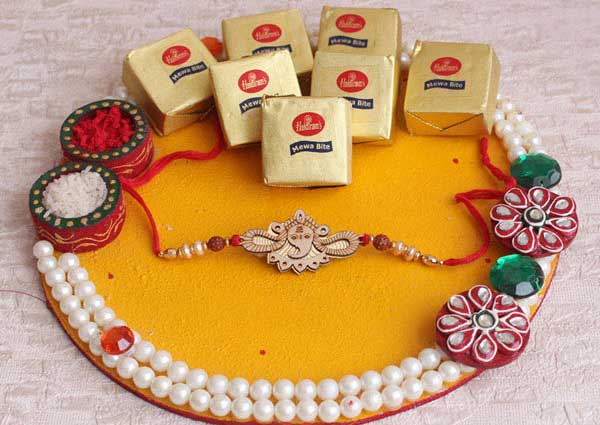 Raksha Bandhan is a religious occasion where sisters pray to the Gods for their brothers long and healthy lives. Order trendy Rakhi with Puja Thali from us for spectacular Rakhi celebrations and make this Raksha Bandhan a joyful one for your loving brother. For a memorable and joyous Raksha Bandhan, these religious plates are specially created and designed with the highest quality materials and brilliant colors. So, if you're starting your Rakhi preparations and buying, order Rakhi with Puja Thali online. You no longer need to leave the comfort of your home to purchase the best Rakhi Thali online.
Raksha Bandhan Cookies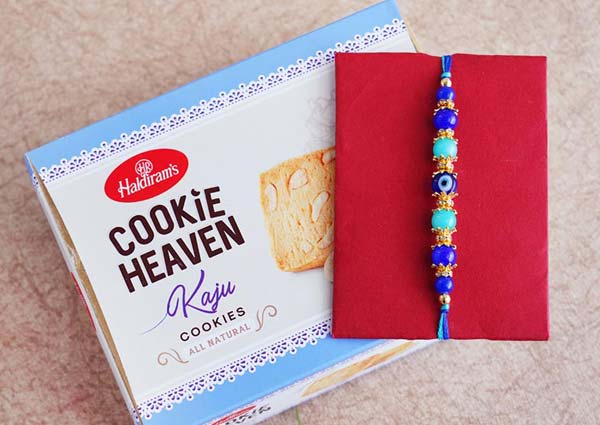 You can consider giving something distinctive and cheerful as a surprise to this year's Raksha Bandhan. You can buy a variety of Rakhi with Cookies Combos online, which will give your brother a reason to enjoy some delicious cookies with everyone. It's an outstanding Rakhi gift option that will truly delight your brother. Everyone enjoys having a snack of delicious and wonderfully prepared cookies. What are you still worrying about if you've discovered a fondness for delicious cookies in your brother? In addition to shopping for Rakhi with Cookies, you can buy and send Rakhi with Cookies online.
Love-Hate bond is the beauty of a sibling's relationship and their never-ending affection, and Raksha Bandhan is celebrated to recognize such pure bonding. Gifts are vital if you want to show your sentiments to someone. Choose Online Rakhi with Gifts Delivery in India this Raksha Bandhan via Rakhi Bazaar, and wish your beloved sibling a hearty Raksha Bandhan with all your generous love and concern.
Even if you and your brother do not live together, your emotional bond will remain strong. With the best Rakhi gift combo, Raksha Bandhan is the perfect chance to pour your heart out to your brother and share feelings you haven't expressed yet. Gifts are the ideal approach to expressing one's innermost feelings in the most beautiful way possible.