Raksha Bandhan in India has always been associated with the bond of love and care that is shared by the brothers and sisters. It is the festival that is meant for people of opposite genders who hold feelings like siblings for each other in their hearts whether they are related by blood or not. The occasions witnesses sisters keeping fasts for their brothers and tying a Rakhi thread on their wrists to seek their lifelong protection and support in every walk of life. But, there is one more person that must be thanked on the occasion of Raksha Bandhan for never-ending love and support. And, she is your bhabhi. She is the one who takes immense care of your brother and ensures his well-being so that he can take care of you.
This Raksha Bandhan 2019, make your sister-in-law feel extremely special and elated by embellishing her wrist with a Lumba Rakhi that is exclusively designed for the beautiful hands of your bhabhi.
Importance of Lumba Rakhi
According to the Marwari tradition, the festival of Raksha Bandhan not just focuses on the importance of brothers in life, but also highlights the significant role played by their wives in their lives. In Rajasthan, there is a tradition in which sisters tie Rakhi not just on the wrists of their brothers, but also on the bangles of their bhabhis The Marwari community acknowledges the contributions of wives in the lives of men, and therefore, considers them equal to them when it comes tying of rakhi by sisters on Raksha Bandhan.
Now, this tradition has spread in other communities and traditions as well leading to the creation of designer Lumba Rakhis. Lumba Rakhi is the rakhi that is gaining popularity among people who have married brothers. These Rakhis are especially crafted for sister-in-laws for the occasion of rakhi in India.
5 Amazing Lumba Rakhis to Buy this Raksha Bandhan 2019
1. Designer Lumba Rakhi
Want a stunning Lumba Rakhi for stylish and fashionable sister-in-law this Raksha Bandhan 2019? Then, pick one from the amazing collection of designer Lumba rakhis available on many online Rakhi shops in latest designs and best quality. The minute details with which they are crafted make them a show stopper on the festival.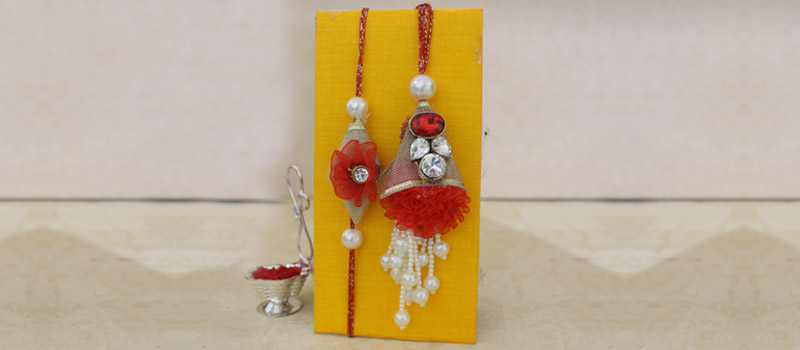 2. Peacock Lumba Rakhi
Peacock designs have always been the most popular ones when it comes to Indian festivals. Peacock Lumba rakhi is certainly a wonderful choice for your bhabhi who showers so much love and affection on you. The beautiful and eye-catchy peacock designs will impeccable deck up the wrist of your sister-in-law on the occasion of Raksha Bandhan.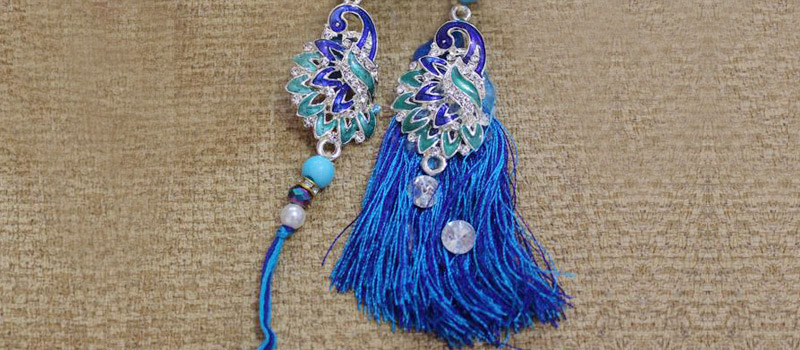 3. Pearl Lumba Rakhi
Pearl has always been a favorite choice of women when it comes to selecting a subtle yet elegant piece of jewelry. This Raksha Bandhan, surprise you beautiful bhabhi with a trendy and beautiful pearl Lumba rakhi that will go well with her personality. The arrangement of the pearls in this rakhi is an excellent manifestation of true craftsmanship.
4. Zardosi Lumba Rakhi
Whether it is about selecting a saree or a wedding lehenga, Zardosi work is what every girl likes to go for. The elegance, charm, intricate designs, and the shimmery look with subtleness are what make this work stand out from the rest. Picking a Zardosi Lumba Rakhi for your charming and sweet bhabhi is the next best option on Raksha Bandhan.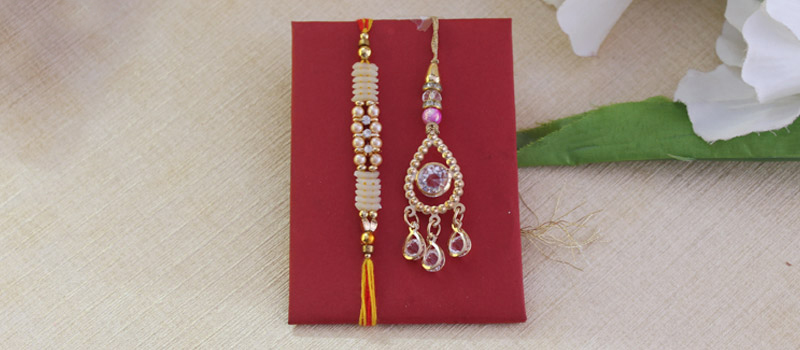 5. Jewelled Lumba Rakhi
Intricately studded with the best quality shiny stones, a jeweled Lumba Rakhi (https://www.rakhibazaar.com/lumba-rakhi-111.html) is certainly going to steal the show this Rakhi 2019. Shiny yet classy, this rakhi is a perfect token of your love that will enhance the beauty of her wrists. This rakhi is a wonderful accessory that can be worn as a bracelet and flaunted on other occasions.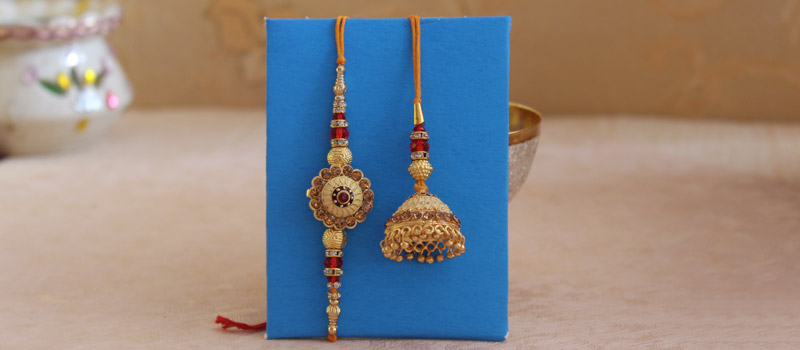 Feeling excited after seeing such masterpieces here? Well, you can order them all from Rakhi Bazaar which is a highly renowned website that exclusively deals in all varieties of Rakhis and other Rakhi gifts. The profuse range of Lumba rakhis will make you jump with joy and strengthen your bond with your sister-in-law even more! Moreover, its wonderful online Rakhi delivery services help you send rakhi to India and abroad to your brother and sister-in-laws just in time.