With Raksha Bandhan approaching us, are you feeling perplexed on what different Rakhis to buy for brothers this time? This becomes a big concern for most of the sisters who search for some unique and hatke Rakhi for brothers to surprise them. As the sacred thread of Rakhi is a hearty expression of emotions of a sister to her brother, therefore, it should be special and expressive. We have listed down some of the popular and trendy rakhis that will, indubitably, not just convey your feelings to him and win his heart in an enormous manner, but also make his wrist look absolutely stylish and amazing.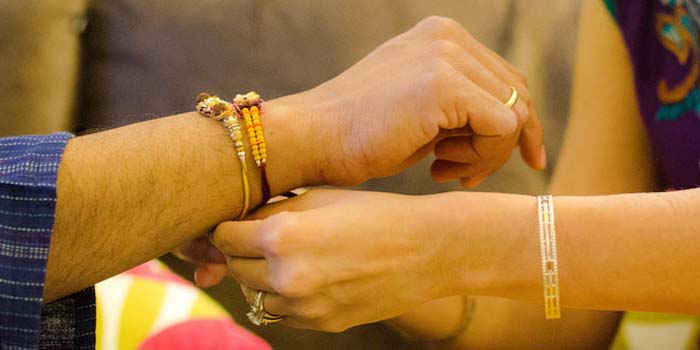 1. Auspicious Rakhi
Raksha Bandhan is an auspicious festival that is a grand celebration of the sibling bond across the globe. So, indulge in the exhilaration and happiness of this festival with your brothers and sisters by tying an auspicious Rakhi on your brother's wrist.
2. Bracelet Rakhi
Ever thought of a Rakhi that can also be worn as an accessory after the occasion of Raksha Bandhan is over? Well, the ranges of bracelet Rakhi available nowadays are perfect choices to embellish the wrists of the brothers. The wide variety of designs and patterns provides great options to sisters to choose the best one for their bros!
3. Lumba Rakhi
This Raksha Bandhan, don't just make your Bhaiya feel special, also make your Bhabhi feel fortunate to have such an amazing Nanad like you! Tie this beautiful and elegant Lumba Rakhi on her wrists that expresses your love and respect to her.
4. Silver Rakhi
Plated with silver coasting, silver rakhi is a perfect way to add auspiciousness and shine in your Rakhi celebrations. Embossed with gleaming stones, this Rakhi is a mark of sophistication and traditionalism on the wrist of brothers.
5. Rudraksha Rakhi
If you are searching for a divine Rakhi for brother that will bring happiness, stability, and good luck in his life, then a Rudraksha Rakhi is certainly the best option for you. Available in a variety of patterns, this Rakhi thread is no less than God's blessing for him.
6. Pearl Rakhi
The shining pearls are known for their calming properties and are a much preferred accessory item by the people worldwide owing to their elegance and sophistication. If your brother to like goes with things with a subtle aura and looks, then a pearl rakhi is a perfect choice for him. Decorated with beads and stones, these Rakhi threads is a popular choice of people on Raksha Bandhan,
7. Golden Rakhi
Festivals in India are all about the shine and sparkle. And, nothing describes the preparations and celebrations well than a golden color. So, this Raksha Bandhan, buy a golden rakhi for your brother embellished with stones, beads, and other traditional artworks and spruce up the beauty of his wrist with your love and affection.
8. Bhaiya Bhabhi Rakhi
This pair of Rakhi is a perfect manifestation of the deep love and affection that exists between this stunning couple on Raksha Bandhan. Buy these symmetric Rakhis online for your Bhaiya and Bhabhi who loves you immensely and make this festival a blissful one for everyone!
9. Peacock Rakhi
Peacock holds immense significance in the Indian traditions owing to their renowned legendary involvements. This national bird of India is also a symbol of grace, joy, pride, beauty, and love. So, order a beautiful peacock Rakhi for your brother and celebrate Raksha Bandhan traditionally.
10. Kundan Rakhi
The beauty of Kundan work is well-known all over the world. It is the most demanded form of art due to its elegance and charm among people. Kundan rakhi, embellished with stones and sometimes Zardosi work, is a mark of beauty and ethnicity.
11. AD Stone Rakhi
If you are looking for a semi-precious Rakhis for brothers, then the collection of these sparkling Rakhis will certainly sway your brothers' hearts when tied on their wrists. The AD stones will impart a classy and traditional look to these designer threads for Raksha Bandhan and add more spark and joviality in the rakhi celebrations.
12. Zardosi Rakhi
The vibrant and colorful silk threads, shiny stones, and Zari work are what defines the intricacy of the Zardosi Rakhi. Deck up the wrist of your brother on this Raksha Bandhan with this designer rakhi that will just look stunning and appealing to every one whosoever sees it on his hand.
13. Ganesha Rakhi
This Raksha Bandhan, bless your brother with the divine blessings of Lord Ganesha by tying Ganesha Rakhi on his wrist. As God is known for eliminating all the negativities and hurdles from anyone's lie, therefore, this Rakhi thread makes a perfect choice for your caring brother.
14. Swastika Rakhi
The symbol of Swastika in Hindu religion holds tremendous importance in the performance of any religious rituals. It denotes positive beginnings and brings auspiciousness in whatever we do. So, Rakhis designed with this symbol too became carriers of this aspect and therefore, make great Rakhi ideas for brother on his coming Raksha Bandhan.
15. Doremon Rakhi
Doremon is the most favorite cartoon of kids nowadays. Rakhis designed with the shape or image of this cartoon character makes little brothers jump with joy. So, this Rakhi 2019, let your little munchkins indulge in the Rakhi celebrations in their desired way.
16. Om Rakhi
The recitation of the word 'OM' fills one's mind with peace and positivity. So, Om Rakhi will be an absolute perfect Rakhi for your brother to bring both these aspects in his life. Available in a variety of designs and patterns, pick the best one for him and make him feel proud of your choice.
17. Sandalwood Rakhi
Everyone loves the pleasing fragrance of the sandalwood that is widely used in the religious ceremonies owing to its auspiciousness. Tie a scented Sandalwood Rakhi on the wrist of your brother and showers divine blessings on your brother.
18. Mauli Rakhi
Mauli thread is considered as a propitious item tied on the wrist of people during or after a religious ceremony to bless them with God's grace and blessings. Get a Mauli Rakhi ordered for your brother and tie it on his wrists as a sacred thread that will protect him from any sort of negativities.
19. Beaded Rakhi
If simplicity is what defines your brother's style statement, then bead Rakhi is what you should pick for him for Rakhi celebrations. The elegant beads and stones in this Rakhi impart this Rakhi thread an elegant appearance and aura.
20. Veera Rakhi
This kind of designer rakhi threads is embellished with shining stones and perfectly expresses your love and affection to your "Veera" in a magnificent manner. The uniqueness and glamour manifested by these Rakhis make it stupendous choices for stylish brothers out there. These are available both in thread and bracelet versions.
21. Ek Onkar Rakhi
Bless your brother with the heavenly blessings of Guru Nanak by tying this blissful rakhi on his wrist. Available in a variety of designs and patterns, this Rakhi is a perfect symbolization of your love for him.
Feeling happy to see such a magnificent plethora of Rakhi for brothers for this upcoming Raksha Bandhan? Hold on your excitement and have a look at the amazing Rakhi collection of Rakhibazaar.com and find all these Rakhis in a variety of shapes and designs waiting only for you! Grab your favorite one now!