As every festive ritual in the Hindu religion holds immense significance pertaining to their associations with the Divine, it must be celebrated in a proper ritualistic and traditional manner. As Indian people are very particular in terms of the performance of religious ceremonies owing to their strict religious beliefs in the Almighty powers, they give due regards and importance to the ideas of Muhurat and auspicious and malicious timings of performing a ceremony in a righteous manner.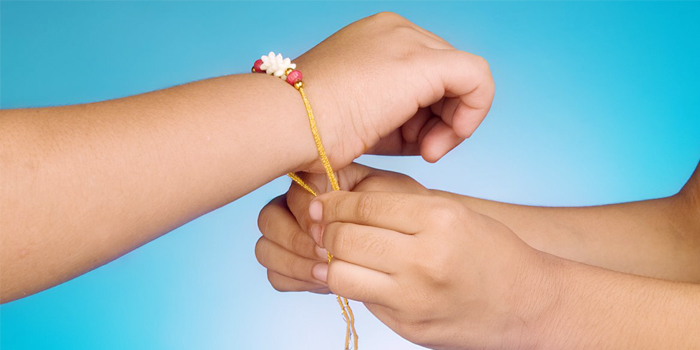 The festival of Raksha Bandhan also holds significance in Hinduism owing to the mythological legends involving Gods and Goddesses. Rakhi is a festive celebration of the special and indomitable bond of the siblings, so it must be celebrated with the same ritualism and traditionalism just like other Indian festivals. This Raksha Bandhan, adhere to all the minute details of performing a Rakhi ceremony by following each and everything in a proper and diligent way. As every religious ritual has certain implications on our lives, it is always better to perform them according to the way they are suggested in the scriptures. So, we have stated here a few extremely important things which must be adhered to for auspicious and amazing Rakhi celebrations with siblings.
1. Rakhi
A sacred thread of Rakhi is what defines the strong and invincible bond of the siblings in the most beautiful manner. Raksha Bandhan celebrates this wonderful relationship in a celebratory way and strengthens their hearty bonds even more. This festival cannot be imagined without this holy thread of Rakhi being tied on the wrist of brothers as a mark of sister's love and affection for him. So, get the most attractive Rakhis for brothers to embellish their wrists and feel joyous and lucky on this affectionate  festival of siblings.
2. Physical Togetherness of Siblings
Just like salt in the dish, Raksha Bandhan celebrations seem to be incomplete and tasteless without the presence of siblings on this auspicious festival.  And, when they are away missing the Rakhi celebrations at your home, life seems to be boring and flavorless. The wistful feelings take over your heart and the only way left to celebrate this festival with them is by sending Raksha Bandhan gifts and Rakhi online. If you are one of the blessed persons who will have their siblings right beside them on Raksha Bandhan, then make this festival a grand and memorable affair for them. Enjoy this physical togetherness and feel yourself fortunate as they are many out there who are not as lucky as you.
3. Adherence to Auspicious Timings
According to Panchang/Hindu Calendar, there is always a slot of auspicious timing to perform any religious ceremony within which it must be performed. Similarly, the festival of Raksha Bandhan must also be celebrated within the Shubh Muhurat to avoid any inauspiciousness in your Rakhi celebrations. This time period is considered propitious to perform any religious ceremony and this will bring happiness and fortune in your life. It is always recommended to avoid the malicious time of Bhadra.
4. Early Bath
Getting up early in the morning and having a bath is a common activity of most of the siblings. Worshipping and praying to God soon after taking a bath to bless brothers and sisters with a long and healthy life There is a sense of excitement that resides in the hearts of the siblings on this amazing day which takes away their sleep making them awake in the early hours of the morning. They get ready in their best clothes for the day excited to charm their siblings with their special gifts.
5. Fasting by Sisters
The festival of Raksha Bandhan observes sisters keeping fasts for their brothers to bless them with happy, healthy, long, and prosperous lives. Fasting is a common ritual followed by sisters on this festival to shower God's blessings on their brothers. Sisters keep these fasts till the performance of the Rakhi ceremony and once they have completed this ritual, they will open their fast with the hands of their brothers by eating sweets.
6. Rakhi Puja Thali
Performing a religious ritual without a Puja thali decorated with all the essential items required is never sight in the Hindu households. Every Hindu worships God and performs religious rites with a Puja Thali in hand, embellished with kumkum, rice, diya, sweets, and flowers. Raksha Bandhan celebrations also require a Rakhi Puja Thali to perform all the ceremonies religiously with the brothers. This thali is a significant part of the Rakhi celebrations and has become a popular gifting item nowadays. It must contain the following important items-
Rakhi (Depending on the number of brothers)
Kumkum & Rice for the Tilak ceremony
Sweets
Flowers
A lit diya
7. Tilak Ceremony
Tilak is touted as an auspicious and holy in Hindu traditions and culture. Applying a tilak of kumkum on the forehead of the brothers signifies opening the third or wisdom eye. It denotes your devotion to your sibling relationship and protects your brothers from any impending dangers that come in his life. Sisters apply red tilak of kumkum on their brothers' forehead during Raksha Bandhan ceremony and thereafter, apply rice on the same and sprinkle some on their heads.
8. Performance of Aarti of Brothers
This one is basically done to ward off all evil eyes and dangers from your brother's life. He will be bestowed with long and healthier life and no negativities will bring more prosperity and good luck in his life. The flames of the holy diya of Rakhi eliminated darkness and keep the person grounded in the real world. The performance of the aarti ceremony is counted amongst the 16 steps which need to be performed in the Puja ceremony.
9. Rakhi Tying Ceremony
Now, comes the most crucial part of the Rakhi celebrations, i.e. tying Rakhi on the wrist of brothers. The days of preparations come to a beautiful and heartwarming conclusion with this ceremony performed by sisters. This is certainly an emotional moment for most of us as it signifies our love for our brothers who are our strengths as well as weaknesses.
10. Sweetening Brothers' Mouths with Sweets & Chocolates
With such amazing and sweet celebrations coming to an end ritualistically, they must be completed with something delicious and sweet. Chocolates and sweets are wonderful delicacies to mark the amazing festival of Raksha Bandhan and celebrate it with siblings while gorging on these tempting food items all day.
11. A Promise of Everlasting Protection
As every festival of India has a moral attached, the festival of Raksha Bandhan celebrates the true spirits of being a responsible brother of a sister. He gives an everlasting promise of protection to her sisters and pledges to never leave her side no matter what comes in their way. The sister also promises to be with him forever and taking care of him.
12. Exchanging of Rakhi Gifts by Brothers & Sisters
Finally, the most interesting phase of Raksha Bandhan is here. The months of planning come to an end with this making every sibling rich and full of mesmerizing gifts. Some of the most popular gifts include cash, chocolates, sweets, dry fruits, watches, apparels, and others.
India is a land of rich culture and traditions. And, the festival of Raksha Bandhan try to captures that in an unimaginable way. Buy Rakhi online for brothers from Rakhibazaar.com and make this upcoming festival a fabulous one for your siblings.