Raksha Bandhan festival honors the relationship between brothers and sisters. Siblings argue, love, and share secrets but adore one other. Sister and brother have a relationship with no secrets, and we can't overlook the fact that they are both adversaries and most incredible friends to each other, with whom they may share every small secret. To wish your sibling Happy Raksha Bandhan well, get the greatest Rakhis. A trusted online store has put together beautiful combos for people of all ages, and these presents would arrive on time. Raksha Bandhan is a special day when brothers and sisters celebrate their relationship. It's a day for them to spoil one other and express their love by exchanging gifts. So, with Raksha Bandhan approaching, if you're looking for a way to surprise your sibling with something special, consider Rakhi with Gifts, which will double the excitement of your celebration.
Sisters are known for their compassion and love for their brothers. She always loves her brother the most, no matter how much she fights with him. And, when the vital day of Raksha Bandhan approaches, she is the most eager to make her brother feel special. If you're one of these sisters, you'll need some beautiful Raksha Bandhan Combo Gifts to make him feel pleased. Because every brother is different and has distinct likes and dislikes for other things, a Rakhi gift for brother should be something he will enjoy. When choosing a Rakhi gift, a sense of attention is usually appreciated. If you cannot come up with a unique gift concept, you could consider the Rakhi Gift combo surprise ideas. Consider the following heartfelt Rakhi combo gifts to make your celebration extra special:
Rakhi with Chocolates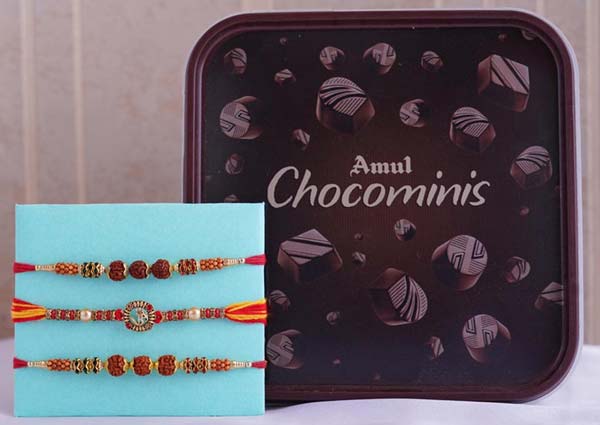 Rakhi with Chocolates is one of the best Rakhi gift combos to choose for adding sweetness to the bond of affection you share with your favorite brother. If your beloved sibling is a big fan of chocolates, choosing a Raksha Bandhan chocolate gift basket will be an intelligent choice. Your younger brother and older brother will enjoy being pampered with chocolates during Raksha Bandhan. This is, in fact, one of the most popular gift selections. Rakhi is time to cherish the happy moments with a chocolate bar.
Rakhi with Plant Gifts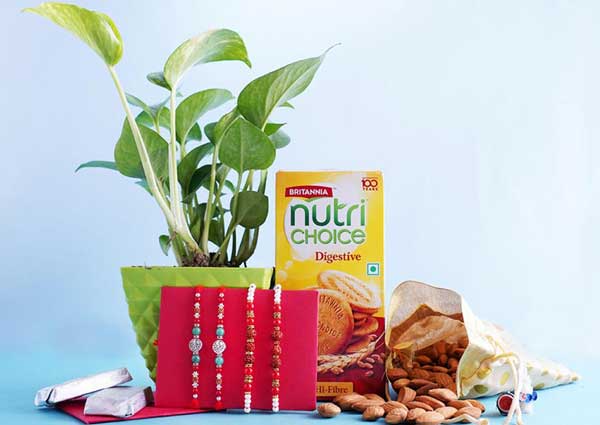 If you desire to bring a thoughtful gift for your beloved brother, you should choose indoor Rakhi plant gifts. With an intelligent gift combo, Raksha Bandhan is the right time to express to your brother how wonderful he is. Send him a Rakhi with a Lucky plant to bring happiness and joy of love into his life. Send your admiring wishes to your brother with a Rakhi and an indoor plant gift, which will undoubtedly bring him good luck and wealth. This fresh and charming mix, with a money plant taking the day's greetings with a Rakhi, is a pleasing combo. For the freshness he seeks, the combination is excellent for his room.
Rakhi with Flowers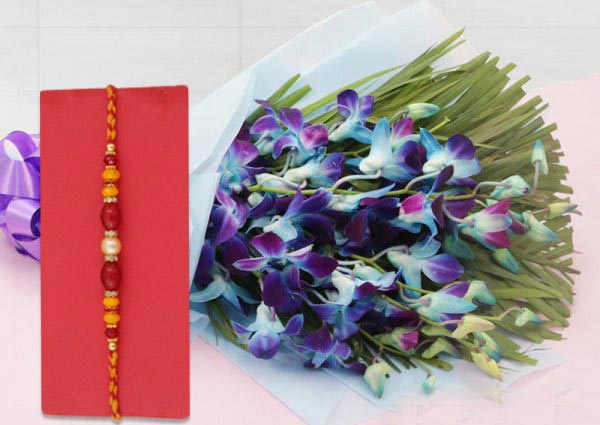 To surprise your loved brother living far away from you, you can send him Rakhi with flowers online. Sending a bouquet of flowers with chocolates to your incredible brother, who has always been there for you, will be the perfect way to express your heartfelt gratitude. A bouquet of fresh flowers can also put a smile on the sister's face immediately, but a box of chocolates will make her Rakhi celebration even sweeter. Rakhi with flowers is one of the sweet gestures that siblings can use to bring magic to their admiring bond.
Rakhi with Toy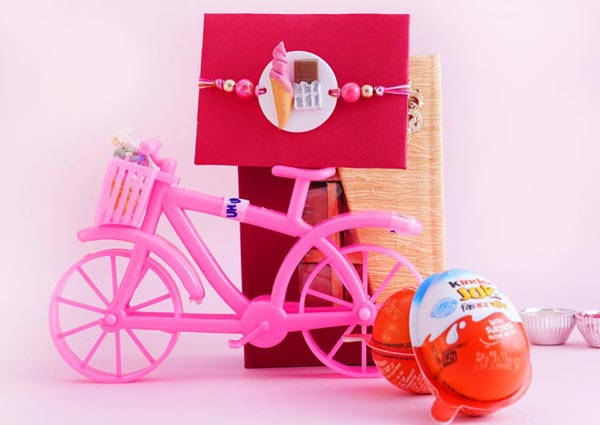 To make your little siblings' way more than happy, you can choose to buy Rakhi with soft toy gifts online. If a girl has a young baby brother who needs a lot of loving on Raksha Bandhan, all you have to do is surprise him with a Rakhi and Toy combos. A lovely Rakhi with a toy gift for younger siblings will surely bring a fantastic vibe to your Raksha Bandhan celebration. So, prepare to surprise your sibling with a happiness package without any wait.
Rakhi with Pooja Thali
This is the present you should choose on the auspicious occasion of Raksha Bandhan to raise the aura of holiness on holiday. A Rakhi with Puja Thali is the ideal token of love for making the brother feel cherished and cared for on this important day. If he lives far away from you in another country, you can choose this gift to make him feel close to family and Indian traditions. You can find an extensive collection of Rakhi with puja thali combos in various classic and contemporary patterns. It is one of the auspicious gifts that one can choose for their beloved siblings living in the USA.
Rakhi with Sweets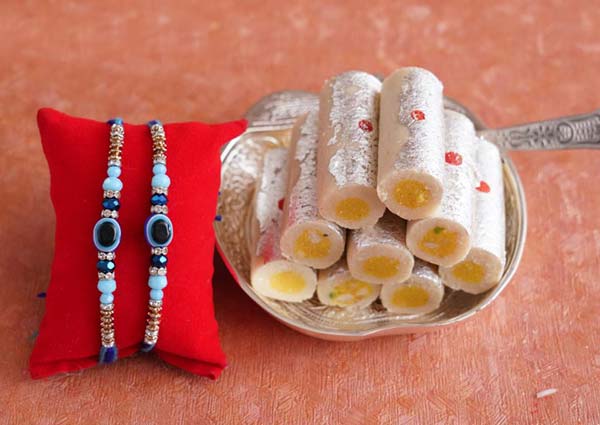 The lovely combination of Rakhi and sweets is another traditional Rakhi gift. Rakhi with Rasgulla, Rakhi with KajuKatli, Rakhi with Gulab Jamun, and many other delectable sweet treats can all be combined with a lovely thread of Rakhi. This is the ideal combo for giving your loving brother a wonderful experience. You can easily send this Rakhi set to your brother with a reliable online gift shop. There are a lot of SoanPapdi and Rasgulla fans in India, so if your brother is one of them, this Rakhi combo is ideal. This Rakhi combo surprise includes a lovely and royal Rakhi and a box of delicious sweets to amaze your brother with the delectability of Raksha Bandhan. Having a devoted brother is a gift, and having a sister-in-law who always looks after your brother is even better. Order Bhaiya Bhabhi Rakhi with sweets for your married brother and sister-in-law this Raksha Bandhan and spread love throughout your family.
Rakhi with Raksha Bandhan Mug Gift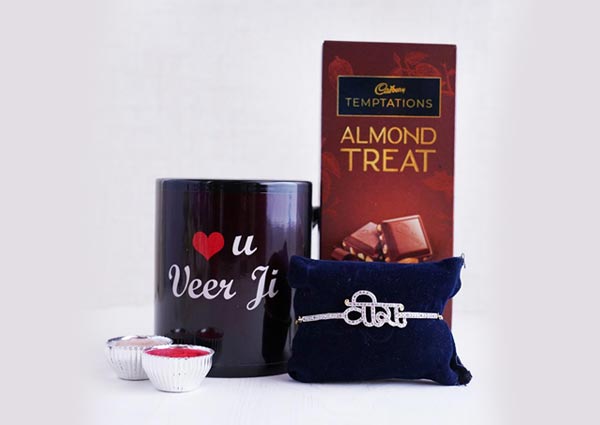 Raksha Bandhan Mug and Rakhi are a simple yet complete combination suitable for all age groups and affordable. Get this set to keep him company on his break while also serving as a cute reminder of your relationship. Rakhi with Personalized Coffee Mugs is one of the most popular Rakhi gift pairings these days. So, in addition to a lovely Rakhi thread, a customized mug surprise gift will make your closest brother very happy. You can have your favorite photos of your dearest brother taken with you printed on the coffee mug. This year, a thoughtful Rakhi gift combo includes a traditional Rakhi thread and a Customized cup, which a sister can give to her adoring brother. So, sisters, get a rakhi for your brother and a Personalized photo mug and give him a souvenir that will remind him of you for the rest of his life.
Rakhi with Dry Fruits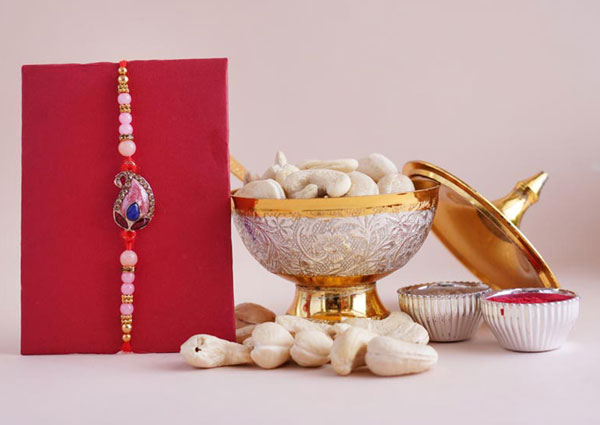 You can't trust your brother when it comes to caring for himself, so you must always watch his health as a responsible and loving sister. So, no matter how far he is from you, send him a Rakhi with dry fruits online from a reputed gift shop, this Raksha Bandhan, to convey your care and love for him. All required to complete the Rakhi celebration is a healthy combination of almonds, a chocolate bar, and an antique Rakhi. Send Rakhi gifts online with good wishes. Rakhi with Dryfruits combo is one of the best ways to express sincere thoughts of care and affection to your dearest brother. Dry fruits are nutritious, and when paired with a Rakhi, they make a thoughtful and compassionate Raksha Bandhan surprise for seizing your brother's heart. It's the perfect Rakhi gift for impressing your older brother on this auspicious occasion.
Rakhi with Pen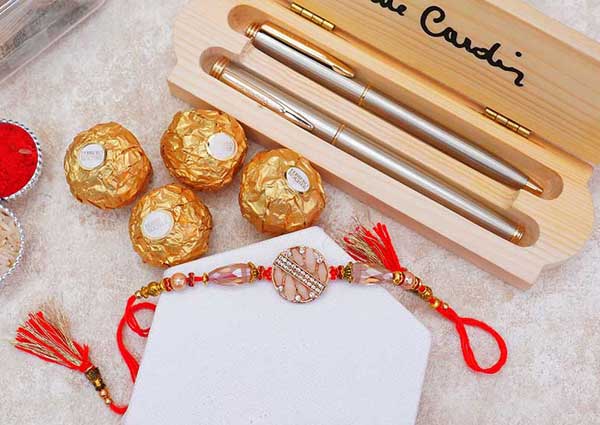 If your brother is a Student, then there is no doubt you should choose Rakhi with a pen gift for him. The combination of Rakhi and pen is an excellent and considerate gift to wow any brother of any age. It's no surprise that a gorgeous Rakhi with a pen will delight a brother. The Rakhi with pen combo is a great and advantageous gift for expressing deep feelings of respect and love to dearest brother, from baby brother to elder brother.
Rakhi with Cushion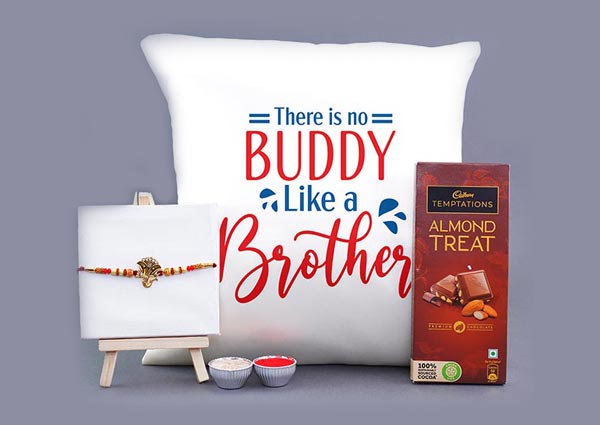 If you wish to get a fun gift for your beloved brother on the auspicious occasion of Rakhi, then Rakhi with Cushion is the perfect choice for you!! Finding the perfect gift for your sister, whether for Raksha Bandhan or any other occasion, is always challenging. But, with Rakhi approaching in a few days, you must be looking for a thoughtful gift for your sister. A customized cushion with a lovely Rakhi thread can never go wrong when showing your love and concern for your loved brother.
This year, Rakhi will be celebrated on the 11th of August, and the entire family will gather with unique gifts and Rakhi collections for their brothers. You must choose the best Rakhi with gifts for your brothers. For Indians, August is jam-packed with celebrations, including one of the most important Indian festivals, Raksha Bandhan. This festival is for a special relationship between brothers and sisters. Nowadays, people are busy with their schedules and have little time to choose Rakhi and Rakhi gifts for their siblings. RakhiBazaar has excellent Rakhi combos online to buy or send to your brother to make your process more manageable and less time-consuming.
Make your brother smile this year with Online Rakhi with Gifts Delivery. A Rakhi thread paired with a thoughtful surprise is the ideal Rakhi gift to send to your brother, who lives in a different city or country. Take notice of these brilliant Rakhi gift ideas to make this Raksha Bandhan as memorable as your brother or sister. These combinations could be great for commemorating your bond and making this day worthwhile even if you are apart. Your relationship with your sibling will not alter, no matter how old you get.