We have often seen pretty puja plates in movies and serials. They always make us feel envious of their decorated plates looking beautiful and full-fledged aarti ready. Many wonderfully decorate their puja thalis on all auspicious occasions, ensuring everyone enjoys looking at these fully loaded plates.
Since Raksha Bandhan is around the corner, you must plan to decorate your plate too so that your brother can feel special and you can get all the feels of the festival. If that's the case, let us help you with the details on all the essentials you must have in your puja thali on Raksha Bandhan and how to decorate it properly. It will give you a festive and auspicious feels altogether. So get ready to be creative and continue reading the details below:
It's all about the Essentials
Before we arrange our puja thali for Raksha Bandhan, you must have a proper list in front of you to prepare things accordingly. Here is a list of Raksha Bandhan puja essentials for you and why they are required:
1. Roli and Chawal: One of the essential things in every puja, a paste of roli and chawal, should be therein your puja thali because Tilak is used in rituals to dust off negativity and keep evilness at bay.
2. Flower petals: Rose and marigold flower petals are used as a welcoming gesture during puja. Showering flower petals on your brother during Raksha Bandhan puja is done to bless and show him he is always welcomed in your heart.
3. Incense sticks: Scented incense sticks add aroma to the room and lighten the atmosphere with a pleasant smell. It relaxes the mind, calms our train of thought, and removes stress so people can feel good and mentally at peace during festivities.
4. Lit diya: No puja can be performed without a diya. It is a traditional way of removing negativity and showing your love and respect while performing puja.
5. Sweets: Once you are done with everything, you have to offer sweets to your brother to complete the ceremony on a good and sweet note. So don't forget to add some of your brother's favorite sweets to your puja thal for Raksha Bandhan puja.
6. Rakhis: How can a plate for puja during Raksha Bandhan be complete without adding rakhis? Add your designer rakhis to the plate and complete your puja thali just like that.
Have you collected all these items? Make sure nothing is missing as we are about to decorate the plate with you. Keep all these essentials in front of you and read the details below. Brace yourself to arrange your puja thali for Raksha Bandhan.
A Systematic Arrangement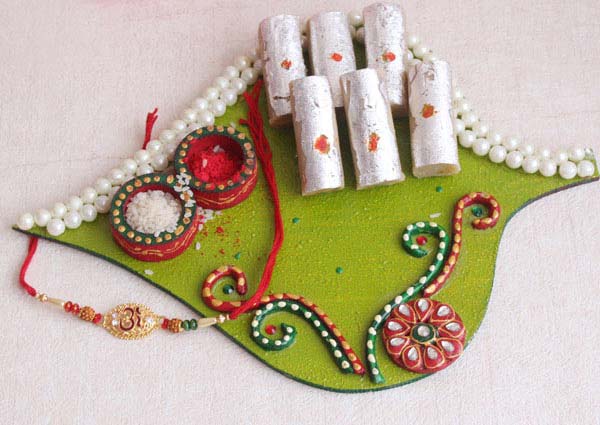 Start with getting a beautiful, round-shaped plate that is big enough to accommodate all the items. You can buy a place that is already decorated, or you can DIY and cover the plate with red or golden cloth with shiny borders on the edges to make it look attractive and festival ready.




Now that your plate is ready start assembling all the essentials. Begin with putting sweets on a tiny sweet dish plate so they don't mess up everything by spilling their sugary content. Place it on one side of the thali.




Then, make the roli and chawal paste and add it to a tiny bowl. Make sure the mixture has a perfect consistency so it can be easily applied. Place this small bowl on the other side of the plate.




Now, nicely place the flower petals in the center of the plate. The center's fresh red roe and marigold petals make the dish look more colorful, attractive, and packed.




Then add all your rakhis to one side of the plate. Don't forget to remove them from their coverings; no pins are left on the rakhi thread. Open them and place them nicely so they don't tangle up or their design gets hidden.




Last but not least, on the fourth side of the plate, put your diya and incense sticks. Place the diya over a small plate before placing it on the thali, so its heat doesn't burn the cloth beneath. Put the incense sticks on a stand, and remember, this side of the plate will be front-facing, i.e., facing towards your brothers while performing rituals.




So, now that you know what to place in the left-right, front, back, and at the center of the puja thali for Raksha Bandhan, here's the order in which you will use the essentials one by one:

What Comes First?

Tie rakhi on your brother's wrist, apply Tilak on his forehead, shower some flowers over his head, now clockwise turn around the plate in front of his face to perform puja with diya and incense sticks, then finish the ritual by offering him, sweets. Bless him if he is your younger brother, and take his blessings if he is elder.

And that's all, folks! Now you are fully prepared to decorate your plate on Raksha Bandhan and perform rituals properly.