When Raksha Bandhan is around the corner and we begin rakhi shopping, we often look for our brother's best designs and latest fashion rakhis. But we don't always know what to choose and why to choose any particular rakhi? A rakhi is more than just a thread used to fulfill rituals. They carry a sister's feelings in it and deliver them to her brother. A brother also waits for her sister's rakhi as he is excited about the design his sister has chosen for him, this Raksha Bandhan.
This makes it even more important to look at the top best, and most preferred rakhi to narrow your search. Knowing why that particular rakhi is best is also great since you can explain it to your brother and show him how severe and concerned you were about a single rakhi shopping for him. Because that's how important brothers are, and on that note, we present you the top 10 rakhis perfect for your brother. Read it thoroughly and pick the one that you feel has the best reasoning and matches with your thoughts.
Best rakhis list for the best brother in the world
Pearl Rakhi:

Pearl rakhis are the epitome of elegance and grace. There's no rakhi as simple yet as significant as pearl rakhi. And if your brother doesn't like too much color or bling in a rakhi, you can always buy a simple pearl rakhi from him, which is also very pleasant to look at. You can find various pearl beads in a single pearl rakhi. There are so many pearl rakhi designs you can choose from, and tie it on your brother's wrist to brace his wrist with grace and elegance.

Kundan Rakhi:

If you like a touch of literally everything in your rakhi, then Kundan rakhi is for you. made with colorful beads, brass metal, and beautiful designs. A pearl rakhi is tied together with colorful threads. It gives a vibrant look and is highly in demand on rakhi. The gemstones shine bright, making it one of the best rakhis for Raksha Bandhan.

Silver Rakhi:

You must buy a silver rakhi to block someone's eyes with beauty and shimmer. Silver is a metal with cool properties, and silver rakhis with all that shine look cool too. If you don't like too much color in your rakhi and yet you wish to stand out on Raksha Bandhan, buy a silver rakhi and let it do all the work on your behalf.

Auspicious rakhis:

We often like going traditional and trying our best to keep our brothers safe and sound forever. The best way to ensure he is always safe is to give him an auspicious rakhi that will keep evilness and negativity away from him and protect him from all sorts of problems. An auspicious rakhi is like a boon; the best thing is that there are various types of auspicious rakhis, including rudraksha rakhi,swastika rakhi, and om rakhi, Ganesh rakhi, etc. All of them have their respective goodness and uses, and you can buy the rakhi that you find most suitable for your brother and ensure that he gets maximum divine blessings from this Raksha Bandhan.

Kids rakhi:

Kids rakhi is mainly for younger brothers and nephews. Not just one, but there are so many different sections to choose a kid's rakhi from. You can buy superhero rakhi, cartoon rakhi, foodie rakhi, and what not for a baby brother. Also, if you want to tease your elder brother a bit, you can buy a minion or angry bird rakhi for him.

Pure Chandan Rakhi:

To let your rakhi celebrations get covered in the most pleasant smell of Chandan, aka sandalwood, you must but a pure Chandan rakhi with sandalwood scent infused. Since Chandan is also considered a sacred tree, buying a pure Chandan rakhi is also considered auspicious for your brother. Pleasant fragrances like sandalwood are known to calm anxiety and lift your mood, which is why a Chandan rakhi is a good option for Raksha Bandhan.

Veera rakhi:

What's rakhi without going out of the box for your brother and gifting him a tag that he is yours and only yours permanent 'veera?' Veera in English means brother, and you can get a veera rakhi both in English and Hindi languages. You can choose either one or both of them and give a label to your brother, who is otherwise also evident. But let's be honest, sisters like to be a little dramatic about their brothers.

Handcrafted Rakhi:

If you like the stuff made with hands and without the interference of a machine, then buy a handcrafted rakhi. Made by an experienced craftsperson, we can assure you that these rakhis are not just perfect but beautiful and durable. So, support the work done by a person through his hands and buy unique and attractive handcrafted rakhis.

Quirky rakhi:

Are you looking for some swag and funkiness in your rakhi celebration? Then why not buy a quirky rakhi? Quirky means unusual, and there are plenty of unusual and unconventional rakhis available on our portal for you to choose from. Think out of the box and surprise your brother with a different rakhi and make this Raksha Bandhan uniquely quirky for him.

Zardosi rakhi: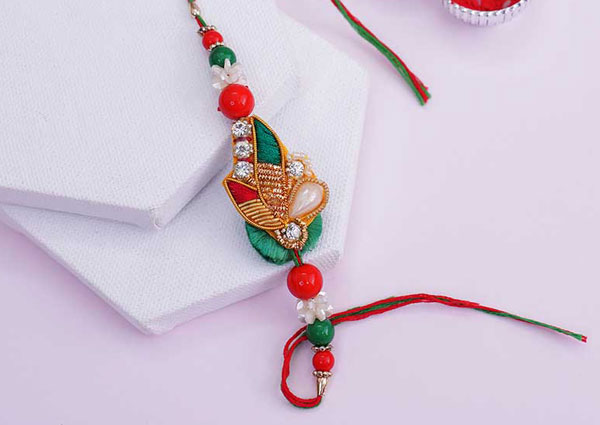 Do you like all those traditionally made rakhis with flower work designs and simplicity of their own. That is the zardosi embroidery borrowed from Iran. A rakhi made with tiny zardosi rakhi and flowers and patterns is uniquely different. You can buy these colorful yet subtle zardosi rakhis for your brother that have a design but aren't too blingy to look at.
Those were some of the best rakhi options, and you can pick any of thee rakhis without over thinking. This Raksha Bandhan, choose trends with style, meaningfulness, and celebration, making the festival much more lively.