When it comes to selecing gifts to send to our dear ones, we often lack ideas and are blank as to what to gift them. This isn't because options are scarce or we are incapable of thinking of great ideas. It is because we want our gifts to be the best so that our beloved can feel our love through them.
Raksha Bandhan is nearing, and girls are going through the same dilemma as their brothers living abroad. While the tension is justified, claiming that you don't have any idea isn't because when you have a trusted friend like Rakhi Bazaar, you can never go out of gifting ideas. Below, we have mentioned six great ideas to create a rakhi gift hamper for your brother who lives abroad. You can take our suggestions and send rakhi to USA via Rakhibazaar.com with gift ideas mentioned below.
6 ideas to customize your Rakhi gift hamper with Rakhi Bazaar
The basic idea is to have every essential in the hamper. That can only happen if you have rakhis, gifts, and something to offer as sweets after completing the rakhi tying ritual. Rakhi Bazaar has many options for you in these three categories too. And that is how we have designed it for you:
1. Bracelet rakhi with wallet and chocolates: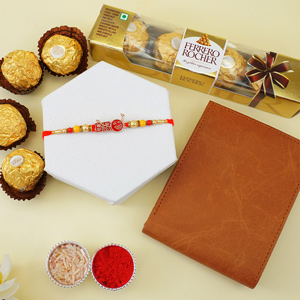 A trendy bracelet, rakhi is so in a fashion that men like wearing it even after the festival are over. And since your brother lives miles away from you, we are pretty sure he would want to wear your rakhi till it's possible for them. Our range has so many bracelet rakhis, and if you wish to send rakhi to the UK or USA, you can check out the respective page and select your choicest bracelet rakhi.
Since we are going all trendy with our rakhi choice in this hamper, pair it up with a quirky wallet because it is a must to exchange gifts at a festival like Raksha Bandhan. Rakhi Bazaar offers an extraordinary range of rakhi with wallet options. Check them out and see which pair you like the most to send to your brother.
Last but not least, add lots of chocolates to this hamper because offering something sweet at festivals is a centuries-old tradition followed by Indians. At Rakhi Bazaar, you can get boxes of chocolates and loose chocolates to add to your hamper.
2. Silver rakhi with customized cushion and sweets: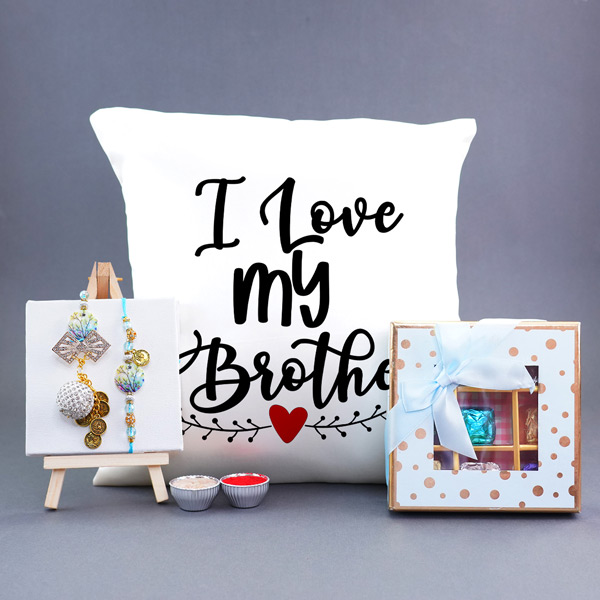 A silver rakhi is the true definition of grace and beauty. There's a reason why it is the best-selling rakhi every year, maybe because silver rakhi knows how to keep its audience hooked and obsessed with its designs. Sending such a mesmerizing rakhi to your brother living abroad will feel amazing. Check out the silver rakhi range and select the best out of the best silver rakhi from Rakhi Bazaar.
Siblings who live away from each other miss each other the most. And such feeling is often expressed with customized gifts like cushions. Buy a personalized cushion and get your sibling's childhood picture printed on it by rakhibazaar.com, then wait for their reaction. Their happiness will be over the top with your thoughtful gift.
To complete the hamper, you must enclose it with a box of sweets. You must pick the sweet that is your brother's favorite, or it has some childhood memory of you two associated with it. This will complete the ritual of offering sweets after the rakhi tying ceremony.
3. Sandalwood rakhi with a book and cookies: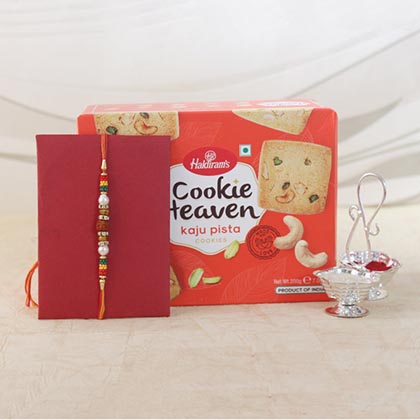 The idea behind sandalwood rakhi was to spread the heavenly smell of holy Chandan in the atmosphere, making it relaxed and calm and helping people feel rejuvenated. Sandalwood is the tree whose wood is used in sacred offerings because of its unique aroma. And if your brother knows this too, a sandalwood rakhi will remind him of all the times he felt blessed while praying in India with his family and performing religious offerings for good. So, send him a pleasantly scented Chandan rakhi to USA anywhere across the globe and remind him of all the blissful times.
To further support your rakhi, send it with a book your brother likes to read. If he lives away from you, he surely misses your guidance, support, and care. Provide it all to him by gifting him a self-help book from our collection and helping him while staying at home.
Finally, select your brother's favorite cookies and pair them up with your sandalwood rakhi and book. After tying your rakhi in a foreign land, he will cherish those cookies and will feel delighted by remembering all the good old Raksha Bandhan days celebrated with you.
4. Kundan Rakhi with photo frame and dry fruits: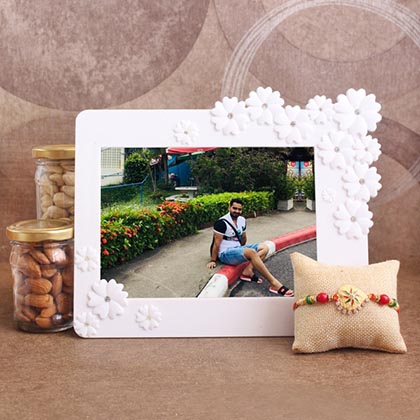 A Kundan rakhi is one of the most exquisite and beautifully crafted rakhis of all time. If you want to see some of the best rakhi designs, you must visit Rakhi Bazaar's Kundan rakhi portal to get lost in the world of beautiful designs. And after getting utterly amazed by them, send rakhi to UAE and let your brother also feel the rakhi of Kundan beauty on his wrist.
A pretty photo frame with your choicest picture in it is a great gift to send to your dearest brother for the special occasion of Raksha Bandhan. You can mail the print to rakhi Bazaar after selecting a photo frame, and it will be delivered with the picture. Be creative and add a quote to the image to make your brother emotional.
Nothing can match the richness of dry fruits, and Indian culture has a special place for dry fruits at festivals. So, this is the right time to remind your brother of some of the best Indian traditions and wish him a sweet and healthy Raksha Bandhan.
5. Pearl rakhi with a wristwatch and chocolates: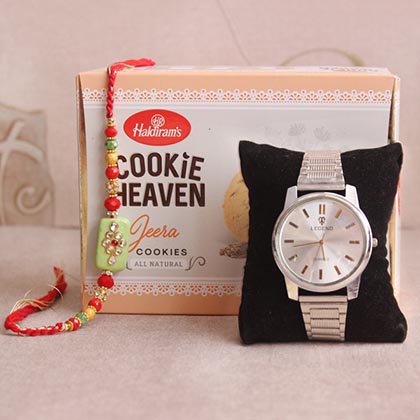 Pearls are nature's gift to humankind. Their beauty is unmatched, and their grace and epitome make everyone mad for pearls. And if you have the same feelings for pearls, it is a must to send a graceful pearl rakhi to your brother. It is ok to choose a rakhi of your choice and sideline your brother's preferences sometimes. After all, it is your day, and you must celebrate it your way. So, choose a delicate pearl rakhi and send rakhi to Australia and New Zealand now!
Men love owing wristwatches, and when it is gifted to them by their sisters, their happiness with that gift and care for the watch has no limits. So, a wristwatch will be the perfect idea to put in a hamper as your brother's Raksha Bandhan gift.
There's no better sweet than chocolates for a millennial. On every occasion, they love munching on this delicious dessert. So, don't overthink and add a bunch of chocolates to it. A fully loaded Raksha Bandhan hamper with a beautiful pearl rakhi, a dashing wristwatch, and lots of chocolates will make your brother's day worthwhile even though he is far away from you.
6. A family rakhi set with mugs and sweets: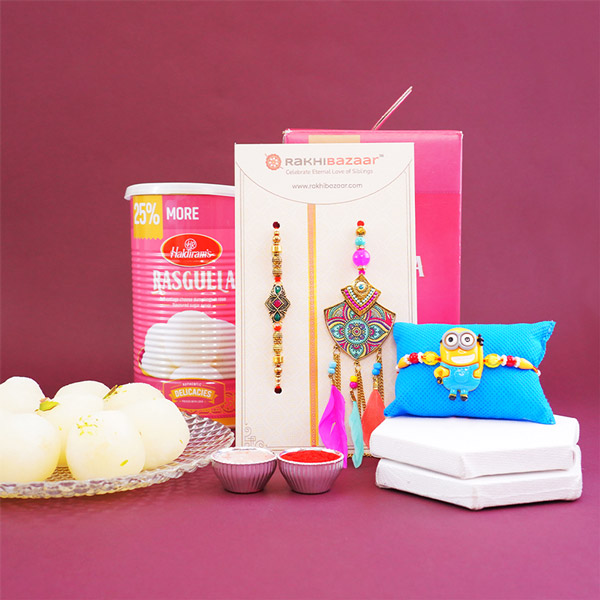 Who said Raksha Bandhan should only be celebrated with brothers. You should also prepare something for your sister-in-law and nephew if you are blessed with these relations too in your life. You can either select an existing family rakhi set from Rakhi Bazaar, or you can choose a rudraksha rakhi, a Lumba rakhi, and a kid's rakhi of your own choice from our exclusive range of these respective categories.
Send these rakhis along with customized mugs. You can decide whether you want to add one mug in the hamper that has a family photo of your brother and his family, or you want to send them all different mugs with their picture on them. Both ideas will work the best and look good in the Raksha Bandhan hamper.
Complete this family gift hamper with a box of traditional Indian sweets and add a layer of happiness to this celebration. We have various options in our sweets categories, and you can send any box of sweets that your family living abroad will love. Send rakhi to New Zealand or Australia with this hand-selected hamper and celebrate the festival of siblinghood.
And that is how you can create some of the best and most happening gift hampers to send to your NRI brother on Raksha Bandhan. We can send rakhi to Canada, Asia, Europe, and anywhere across the globe on your behalf. So, start planning now, and place the order ASAP to enjoy the festival of Raksha Bandhan to the fullest.