The much awaited occasion that you were planning for is now just few days ahead. The propitious festival of Raksha Bandhan that calls for live celebration and immense joy incites a lot of anticipation in heart of every brother and sister. However, there are possibilities of missing out the chance to send the Rakhi gifts in advance. With the frugal and fastest Rakhi same day Delivery service, you can easily avoid the last minute haste while sending Rakhi gifts.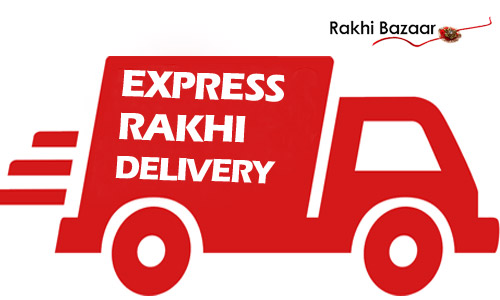 If your sweet bro is based in Bangalore and is unable to take leave to visit his hometown and observe this auspicious day with you and the whole family, you must not feel dejected. Now you can easily Send Rakhi to Bangalore along with the appealing Rakhi presents to your dearest bro through the most acknowledged and widely acclaimed Online Rakhi store.
With the fabulous growth of the online gifting business in India, a number of e-gifting portals have come up that offer an endless range of enticing gifting options with the competent online delivery services. Among all other online Rakhi delivery portal, Rakhibazaar.com has gone an extra mile in guaranteeing a jolly and enjoyable Raksha Bandhan celebration. Those brothers and sisters who are short of time to send the Raksha Bandhan gifts can now save their valuable time and money by availing the fastest Rakhi same day Delivery service.
Apart from that, there is a wide surfeit of desirable Rakhi presents. You can choose from the broad range of latest exciting gifts that are truly inimitable. Here are few options of the unique Rakhi gifts that can stun your bro in Bangalore for sure:
Blooming Bond of love and devotion:
Snapped due to the vast distance, the chaste and devoted bond of a brother and sister is reunited by a sacred thread of love. As the relationship of brother and sister is one such adorable bond that must be esteemed throughout the life, gifting of flowers is the best way to regard it. Here is a cute hamper consisting of a pretty flower bunch of Yellow and Red Roses, with a religious Rudraksha Pearl Rakhi and an Elegant Beaded Pearl Rakhi. This is one of the most appealing combos of Rakhi with flowers that can mesmerize every brother.
Hearty hampers of sundry treats for your bro:
On the occasion of Raksha Bandhan 2017, you must be very eager to delight your bro in Bangalore with all his favorite attractions like chocolates and sweets. You can easily do so if this year you send Rakhi to Bangalore with delightful hamper of bright and beautiful flower bunch of Red and Yellow Roses, assorted chocolates and traditional sweets with a Rudraksha Pearl Rakhi. This is sure to bedazzle your bro like never before.
Cute and Beautiful surprise:
This is another heartwarming Rakhi gift combo that is inclusive of an elegant pearl beaded Rakhi with the lovely floral bunch of beautiful red roses, yellow roses and white lilies that create a magnificent tricolor mix. With this, there is a cute teddy that can grab everyone's attention.
The traditional Basket Rakhi Hamper:
Does your bro love those old and beautiful ways of sending auspicious Rakhi gifts? Then, this is the perfect gift hamper you can send to him on this Raksha Bandhan. With his favorite dry fruits packed in a wooden basket with beautiful Beaded Rakhis, this can really surprise your loving bro. With this you can send his favorite sweet delights like Soan papdi or Kaju Katlis.
These are some amazing Rakhi gifts that can make your brother's day exuberant. You can shop for more exciting presents on Rakhibazaar.com, the renowned online Rakhi shopping portals. With efficient Rakhi same day Delivery service, you can save a lot of time and avoid the last minute rush buying Rakhi at this amazing portal.