Sibling love – The main essence of the festival of Raksha Bandhan! The love and care shared by the brothers and sisters can give a tough competition to any other stronger relationships in this world. They are lifelong companions and each other's confidants who promise to never leave other's hands no matter what comes in the way. Raksha Bandhan speaks of the eternal love and affection between the siblings and celebrates this loving bond through a holy thread of Rakhi which strengthen it even more.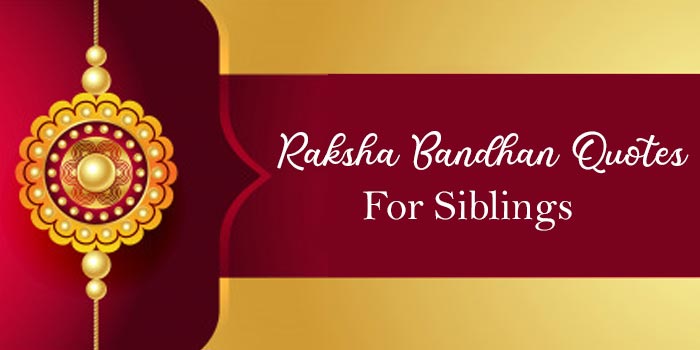 If you have fallen short of words to express your love and admiration to your brother or sister on this Rakhi festival, then these popular sibling quotes will definitely make your job easy and an exciting one. Imbued with the heartfelt feelings, these words of appreciation will convey your emotions to your sibling flawlessly!!!
1. "Siblings: children of the same parents, each of whom is perfectly normal until they get together." – Sam Levenson
2. "My siblings are my best friends." – America Ferrera
3. "Siblings-the definition that comprises love, strife, competition and forever friends." – Byron Pulsifer
4. "They say that no matter how old you become, when you are with your siblings, you revert back to childhood." – Karen White
5. "To the outside world, we all grow old. But not to brothers and sisters. We know each other as we always were, we know each other's hearts, we share private family jokes. We remember family feuds and secrets, family griefs and joys." – Clara Ortega
6. "Your siblings are the only people in the world who know what it's like to have been brought up the way you were." – Betsy Cohen
7. "A sibling is the lens through which you see your childhood." – Ann Hood
8. "As siblings we were inextricably bound, even though our connections were loose and frayed. And each time we met, we discovered to our surprise and dismay how quickly the intensity of childhood feelings reappeared– No matter how old we got or how oft." – Jane Mersky Leder
9. "In some ways, siblings, and especially sisters, are more influential in your childhood than your parents." – Deborah Tannen
10. "If you want to do really important things in life and big things in life, you can't do anything by yourself. And your best teams are your friends and your siblings." – Deepak Chopra
11. "Siblings are the people we practice on, the people who teach us about fairness and cooperation and kindness and caring – quite often the hard way." – Pamela Dugdale
12. "I grew up with an older brother, and the bond between siblings is unlike anything else, and it can be a real journey to accept what that bond is once you both mature into it. Because it's not always what you want. It's not always what you expect. It's not always what you imagined or hoped. But it's one of the most important things in the world." – Ben Schnetzer
13. "Our brothers and sisters are there with us from the dawn of our personal stories to the inevitable dusk." – Susan Scarf Merrell
14. "The Rule of Sibs: If your sibling gets something you want, you (1) try to take it; (2) break it; or (3) say it's no good." – Patricia Fleming
15. "Siblings: your only enemy you can't live without." – Anonymous
16. "The mildest, drowsiest sister has been known to turn tiger if her sibling is in trouble." – Clara Ortega
17. "Our siblings push buttons that cast us in roles we felt sure we had let go of long ago – the baby, the peacekeeper, the caretaker, the avoider…It doesn't seem to matter how much time has elapsed or how far we've traveled." – Jane Mersky Leder
18. "Brother and sister, together as friends, ready to face whatever life sends. Joy and laughter or tears and strife, holding hands tightly as we dance through life." – Suzie Huitt
19. "Brothers and sisters can say things to one another that no one else can." – Gregory E. Lang
20. "A bond as important as that of a husband and wife, is the bond between siblings." – Lee Dong-Wook
21. "Be nice to your siblings, they're your best link to your past and the most likely to stay with you in the future." – Baz Lurhmann
22. "A sibling may be the keeper of one's identity, the only person with the keys to one's unfettered, more fundamental self." – Marian Sandmaier
23. "If you have a brother or sister, tell them you love them every day-that's the most beautiful thing. I told my sister how much I loved her every day. That's the only reason I'm OK right now." – Amaury Nolasco
24. "Sisters and brothers are the truest, purest forms of love, family and friendship, knowing when to hold you and when to challenge you, but always being a part of you." – Carol Ann Albright Eastman
25. "Brothers are like streetlights along the road, they don't make distance any shorter but they light up the path and make the walk worthwhile." – Unknown
The Final Takeaway
The best way to use these quotes is to use them in a handcrafted Raksha Bandhan card designed with the memorable pictures of both of you. You can gift this greeting card along with beautiful Rakhi threads and Rakhi gifts and make Raksha Bandhan 2023 as exciting as ever for your sweet sibling who was and will be there for you, always!!!