Are you thinking of surprising your brother or sister with a special Raksha Bandhan gift that can revive your childhood memories all over again? A handcrafted gift for this amazing festival is always the best option to win the hearts of the siblings and express your love and care in the sweetest way. A Raksha Bandhan card will be a stunning choice for the people who are looking for special Rakhi gifts for brothers and sisters. Creating such a card is not as easy as it seems as it requires great attention and detailing in bringing up something special and exceptional for the festive gifting. Here are some wonderful Raksha Bandhan messages and wishes which can be written on a greeting card to convey your best wishes and blessings to your dearest siblings this Raksha Bandhan 2023…
4 Important Things to Consider in a Raksha Bandhan Card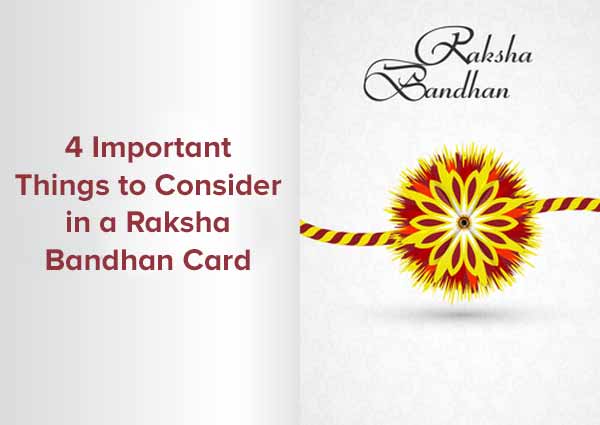 1. The right address: Address your brother or sister with a name by which you refer them. As it is all about sharing your feelings to your siblings on such a pleasant occasion, you can address them with their nicknames (in case they are younger to you) or write just "Bhaiya" or "Behena" if they are elder to you. The way you will address them in the greeting card will depend on your relationship which you share with your brother or sister.
2. A heart Raksha Bandhan message: A beautiful usage of words in a Raksha Bandhan card will perfectly express your emotions to your dearest brother or sister. Take this auspicious festival as an opportunity to communicate your love and care through your words of appreciation.
3. "Happy Raksha Bandhan": As we are creating a Raksha Bandhan greeting card, it is important to mention this joyful Rakhi wish somewhere in it.
4. A hearty closing: Just like giving attention to other aspects in the Raksha Bandhan card, it is also significant to complete it on a right note.
Raksha Bandhan Card Messages & Wishes for Brothers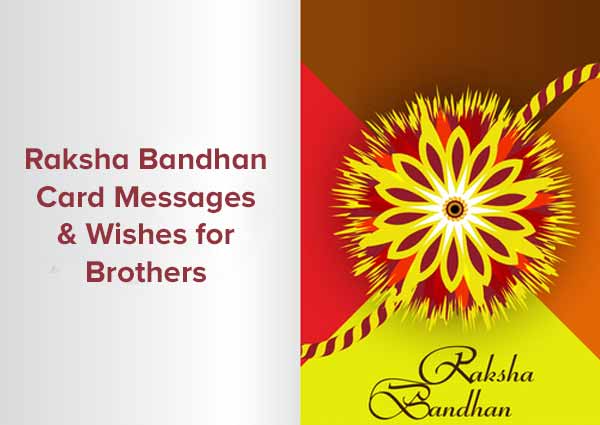 Having a brother like you always makes me feel safe in the world. I always know that I can turn to you for anything. Happy Raksha Bandhan Bhai!!!
The sacred thread of Rakhi can be cut easily, but our bond stands on the strong foundation of childhood. We go back together all the way to the beginning. No one can take that from us. Happy Raksha Bandhan, brother!!!
Like an invisible thread
Our love binds us together
Making sure we'll remember
Where we came from and
What we mean to each other.
Wishing you a joyous Raksha Bandhan!
"There's no other love like the love for a brother. There's no other love like the love from a brother." -Astrid Alauda
Happy Raksha Bandhan to the world's best brother. Thanks Bhaiya for letting me do whatever I wanted to do. Thanks for giving me the freedom to pursue my dreams. You are the one who hides my all secrets and loves me as no one else does. Thanks for supporting me unconditionally and believing in me. I feel very blessed to have a brother like you.
May this Rakhi bring lots of luck and love to you, my dear brother. May all your dreams come true! May God bless you with an abundance of success and good health! Wish you a very happy and prosperous Raksha Bandhan my dear brother.
I feel extremely proud about the successes you have accomplished in your life. I will continue to pray for your happiness and prosperity, and I know you will continue to embark on more successful ventures. Happy Raksha Bandhan, Bro!!!
I feel grateful to God to bless me with a brother like you. I pray that you will be blessed with all the joy, success, and good health in your life. Happy Raksha Bandhan, Bhai!
It is amazing that we get to grow up together. You are as sweet as sugar. You are the best friend and wonderful brother a sister can ask for. Thank you, brother, for showering your abundant love on me and supporting me always. On this amazing occasion of Raksha Bandhan, I pray to God to bless you with a long life and good health. Happy Raksha Bandhan to you dearest brother!
Phoolon ka taron ka, sabka kehna hai, duniya me sabse achha mere Bhaiya hai! Love you always! Happy Raksha Bandhan.
Raksha Bandhan Card Messages & Wishes for Sisters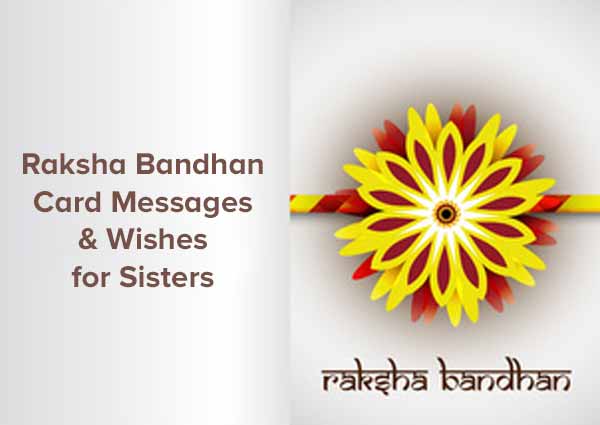 Thank you for always being a good listener, helping me with your right opinion, and accepting my weaknesses as well as flaws. Only a sister can love and care as much as you without being judgemental. Happy Raksha Bandhan, Sis!!!
"Sisters annoy, interfere, and criticize. Indulge in monumental sulks, in huffs, in snide remarks. Borrow. Break. Monopolize the bathroom. Are always underfoot. But if catastrophe should strike, sisters are there. Defending you against all comers." – Pam Brown
To my sweetest sister, may god bless you with loads of happiness, health and wealth. Happy Raksha Bandhan!!!
"I long for this day throughout the year
that you so ceremoniously tie a Rakhi
on my wrist and pray for my happiness and well-being.
Dear Sis, I wish that our bond grows stronger day by day. Happy Raksha Bandhan!!!
God gave me an angel in disguise. An angel that cares for me: An angel that loves me: An angel the scold me when I do wrong: And angel that praise me for my achievements; And that angel is called a Sister. Happy Raksha Bandhan, my dearest sister!
May this Raksha Bandhan bring you all the success and good luck in your life. Happy Rakhi, Sister.
You are the person who holds me in my adversities, you are the person who dances with me in my joy. I can't even a think of a single day when you were not present in my life. I really love you , sissy. Happy Raksha Bandhan!!!
Dear sister, I will always tease you the most because I love you the most. Being around you is always fun and there is no dull moment with you. Happy Raksha Bandhan sister and one thing I never told you is that- I may search the world over, but there could not be a better sister than you. You are a gem of my life. Love you so much and I promise to protect you from every evil eye.
You always fight with me that I don't love you and always tease you a lot. But, my dear sister, on this auspicious occasion of Rakhi, I just want to say that I love you the most my baby sister. Hey listen, it doesn't mean that I will stop teasing you. Happy Rakhi sister!
Having a sister like you is such an awesome feeling. Sorry for not being with you this Raksha Bandhan but I promise I will compensate this by giving you the most amazing gift like you. Happy Raksha Bandhan my sweet sister.
Short Raksha Bandhan Messages for Card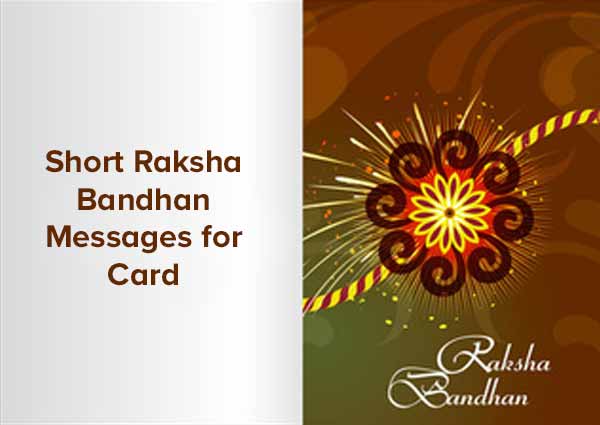 We gain and lose things every day. But trust me on one thing — you'll never lose me. Happy Raksha Bandhan!
You are all for one and one for all. You are a companion, a friend and also a savior. Happy Raksha Bandhan, dear brother.
A good brother is valuable to his sister. You're priceless to me! Happy Rakhi!
I pray for you to have peace, good health, and happiness. Happy Raksha Bandhan!
I pray for your well-being, happiness, and safety. Happy Rakhi!!!
Having a brother like you is a wonderful feeling as I have a person to rely on, anytime and anywhere in this world. Happy Rakhi!!!
Thanks dear Bhaiya for your warmth, affection & understanding. May our bond of love remain strong forever. Happy Raksha Bandhan!
Thank you for being strong enough to be my sister. You deserve my respect. Happy Raksha Bandhan!
The Final Words
Words written in a greeting card hold immense significance as it they symbolize the emotions and sentiments of the sender to the receiver. Therefore, a Raksha Bandhan greeting card should be attractive as well as extremely evocative in appearance to strike the chords of the hearts of the siblings. So, without wasting any further time, let's create a greeting card for Raksha Bandhan that speaks louder than your words!!!