Hey ladies, have you ordered rakhi for your brother? What? Couldn't figure out ways to send rakhi to USA or any other part of the world? Women folks, it's July already and just a few days to Raksha Bandhan what would you do afterwards if not making an order right now? Repentance I think as your auspicious thread is most likely to reach after the festival.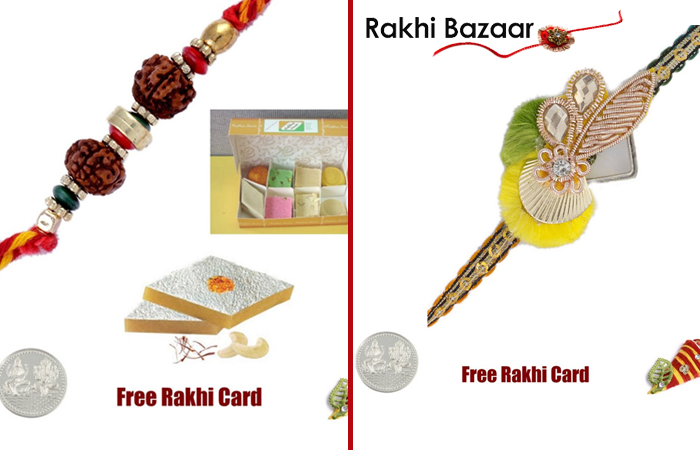 Well, you need not feel sad right now. I'm here for your rescue. As I told earlier in many of my blogs, the best way to send rakhi is of course the online channel. So, to send rakhi to USA the same method comes handy.
Online rakhi delivery services have undoubtedly become the best boon for brothers and sisters living miles away from each other. The success rate as compared to the customary delivery services is higher and it's getting higher year by year. So, forget about the miles or distance. Why? Because no distance can dare to come into the way of sibling bond!
But, before you could start with rakhi delivery in USA through online services, let's check out some of the best auspicious threads. These threads with their aesthetic appeal will surely tickle your brother's heart with the feeling that his sister cares unconditionally.
Here comes our pitara of fabulous rakhis!
Fabulous, fantastic fancy rakhi
WHOA, that's pretty attractive, isn't it? Fancy rakhi for brother is going to do the things; you haven't been able to do! Yes, it will tell your brother, he's world to you! Sibling love is pure and full of sweet-sour memories and a fancy rakhi is like an ice topping onto it! We have varieties of fancy rakhis available in store. A palette of vibrant hues will welcome you and you'll surely be overwhelmed to choose one. Well, keeping your brother's priority first will solve this issue though.
Rakhi with cookies relive those memories!
Remember the days when you and your brother were fighting over the last cookies? Alas! Those were the best days full of naughtiness, isn't it? You can recreate memories with our selection of rakhi with cookies (www.rakhibazaar.com/rakhi-with-cookies-242.html)! Yes assorted cookies with different types of rakhis are what would sparkle your brother's eyes with joy!
He would wait no more to ring your phone and tell you, 'thank you'! Ohh….you can thank us later!
Rakhi with desi sweets- sweet fun!
Slurp, slurp, slurp! YUM YUM Om Nom Nom! Whenever we come across desi Indian sweets, we just can't stop ourselves to gorge on, do we? As Raksha Bandhan is all about fun and food, why not tickle your brother's taste buds? Send rakhi with desi sweets to USA and leave a lasting impression on your distant bro! Ghar ka khaana and ghar ki mithai, these are the things people leaving away from home miss a lot. And, we are giving you an opportunity to gorge on delicious sweets, not you but your brother.
So, get ready to WOW your bro with above ideas!