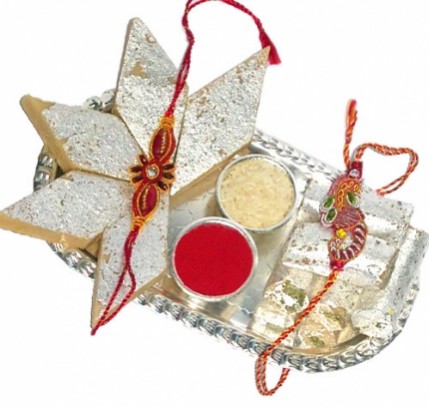 Planning for Rakhi? Ifyou do not stay in India and have a family back home, there is a reliable option. Send rakhi gifts to India through Rakhi Bazaar, atrusted web portal that takes care of your festive needs by offering express delivery across the world. Rakhi takes place in the rainy months in India when people want to avoid the slush and wet weather. Send rakhi gifts to India via Rakhibazaar.com to add cheer to the lives of relatives living there.
Since rakhi is a festival for siblings, a brother living far away from a sister living abroad is to be thought about. Rakhi Bazaar comes to help in a big way. It has an efficient worldwide service which delivers to customers living abroad and has an efficient system for those who want to send gifts to India.This website helps you choose from black forest cakes and chocolate truffle cakes which are delicious ideas to accompany rakhi gift.
Kaju katli delight,Rakhi with Gerberas and Laddu, Rakhi with Gulab Jamun and celebration chocolates, Rakhi with Haldiram Ladduare some great combinations which will amuse your brothers living in India with surprise.Letyour imaginationrun and capture the very essence of a brother gleefully opening his dryfruits which he stores for snack treats.It is a pleasure to munch on nut morsels when a student brother is racking his brains to arrive at his best in academics.
Some types of rakhis that can be sent are diamond rakhis, sets of twelve rakhis for large families, white stone studded rakhis,lumba rakhi sets for bhaiya and bhabhi. Lumba rakhis show care for the bhabhis. Rasgullas are another option along with soan papdi for festive sweets.Cute idols of Lord Ganesha are also available for gifting. Handcrafted designer thalis are on offer, which make the receiver delight in the craftsmanship.
The interface of the portal is smart and attractive with updated gift ideas. For a sophisticated crowd of online customers, it is important to have online portal which can build trust and relationship with the customers. This website does exactly that.No one likes disappointments in online services and this trustworthy portal never lets you down. On the customer's part, it is important to ensure web security and credit card privacy setups. Never part with details on mail from unauthorized sources.
For brothers staying abroad, there is an option to send return gifts to India. Earrings,nail paint,pendants,baubles are just few options. Sometimes large families gather for rakhi celebrations in one place. There are attractive packages of rakhi sets which can be ordered online so that an entire family feels close.Internet has brought families closer with the advantage of online shopping so be it India or abroad, the road to sharing affection is open through www.rakhibazaar.com/rakhi-gifts-99.html.