As much as a girl gets excited to buy the best rakhi on Raksha Bandhan and tie it to our brothers, she is equally and sometimes even more enthusiastic about buying a designer Lumba rakhi for her sister-in-law. And since Raksha Bandhan is around the corner, we know your search for the latest Lumba rakhi collection is on. To help you save time while buying the best Lumba rakhi of all time, we have created a list of the same.
The Lumba rakhis mentioned below are exceptionally beautiful and will add a lot of grace to your sister-in-law's hands. We have described them for you, so you don't have to waste time researching these designs. Have a thorough look at them and get ready to surprise your bhabhi with a beautiful Lumba rakhi to adorn her wrist.
6 latest Lumba rakhi designs that are trending in 2023
Here are the best picks for you. You can never go wrong with your Lumba rakhi if it's coming from this collection. Have a look at them all to make the final decision:
Stone Studded Lumba rakhi
We girls are known to be ultimate shopaholics, but people don't know that girls are clever shoppers. They buy versatile things, can be matched with anything, and have evergreen designs, just like this stone-studded Lumba rakhi. It is beautiful, unique, versatile, and can impress your sister-in-law with your choice. Imagine her wearing this with ethnic outfits. It will look graceful and will prove to be useful even after the festival is over. Pair it up with a box of her favorite sweets and make this Raksha Bandhan a memorable one for her.
Evil eye Lumba rakhi set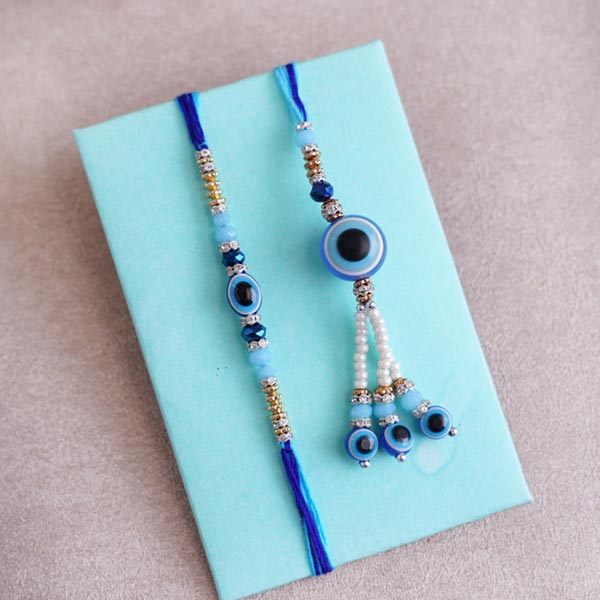 Hardly anyone doesn't like the modern ways of practicing old traditions. We all love a touch of trend in our traditional ways of celebration, and evil eye rakhi is precisely that. The beautiful blue colors on the rakhi with light and dark shades make the perfect combination, and the rakhi looks eye-catching. While it celebrates a festival, on the one hand, the rakhi looks like a bracelet and can be worn whenever it suits you. Also, the concept of the evil eye is to protect a person from the glare of negative people and keep them protected.
So, if you want your sister-in-law to stay protected from the negativity around her while being all trendy, you must get her a beautiful evil-eye Lumba rakhi. We also have sets of 1 Lumba and one brother's rakhi for you. You can buy the set and give it to the couple to bless them with safety from evil eyes. Show them they are always in your prayers, and buy the evil eye Lumba rakhi set this Raksha Bandhan.
Feather Lumba Rakhi
If looks could kill, this Lumba rakhi will be the ultimate gangster, killing people with its vibrate yet elegant colors. If you believe us, then buy this Lumba rakhi for your sister-in-law and gift her elegance wrapped with colors. The rakhi is of high quality and so durable, and she can wear it until the next Raksha Bandhan. And we are sure of it not because we are aware of the quality and material but also because we know how your sister-in-law will take care of this Lumba rakhi. The design and colors of this one are so refined that she will try her best not to lose it ever. And to wear it forever, she will take utmost care of our feather Lumba rakhi. That is how you will see her with your Lumba rakhi forever.
Also, if you ask us what will look the best with this unique Lumba rakhi, it will look the best gifted with delicious exotic chocolates. So buy Lumba rakhi with cookies for your sister-in-law and make her delightful this festive season.
Pearl Bhaiya Bhabhi Rakhi
We all have someone close to our hearts which now lives abroad. Whether it's a cousin or a sibling, if they are unique to us, we always miss them at festivals and wish to celebrate with them in some way or another. If your brother and sister-in-law live in the US, you can send this Pearl Bhaiya Bhabhi Rakhi to USA with your love and best wishes. It's not difficult at all. You can visit our website to quickly get this rakhi delivery to UK and attach your favorite gifts with your order.
The reason to choose a pear rakhi design out of all other rakhis is that the beauty and elegance of pear beads are unmatched, and they have the power to lure anyone who looks at these naturally blessed beads. So, use their beauty and charm your most essential relations in life, this Raksha Bandhan.
Sparkling Lumba Rakhi
he idea behind finding explicit Lumba rakhi for sister-in-law is not just to perform the rituals. That is the primary reason for tying a Lumba rakhi to bhabhi, but another reason to celebrate this ritual is to strengthen the bond between you and your bhabhi. And this can only be done if you take care of her choices and what she will like, even if it isn't of her choice. A delicate-looking shimmer bracelet is loved by a woman any day, any time. You have to present it to her; her heart belongs to you. If you want your bhabhi to love you the same way, give her this shiny beauty and see her smile, and get emotional over this precious Lumba rakhi. To make it even better, get a customized mug from Rakhibazaar.com filled with chocolates and see her admiring your efforts.
Beautiful Designer Lumba Rakhi
Last but surely not least is this blue-colored beautiful designer rakhi that has gorgeous detailing and a complete traditional look. This Lumba rakhi gives the features of perfect Indian beauty and is the best for our beautiful Indian women. You can buy this rakhi for your sister-in-law so that she can style it with her ethnic outfits and flaunt a beautiful rakhi bought by her sister-in-law. We know gifting a Lumba rakhi alone is not enough; we need something more that makes it a festival-worthy gift. You can buy a rakhi gift hamper with chocolates, plants, and a customized cushion and attach them with your luma rakhi. To get more options, you can browse throw our collection and give a handpicked gift to your beloved bhabhi.
All these gifts and rakhis are deliverable across India. So, send rakhi to Delhi or Lumba rakhi and gift hamper to Bangalore and celebrate Raksha Bandhan with those who are away from you. This Raksha Bandhan, celebrate the festival with those close to you, buy rakhi for your sister-in-law, or send her your best wishes to whichever corner of the world she lives in.