"There is no sincerer love than the love of food." – George Bernard Shaw
No matter how fun and loving sibling relationships are, the fights over food are always memorable. Asking for a share of food from your brother's or sister's plate is common among siblings even when you have your own. So, this Raksha Bandhan, bring laughter, happiness, and excitement to your celebrations by tying a cute and quirky foodie Rakhi on your brother's wrist and relive the childhood memories all over again. As this year would more about virtual or online Rakhi due to the pandemic, these unique Rakhi threads are a perfect way to cheer up the souls of your loved ones on Raksha Bandhan.
Every year, the Rakhi trends keep on changing, considering the demands of the people for Raksha Bandhan. So, considering the trend in 2021, here we have listed the most popular miniature food Rakhi for your brothers that will catch everyone's attention with so much ease.
1. Pizza Rakhi
"There's no better feeling in the world than a warm pizza box in your lap." – Kevin James
Just think of fast food you love to gorge on while sitting at home watching movies or sports…The name of pizzas will immediately strike your mind. Isn't it? So, this year, order pizza Rakhi for your brother, who just cannot avoid feasting on this Italian food, and make him grin ear to ear seeing this Rakhi on the Puja Thali.
2. Doughnut Rakhi
"A donut is a sprinkled incarnate of happiness."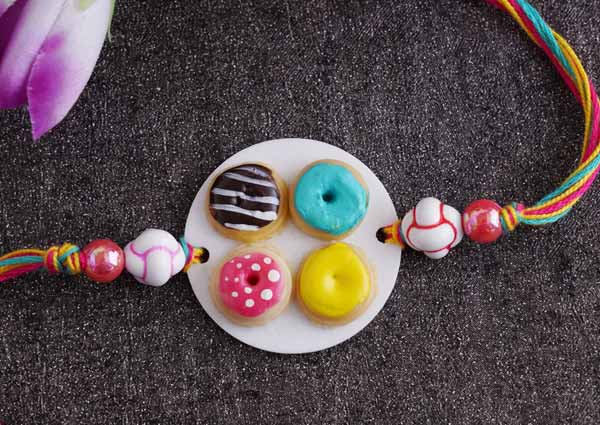 Though a sweet western delicacy, but doughnuts have acquired immense attention from the people from India. With popular doughnut joints opened in the cities, this sweet delicacy is no more just a name in the menus of the high-end bakeries. Delight your brother who loves to enjoy irresistible doughnuts now and then with a doughnut or donut Rakhi.
3. Noodles Rakhi
"Sometimes just a plate of noodles could be the best dinner ever with the person you love most." — Sujit Meher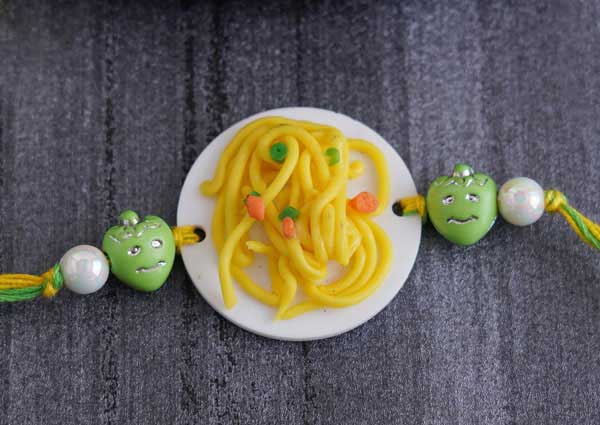 Who is not a Chinese food lover? Definitely, no one! Just the sight of the noodles makes your mouth feel flooded with water. So, if your brother is a die-hard fan of noodles in all forms, then a noodle Rakhi is what you must buy for him on this upcoming Raksha Bandhan. We know when you tie this Rakhi on his wrist, the next thing he is going to do is EATING NOODLES!!!
4. Pani Puri Rakhi
"Happiness is eating Pani Puri with the one you love the most."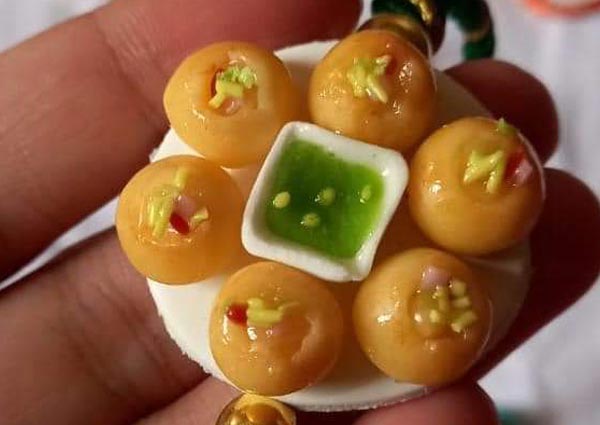 Does your brother's tongue crave for Pani Puri now and then? As siblings, we all have sweet memories of gorging on Pani Puris or gol gappas with brothers and sisters in childhood. This street food has a strong natural aura of attracting anyone towards itself just by its looks. The tangy flavour of the water, the crunch of gol gappas, and everything between pani puri is just love and pure emotion. Order this amazing Pani Puri Rakhi for your brother and bring tanginess into your Rakhi celebrations.
5. Sweets Rakhi
"Dessert is like a feel-good song, and the best ones make you dance." — Chef Edward Lee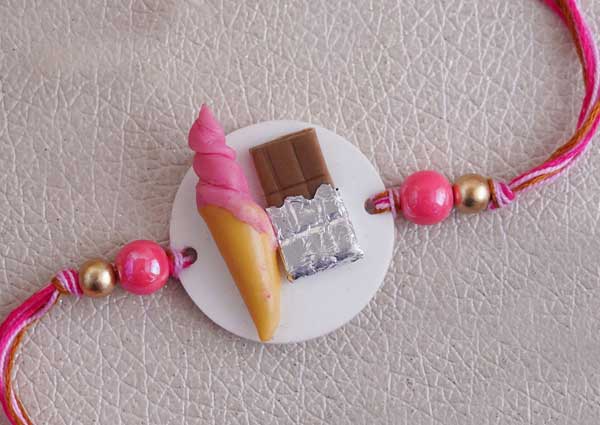 Chocolates, ice-creams, cakes, mithai, etc., are some of the best sweets that a human tongue just cannot resist. There is a strong urge felt by the people at the sight of something sweet in front of them. For sisters who have brothers with a sweet tooth, can astound them with sweets Rakhi designed with the miniatures of chocolates, sweets, ice-creams, cakes, etc.. This is a perfect way of saying that you are thinking about his food choices in life.
6. Burger Rakhi
"A burger is a paradise between two buns."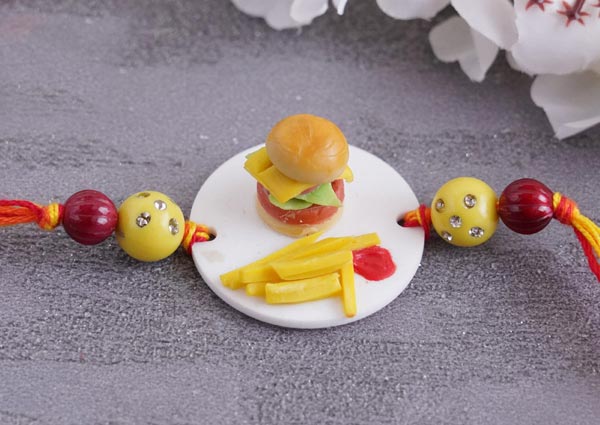 Humankind is blessed to live on a planet where burgers exist. Indeed, some people consider themselves very fortunate to have these delectable delicacies in their midst. You can surprise your brother, who is a burger fan, on this upcoming festive occasion of Raksha Bandhan, with a "Burger Rakhi" to express your love and care for him. And, a burger party soon after the Rakhi ceremony is not a bad idea at all!
7. Dosa Rakhi
"A ladle filled with batter is nothing but a compass with a pencil. You just need to draw the perfect Dosa."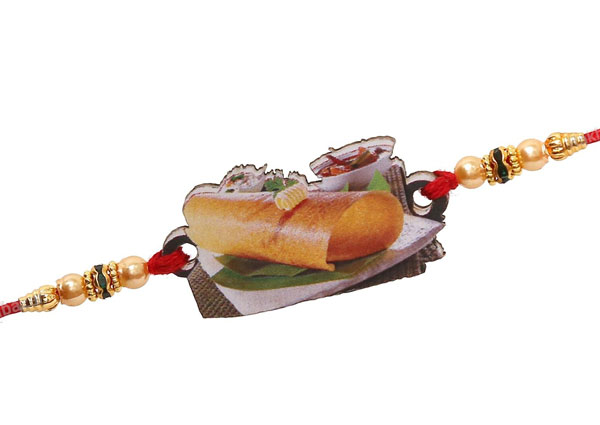 Dosa is so wonderful yet extremely simple to cook. It can be found anywhere, right from the food stalls to premium restaurants! Probably, it might be one of the most important food items of the South! Does this South Indian delicacy never fail to satisfy the hunger of you and your brother at any time of the day? If yes, then this special Dosa food Rakhi will be the best choice for him on Raksha Bandhan 2021.
8. Momos Rakhi
"Momos – The essence of life."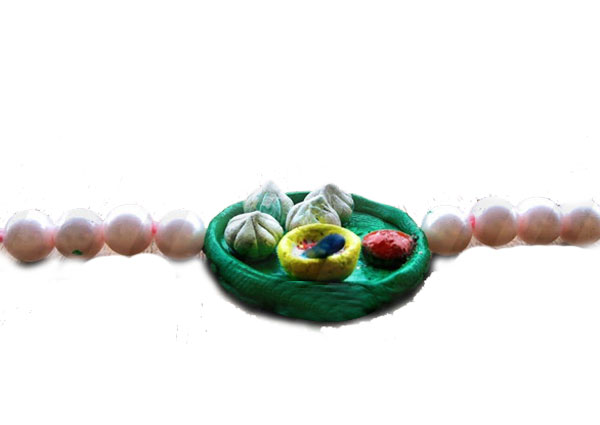 Momos have turned out to be the best and most favourite street foods of the people nowadays. People just love to gorge on the plate of momos served with spicy and tangy red chutney and mayonnaise with a twist of chaat masala on the top. If your brother is a big momo fan, then buy a momo Rakhi for him and bring big smiles on his face.
9. Vada Pav Rakhi
"Vada Pav is not just food, it's a way of life."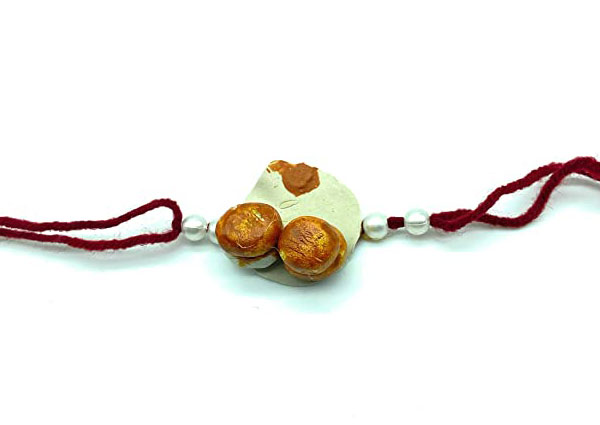 This popular fast food from the streets of Mumbai is a perfect combination of spices, sugar, and everything else. Being unbelievably pocket-friendly and available everywhere, you can feast on this street food anytime to satiate your hunger pangs. If your brother loves vada pav, then a Vada Pav Rakhi is definitely what you want for him.
10. Samosa Rakhi
"So often these days eating Indian food passes for spirituality. I don't meditate, I don't pray, but I eat two samosa's every day." — Dan Bern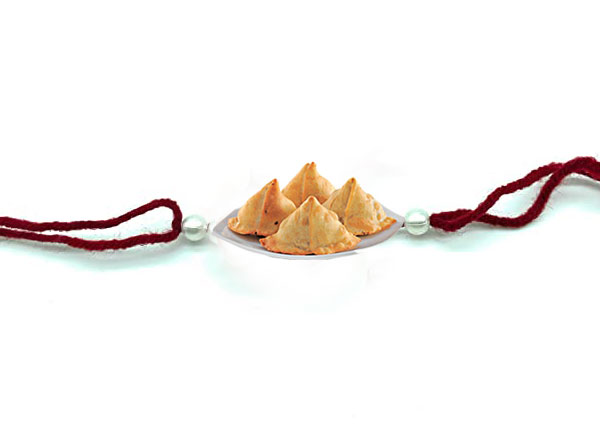 Desi street food of India is always the attention grabber. The delicious taste with the hint of spices and tangy chutneys they are served with is what makes them unique from other countries' street foods. Get a samosa Rakhi for your brother on this Raksha Bandhan and enjoy them later after the Rakhi ceremony.
The Ending Words
Raksha Bandhan 2023 is certainly going to be an extraordinary affair for your brothers when these Rakhi threads are tied on their wrists. These sacred yet funky threads of your love and care will bring laughter and joy to your celebrations, making you forget what the past or current half-year was like due to the pandemic. Don't compromise your festivities and indulge in the best virtual Rakhi celebrations to create more beautiful memories in 2021.