Is the approaching Raksha Bandhan making you curious to know that which Rakhis will be trending and accentuating wrists of brothers in this year? Well, then this blog will definitely give you some interesting names of Rakhi varieties. So be you are a fashion freak who also loves to adorn brother's wrist with only the most trending Rakhi then here is this blog for you to read.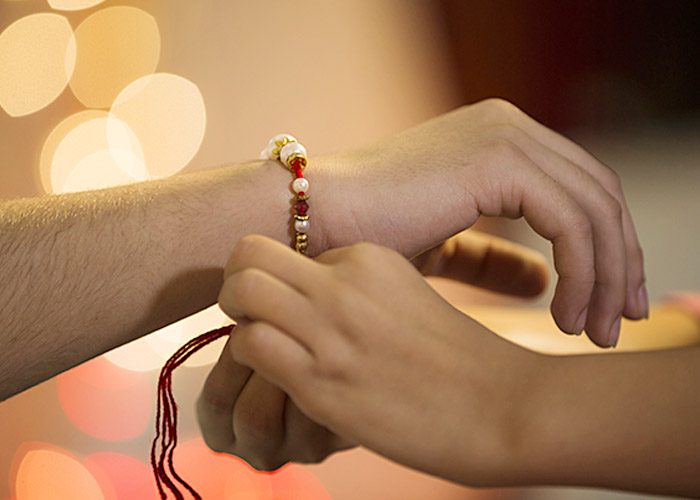 Rakhi, the sacred thread of love seals the affectionate and caring relationship of brothers and sisters. On the holy festival of Raksha Bandhan, a sister ties a Rakhi on brother's wrist and prays for his well being, success and long life. Brothers in their own way express love to sister with Rakhi gifts or any surprise. Surprisingly, this sacred thread that sister ties on brother's wrist are not an ordinary thread. It's a beautifully designed thread that is not just meant to protect brother from evil things around but will also adorn his wrist in the most beautiful way possible.
Thus, an endless variety if Rakhis are made available before sisters to buy. Some simply go for the elegant and simple Rakhi threads, whereas some prefer the most stylish or trending Rakhi for brother to buy. And, for the curious or trend followers, here's a lot of some Rakhis that be trending the most in the year 2018.
Here to start with:
1. Bracelet Rakhis:
One of the most trending Rakhi varieties for years has been this. Bracelet Rakhis (https://www.rakhibazaar.com/bracelet-rakhi-118.html) are trendy as they work great as Rakhi and as bracelet to flaunt as well. Brothers love to get such a Rakhi that they can wear after the celebration day as flaunt in style on their wrist as a style accessory. The spiritual bracelet Rakhis to name letter initial Bracelet Rakhis, these are going to be in great demand during Raksha Bnadhan celebration 2018.
2. Spiritual Rakhis:
Over the year, spiritual Rakhis have enjoyed a lot of preference among the sisters and this year as well as spiritual Rakhis will be high on demand. Being a sacred Rakhi thread, spiritual Rakhis enjoy the preference of a large number of sisters who are worried about prosperity and good health of her brothers.
3. Designer Zardosi Rakhis:
In the recent times and in the year 2018, Designer Zardosi Rakhis will definitely be on the list of most preferred and trending Rakhis. Being available in designer patterns and styles, Zardosi Rakhis gain a lot of appeal from the fashion freak sisters. To adorn wrist of brother with an attractive and beautiful Rakhi, this is definitely an excellent choice.
4. Elegant Peacock Rakhis:
One of the most beautiful Rakhis of all time is the peacock Rakhi that is designed either with use of a peacock feather or in a shape of peacock of its colorful feather. No wonder, this beautiful Rakhi variety will be one of the most preferred choices of Rakhis for many years to come among the sisters of every age and preference.
5. Colorful Beaded Rakhis:
From years, beaded Rakhis have been a great fascination for sisters to accentuate wrist of brothers on Raksha Bandhan. And, still, colorful beaded Rakhis are in trend and will always be in trend among all. Apart from heavy and bold beads of one color, these are available in multiple colors with beads of different sizes and patterns as well.
6. Car Shaped Kids Rakhis:
This year, car shape Rakhis will be in great craze among the sisters who are in search of the cartoon or Kids Rakhi. Since little brothers are always fascinated by cars, thus a car shaped Kids Rakhi will definitely help sisters in cheering up their little brothers a lot
7. Bangle Style Lumba Rakhi for Bhabhi:
With the increasing craze among women to tie Rakhi on the wrist of her sister-in-law, there has been a significant increase in the demand for Lumba Rakhis too. However, on this Raksha Bandhan, Bangle Style Lumba Rakhis will be in great demand as it's easy to wear and are available in attractive bangle style designs that sisters-in-law will love to flaunt on their wrist as a bangle.
And, to buy Rakhi online in any of such wonderful designs and patterns, Rakhibazaar.com is definitely an excellent Rakhi shopping store. So, just think no more to waste your time. This Raksha Bandhan, choose the most trending Rakhi at the portal and also avail the facility to buy and send Rakhi in India and worldwide too.