According to the lunar calendar, Hindu festivals are said to fall on the most auspicious days. This is why people do multiple things to match the auspiciousness of the festival. While some people fast, others avoid non-vegetarian food; some people avoid alcohol on auspicious festivals, and others indulge in auspicious ceremonies and visit temples.
If there's one thing that people do the most or try to do the most on every occasion, it is donating useful things to needy people. While some people donate old items from their homes, people also buy new things, especially food, to help poor people celebrate a fulfilling festival.
Since Raksha Bandhan is approaching, we must discuss what you can donate to needy people. This will help them have a thrilled Raksha Bandhan while you will experience peace by doing good deeds on important days.
Types of valuable things to donate on Raksha Bandhan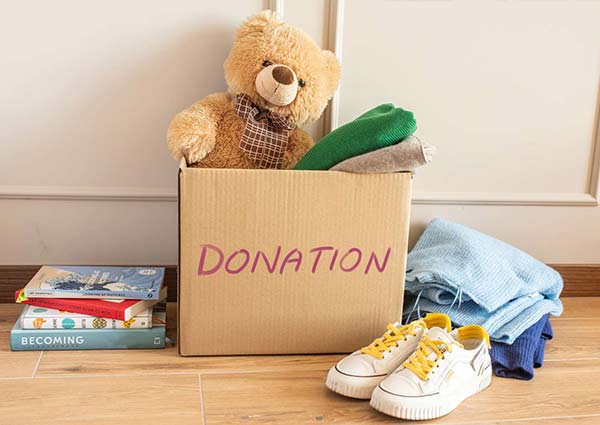 You may need to upgrade yourself if there are no convenient and effective ways of donating and helping people in need. Donations can be made in multiple ways, most of which are mentioned below.
Donate food: If you want to have your own Rakhi charity event, make sure no one sleeps with an empty stomach on festival days. With people cooking so much food and munching on delicious sweets on Raksha Bandhan, we must give all the remaining food to needy people. Do not wait for the food to get spoilt or contaminated. Pack it soon after everyone is done eating and donate it. This will ensure people have food on their plates because of you and will also ensure the food doesn't end up in the dustbin, as we all must respect food.
Donate shoes and clothes: We all buy new clothes on Raksha Bandhan because the festival holds so much importance. This year, when you buy new traditional clothes for yourself, make sure to donate your old clothes and shoes to those who need them. Declutter your wardrobe and check out for all kinds of stuff that you do not need anymore. It can include clothes, accessories, shoes, handbags, cosmetics, etc. Separate all of them and give them to needy people of your size so they can use them gleefully. Donating shoes will truly be a rakhi gift for a cause, as many people suffer in extreme heat and cold due to the unavailability of proper shoes.
Donate books and stationery: If you want to help kids studying in school who do not have proper school supplies, you can provide them with all necessities. If you have old books, notebooks, geometry, crayons, and other stationery items at home, this is the time to take them out for the best use. Otherwise, buy a few products and distribute them amongst kids who are young and enthusiastic about studies.
Donate medical supplies: Multiple people we need daily have some kind of health issue. If you know someone who is going through a rough time in their lives with their health, buy them their medical supplies. It will be the best donation you can make and the best gift they can get.
Donate blankets: We have often seen people giving away new yet budget-friendly blankets to homeless people so they can have a cozy and comfortable night's sleep. And since winter is not too far from Raksha Bandhan and homeless people experience the extreme winters, donate blankets to them and help someone sleep better.
Donate money to charitable trusts: If you do not have time to filter unwanted things at home and go out to distribute them among people, donate some money online to a charitable trust. Make sure to verify the trust properly before making payments. Also, remember to check the kind of work they do matches your ideas, as it will make you feel even better. You can donate to children's welfare trusts, acid attack survivors, trusts that help orphan kids and adults, etc. This can be the best participation for Raksha Bandhan donations while putting in less labor due to packed schedules.
Donate necessary things for animals: Whether you are an animal lover or not, treating stray animals around you with things they need takes no extra effort. This includes feeding them food that is suitable for their health, giving them water if they are cold, and providing them comfort with old blankets, bed sheets, or cushions will work wonders. If you see any stray animal around you needing medical treatment, call animal help care NGOs, as they will look after them best. This is the best help you can do for a sick stray animal.
Donate Raksha Bandhan essentials: Since we are talking exclusively about Raksha Bandhan donations, giving rakhi gifts combos to needy people around you can be very helpful. Those who do not have enough to buy new products will be grateful if you give them amazing rakhi essentials that are economical and wholesome for celebration. You can buy a set of 6 Rakhis or more than 6 altogether and distribute them with sweets to people around you.k
Miscellaneous donations: Apart from all things mentioned above for Raksha Bandhan charity, you can also donate old furniture, old gadgets, umbrellas, and raincoats as Raksha Bandhan falls during monsoon season or even teach poor kids. There are multiple ways to help people around you; you just have to be willing enough and find out how you can be useful to make society a better place.
Significance of donations on auspicious festivals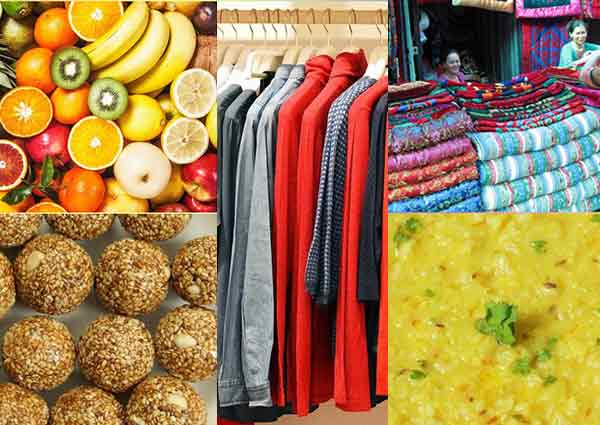 People encourage donations on auspicious festivals because multiple reasons make these donations useful and fruitful. Here are the top 3 reasons why you must donate something on Raksha Bandhan:
It spreads positivity and happiness: When people with enough in their place decide to share it with those who do not have sufficient necessities, they get divine blessings. Those who learn to help and share always dwell in positivity and gratitude. This attracts blessings from all the people and animals you have helped, and they trust you for being someone who always has something good for everyone.

It brings good Karma for the donor: The theory of Karma is famous across the globe, and Karma says you get what you give. So, if you give donations, help, relief, positivity, encouragement, empathy, and support, the same shall come to you and your family in return for your good intentions and deeds.

It makes the world a better place: Not just Raksha Bandhan charity but generally donating essential commodities to people makes this world a better place. People learn the art of peace, bonding, and support and how small acts of kindness can win so many people. It also encourages others to become a part of these great causes and contribute to spreading help and happiness.
Until now, you have been celebrating Raksha Bandhan with your siblings in multiple ways. This year participate in Raksha Bandhan donations and help other siblings have an amazing Raksha Bandhan. Then gleefully send Rakhi abroad or order it to your doorstep for your own celebrations.
Where to make donations on festive occasions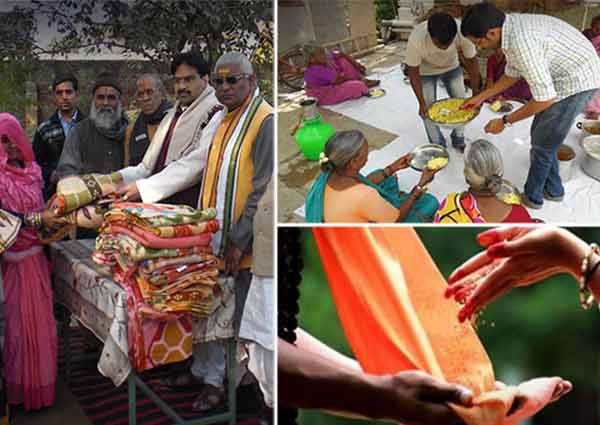 We often donate our extra belongings to the same people that sometimes make us feel they are of no use anymore. That is why it is crucial to know all the places where you can make donations that will be fruitful and have an equal distribution of your supplies among everyone.
Here are all the places to go when you have to donate a good amount of supplies to multiple people.
NGOs: If any place has the maximum number of needy people, it is the NGOs. Multiple NGOs or non-government organizations help multiple types of people with their particular needs. You can donate money to them or ask them what supplies they accept as donations for needy people.

Outside temples: There is no secret that temples have the maximum number of needy people sitting outside them. These needy people trust that other people going inside the temples will help them, so stand up to their trust and donate food or clothes to them.

Domestic help: We have multiple house helpers like the gardener, watchman, maid, rag picker, milkman, sweeper, etc., who daily visit our house and give us their best services. It is our duty to take care of them, especially at festivals like Raksha Bandhan. Make sure whatever you decide to donate, you take out some share for these people and make their day special with your generosity.

Online websites: Multiple websites provide the facility of being the middleman by taking goods for donations from multiple donors and providing them to the most needy people across the state and country. This ensures people from across the globe can participate in charitable work and donation supplies are appropriately collected while distributed to those who genuinely and greatly need them.

Raksha Bandhan fundraising: You can check if any Raksha Bandhan fundraising is going on social media platforms to help poor kids celebrate a joyful festival. If there is none and you can organize one, do that and let others join you in the Raksha Bandhan charity event for a great cause.
To sum up:
Indian festivals are a time of spreading auspiciousness and prosperity. These days are considered of the highest religious significance; hence people do multiple things to make these days better in multiple ways. Since Raksha Bandhan is approaching and with Raksha Bandhan, the Indian festive season will officially begin; get involved in donations and give rakhi gifts for a cause. Celebrate Raksha Bandhan by making people around you smile and mark your presence in people's lives who will forever be grateful for your generosity.