Flowers have a different kind of hold on us. Their beauty attracts even those who are not fascinated easily. And the Indian festivals have a distinct love for flowers that cannot be explained easily. Indians have a different flower for every occasion based on its color and design. Now you must wonder which flower is associated with Raksha Bandhan since it's the upcoming festival. The answer is Bellflower. Have you heard its name before? If not, don't worry because we are about to spill the beans on some of the most exclusive and never heard details on this plant and flower that will enlighten you and make your Raksha Bandhan celebrations more delightful.
All about bel plant
This word might be new to you and the appearance of this rich violet flower. That's not because it's a fresh flower in the market but because this beautiful plant has other names that you might be familiar with. The other terms of the Rakhi bel plant include True Passionflower, Maypop, Wild Passion Vine, Passiflora Incarnata, Wild Passion vine, and Purple Passionflower. Does any of these names ring a bell? It's okay if you still can't recognize the exact flower we are talking about, or you haven't seen it ever. When you finally look at the beautiful rakhi bel flower, you should be able to relate it with all the qualities and significance we are about to discuss with you.
The plant is a perennial climber that also produces beautiful violet shade blooms, and the reason why it is famous is because of its pleasant smell. The smell is so strong yet sweet that it can spread its aroma in the entire garden, hall, room, or anywhere it has been planted to bought for decoration. These qualities and the beautiful color of the bel flower make it the perfect gifting solution for the Raksha Bandhan occasion. You can surprise your sibling with a delightful gift with a sweet smell and effortlessly put a smile on their face.
Reasons to gift this plant to your loved ones.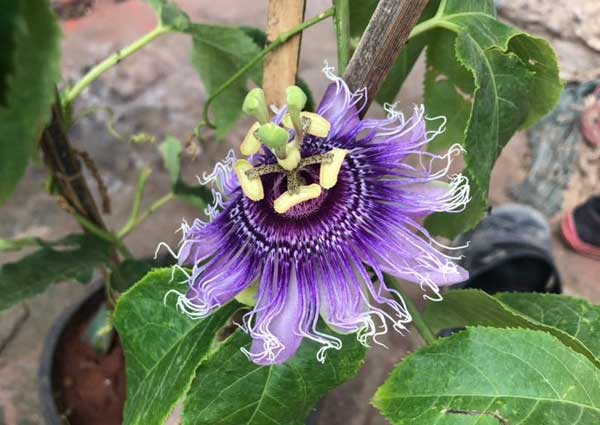 If you are wondering why opting for this rakhi bel plant is a good idea, we can give you two convincing reasons to satisfy your doubtfulness.
The first reason is its appearance and aroma, as we discussed above. Raksha Bandhan is a festival where we try our best to present a unique and exquisite gift to our siblings. And flowers are not just a beautiful gifting solution; their beauty and smell also make them one of the most auspicious gifts.

The second reason is people's love for natural things, especially plants. If your siblings are into growing their garden with beautiful flowers and unique plants, you can add this beauty and let this beautiful climber grow itself. With that, it will also grow your sibling's happiness and will add a charm to their gardens.
Now that you know why it's a good gifting idea, but with a cute planter, gift it to them for blissful Raksha Bandhan celebrations.
Things to Know about Rakhi bel plant
When we gift a delicate thing to someone, they often ask us about its maintenance and how they can work upon it to give it a long life. And in the case of gifts like plants and flowers, the urgency to know this answer becomes high. We don't want to leave you in a situation where you couldn't answer this question to your siblings after gifting them rakhi with plants. Apart from that, there are always several questions in our minds regarding something we haven't bought before. Here is all that you want and need to know about its maintenance for a long and healthy life of the rakhi bel plant, along with other details that will help you to know this plant better.
The plant needs full sunlight in the daytime and shade for the rest of the day to bloom and stay alive.
It would be best for the plant if you do not overwater or underwater it. Give it an average amount of water, or the plant will suffer root rot.
Although the origin of this plant is American, the rakhi bel plant can tolerate and survive in the atmosphere of North India without any issues.
It blooms all year round, so you don't have to worry about its flower not blooming in any particular year.
The temperature to grow this plant should be extremely hot or cold. While the plant blooms perfectly indoors and outdoors, ensure it isn't exposed to excessive heat or cold.
If you want the plant always to stay healthy and thrive with its full might, keep it in between 19 to 24 degrees temperature.
The flower can easily survive insects and mites in summer. Just make sure to have moist soil for its best survival.
Don't water the plant during the day. Always water it in the evening so that the water doesn't get heated up due to extreme sunlight and cause your rakhi bel plant any harm.
Avoid pruning in its blooming season. Do this when the season ends so you can always get the best view of the beautiful plant.
This is a great plant to make wine, so you can try it and make some homemade bel plant wine for yourself.
Conclusion:
Rakhi Bel plant is a beautiful climber that grows lovely flowers and is a great gifting solution on any occasion. If you haven't decided yet what you will present to your sibling on Raksha Bandhan, this can be your best pick so far. To get more gifts like rakhi with chocolates and customized mugs, check out Rakhibazaar.com and get your hands on some of the best and most unique rakhi gifts.