Every year, a few days before you probably turn upside down to every shop, display shack, stalls or every place just to find the most beautiful yet one-of-a-kind rakhi for brother. However, this season if you haven't found one-of-a-kind rakhi online or at a local store, worry not. You don't need to settle with an ordinary one.
A most awaited festival such as Raksha Bandhan definitely deserves something special. I mean to say why not give it a try at home?
What's the best thing about making your own personalized rakhi at home? Well, the best thing is that you don't have to ransack every shop for the ingredients! All you require is some reusable stuff, your imagination and creativity.
Materials or reusable stuffs
You need thick or a hard paper to make the base of the thread. Make use of your old notebook cover or a thin cardboard. Coloured drawing sheets (mostly orange or red one or the both). For a more decorative appearance you can use handmade paper too.
Decoration:
Since, the festival is an auspicious event; best decorative piece would be Ganesha or Mangal Kalash. No, you don't need to go to a shop to hunt down. Find these images at the old wedding cards in your home. Also you can find these at dry fruit boxes.
String:
Go for mauli used for worshipping. If it isn't available at your home, use red, yellow & orange embroidery threads. Some wedding cards come with these threads; you can get it from there too.
You also need acrylic paints or glitters, adhesive glue, a big round bottle cap, a compass, and scissors.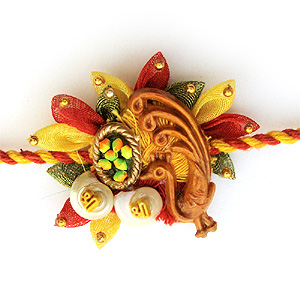 How to make rakhi?
Take a compass or the round bottle cap and make a circle on the cardboard or the paper. Cut the paper cautiously for the base. To give it a neat and clear look, glue a red paper. Now stick the string on this base & keep it aside.
Now, cut the coloured sheet or the handmade paper a bit bigger than the size of the base.
Carefully cut out the image of Lord Ganesha or Mangal Kalash from the wedding card and put aside.
If you can't find a wedding card, cut out the floral patterns of the colored paper or handmade sheet.
Once you are done with the cuttings, glue the round colored sheet on the base so that it may centrally be placed. Face the side of the string up so that it could fall between the base and the sheet. Now, fix the image or flower on top of it. Ensure it is also placed in the center to make it appear symmetrical.
Now, go for decorations with glitters or acrylic paints, if needed. Consider this decorative idea to balance out the missing charm. Avoid too much of decoration. Let it dry completely before putting the thread for use.
The festival of Rakshabandhan is a day on which we rejoice our special bond with siblings. This bond is so deep-rooted that no matter what, we definitely reach out our brothers and sisters in any part of the world.
For more ideas visit our rakhi collection online.