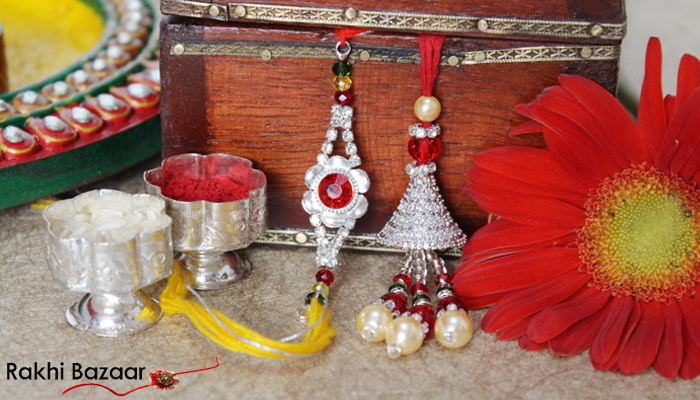 August month is just one and half month far and people are excited about Rakhi festival. Every local shops and online portals are flooded with traditional and stylish collections of designer Rakhi and Rakhi gifts. Sisters start wandering here and there in the search of ideal Rakhi and similarly brothers are for Rakhi return gifts. Some are busy in selecting the best among all availabilities and some are looking for the best delivery service option to send Rakhi and Rakhi gift hampers to abroad cities like USA and UK. Now, with the help of diverse e-portals, one can easily send Rakhi to USA with free shipping. The facility of negligible shipping charge is only provided by few renowned portals and Rakhibazaar.com is a leading portal that comes up with an idea of making the order cost-effective.
In old days, sisters spend hours and hours in the delivery service offices for sending Rakhi to their abroad residing brother. That time the main issue was the long time or even days taken by the service provider for the reach of Rakhi and gifts to the desired place. Usually due to the sluggish courier services, sometimes sisters also have to go through with the situation of excessive late delivery of Rakhi.
It's with the emergence of online shopping facility that People get some relief. Through this, one can send or receive anything from anywhere in short span of time. Especially for the festival like Rakhi when both brothers and sisters want to send and get the Rakhi present from one other, availability of online portals are just like a dream come true for them.
Rakhi is the festival of zeal and enthusiasm that only comes with the meeting of brother and sister under the same roof. Almost all siblings wish to celebrate this festival with each other, but due to some issues and busy schedule they won't be able to meet each other. Well on this point, Rakhibazaar.com provides the facility of easy sending designer Rakhi and Rakhi gift hampers at the desired destination within a specific amount of time.
With Rakhi season looming fast, the wide collection and varieties of Rakhi thread and Rakhi gift hampers comes in market that serves the need of every siblings. The ritual of giving and sending Rakhi return gift to sisters is also very important part of Raksha Bandhan. One can prefer sending gift hampers that serve multiple purposes with just one gift box, despite of sending single gift. Slowly masses are minding toward Rakhi gift hampers, as the celebration is big so the gift is also accepted to be grand. To add more excitement and happiness in this auspicious day, Rakhibazaar.com is all prepared to show the best collection of Rakhi gift hampers. Here are the options:
Rakhi with Cookies
If you want to make this Raksha Bandhan a memorable one for the little sibling of yours, then this category of Rakhi gift hamper is the perfect one. Children love cookies for many reasons, so by sending Rakhi with favorite cookies of your brother, you will definitely make his day full of sweetness.
Rakhi with Dry Fruits
To your health conscious brother, this Rakhi gift hamper is a good choice. Dry fruits (www.rakhibazaar.com/rakhi-with-dryfruits-2.html) like cashew nut, raisins and many more are available that preserve your brother's health.
Rakhi with Puja Thali
Rakhi with puja thali is one of the sensible ideas of online shopping for Raksha Bandhan, as puja thali plays a significant role in completing the rituals of this festival.
Rakhi with Greeting Cards
Rakhi with greeting cards is also an excellent choice to make a gift hamper worthy. This hamper is suitable for the simple living brother of yours who loves simplicity in everything.
Rakhi with Sweets
This Rakhi combo is made inclusive of delectable sweets like rasgulla, gulab jamun, soan papdi and many more. You can give this gift combo to your foodie brother. He definitely loves this idea of celebrating Raksha
Bandhan.
It's not a challenging task to make this Rakhi 2017 special for your siblings. Hurry up! You just have to go through with Rakhi Bazaar, the online Rakhi store to buy and send beautiful Rakhi and Rakhi gift hampers for your brother living in abroad.