Introduction
Raksha Bandhan is a bond, a commitment to share love, sorrow, happiness, and pain. It's that fantastically incredible relationship between brothers & sisters. The culture & traditions around which the Indian society is weaved has always celebrated this pristine festival.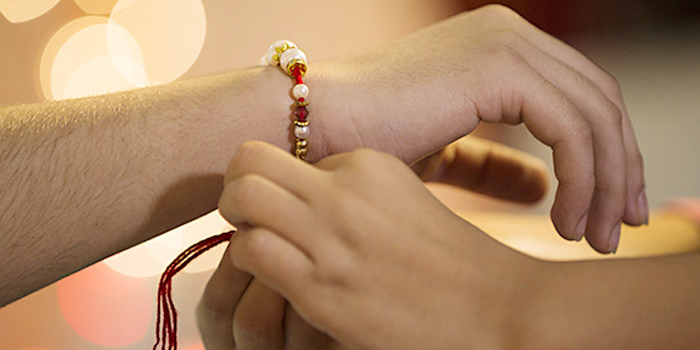 Rakhi 2019 in India
Not just for brothers & sisters, but Raksha Bandhan is a celebration for the entire family. And, every year it comes with a whirlwind of similar excitement and zeal. Rakhi 2019 is on its way and in many homes preparations must already have started. Shops and online stores have already started acquiring ideas to pack their stores with best Rakhi gifts. This year Raksha Bandhan will be celebrated on 15th August. The post is all about Rakhi 2019 Muhurat, date, history and everything that we all are excited to know. Let's find out more on the same:
Raksha Bandhan History
A number of stories and legends relate to the essence of Raksha Bandhan. And, all of them come up with the same moral. This post will be giving you an explanation of a few of those powerful stories. Let's read these stories about Raksha Bandhan and discover the potency of the brother-sister relationship. This is all going to be brief.
Story of Krishna and Draupadi
Once Krishna was doing with the sugarcane when he got his finger cut. On noticing the same, Draupadi, "the wife of five Pandavas", immediately tore off a corner of her saree to put a bandage on Krishna's finger. This made Krishna really emotional and he promised to help her whenever she would be in a difficulty, irrespective of the circumstances.
Consequently, he showed up to help Draupadi when she was being humiliated and her saree was being undraped in front of everyone. Krishna with his divine power made the length of saree infinite and they kept on trying for hours but it never ended. This is when Krishna acted the best brother. The story teaches how an ideal relationship between brothers and sisters should be like.
The Story of King Porus and Roxana
Alexander the Great in 326 BC invaded India. According to this story, at that time, Roxana sent a sacred Rakhi thread to Porus. She was the wife of Alexander and with her sacred thread, she asked Porus not to kill his husband during the war. Porus kept Roxana's word and he refused to do any harm to Alexander on the field even when his party was about to lose the battle. Consequently, Porus lost the battle, but he kept his promise that came with the sacred thread, of Roxana. This story relates to the powerful bond that brother-sister share.
Let's find out Rakhi 2019 Muhurat and dates to celebrate the special power of this trivial thread.
Raksha Bandhan Date 2019 to 2023 Dates
Raksha Bandhan Date 2019
Raksha Bandhan Dates & Muhurat 2019
Rakhi Date 2019: 15th August
Rakhi Shubh Muhurat 2019 – 05:53 to 17:58
Rakhi Aparahan Muhurat – 13:43 to 16:20
Beginning of Purnima Tithi on 14th August – 15:45
End of Purnima Tithi on 15th August – 17:58
Raksha Bandhan Dates & Muhurat 202
Date: 3rd August 2020
Rakhi Tying Shubh Muhurat – 09:28 to 21:14
Aparahan Muhurat 2020 – 13:46 to 16:26
Pradosh Muhurat 2020 – 19:06 to 21:14
Beginning of Purnima Tithi – 21:28 (2nd August)
End of Purnima Tithi – 21:27 (3rd August)
Raksha Bandhan Dates & Muhurat 2021
Rakhi Date 2021: 22nd August
Rakhi Tying Shubh Muhurat – 06:15 to 17:31
Aparahan Muhurat 2021– 13:40 to 16:15
Beginning of Purnima Tithi – 18:59 (21st August)
End of Purnima Tithi – 17:31 (22nd August)
Raksha Bandhan Dates & Muhurat 2022
Rakhi Date 2022: 11 August
Rakhi Tying Shubh Muhurat – 20:51 to 21:10
Beginning of Purnima Tithi – 10:37 (11th August)
End of Purnima Tithi – 07:04 (12th August)
Raksha Bandhan Dates & Muhurat 2023
Rakhi Date 2023: 30 August
Rakhi Tying Shubh Muhurat – 21:01
Beginning of Purnima Tithi – 10:58 (30th August)
End of Purnima Tithi – 07:04 (31st August)
Raksha Bandhan Dates & Muhurat 2024
Rakhi Date 2024: 19th August
Rakhi Tying Shubh Muhurat – 13:29 to 21:05
Rakhi 2024 Aparahan Muhurat – 13:42 to 16:17
Pradosh Muhurat – 18:52 to 21:05
Beginning of Purnima Tithi – 03:04 (19th August)
End of Purnima Tithi – 23:54 (19th August)