Raksha Bandhan is one of India's most joyous and cheerful occasion which is celebrated all across the world with optimum zeal and excitement. The festival honors and cherishes the most selfless and enduring bond shared between a brother and sister. We get chance once in a year when we can gratify our siblings and can recall those childhood moments which will never happen again. It is a festival of Rakhi thread, gifts, chocolates, sweets, family gathering, and lot of fun.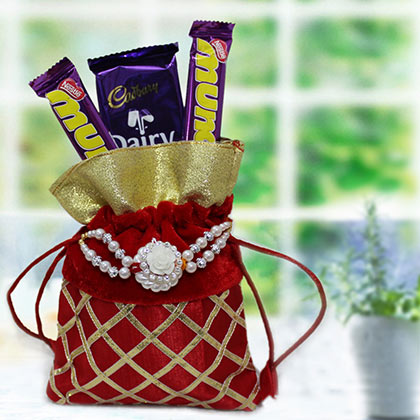 As exchanging gifts is a significant aspect of Raksha Bandhan festivity, at times people got puzzled with the idea that what to gift their near and dear ones. Rakhi Bazaar is one such online Rakhi shopping portal which is inclusive of loads of Rakhi gifts ideas and with intention help people in finding apt Gifts for Raksha Bandhan, we have listed some mesmerizing Rakhi Gifts ideas from portal's collections as:
Divine Gifts to Wish a Propitious Life Ahead
Divine gifts are perfect gesture to gift your brother /sister on this pious occasion. These gifts will not only act as souvenir but also bring prosperity in receiver's life. A divine gift can be idols of popular deities such as Lord Shiva, Lord Ganesh, Goddess Laxmi, Lord Sai, Lord Buddha and more. There are a lot of Feng Shui gift can also be found on the portal. If you wish to gift your sibling something auspicious then divine gifts are perfect choice.
Good Luck Plants to Bring Good Fortune
If you want to present something unconventional to your sibling then there is nothing better than Good Luck plants. A vast array of lucky or good plants is available on the portal which includes money plants, Gerbera plants, Bonsai plants, sedum plants, tulsi plant and a lot more. A lucky plant will bring good fortune in receiver's life and will always remind him about you.
Chocolate Box: A Munching Treat on Joyous Occasion
Though, chocolate is not a traditional part of Raksha Bandhan festivity but nowadays no festival, joyous occasion or event can be considered accomplished without treating each other with delicious chocolates. Stun your sibling with a box full of chocolates from renowned brands on this delightful occasion and let him get lost in rich taste of lips smacking chocolates.
Rakhi Cards: A Genuine Means To Express Love
Presenting your sibling a colorful Rakhi card containing some meaningful and emotional lines will strengthen your bond with sibling. You can write much loved quote or a short note dedicated to your sibling. If you wish to make a big space in your brother's heart, then present an elegant Designer Rakhi along with a decent Rakhi cards containing a self written poem dedicated to your affectionate brother.
You can get make a choice from above mentioned gift ideas and can avail from Rakhibazaar.com. If you want to explore more gifts, then log in to portal and explore its extensive collection of Rakhi gifts. As portal is devoted to Raksha Bandhan festival, it encloses a dazzling collection of Rakhi sets and this collection is inclusive of set of 2 Rakhis, set of 3 Rakhis, set of 5 Rakhis (www.rakhibazaar.com/set-of-5-rakhis-49.html) and set of 8 Rakhis etc. Moreover, if you need send Rakhi thread, Rakhi gifts or Rakhi sets anywhere across India and overseas, you can do the same through Rakhibazaar with optimum ease and convenience.