The word Rakhi brings very emotional and nostalgic memories for every brother and sister. Every year, this auspicious festival is celebrated in the month of July/August on Shravana Purnima according to the Hindu calendar. Sisters fondly tie scared Rakhi thread to their brothers to express sisterly love and affection for their dear brothers. This unique Indian festival transcends above physical, caste & religious barriers. Sisters staying outside India would send rakhi to India for their beloved brothers & express their love by sending delightful Rakhi Gifts. People of all age groups whether young or old take part on this occasion.
This festival gives the message of unity, harmony and peaceful coexistence. It signifies that the moral duty of a brother to stand besides his sister under all circumstances. Thus, your brother deserves the best Rakhi in the town. Check out some of the popular & attractive rakhi designs below: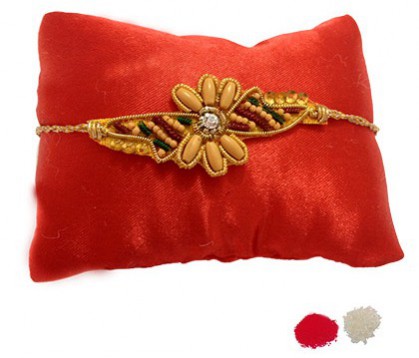 1.    Floral Rakhis
Floral Rakhis comes with various floral designs with an elegant and flowery look. Sometimes, these rakhis comes with charming fragrance and adds to the extra appeal to the finished Rakhi product. Decorative elements like pearls, beads, sequins, glitters and semi precious stones are been adorned on these rakhis.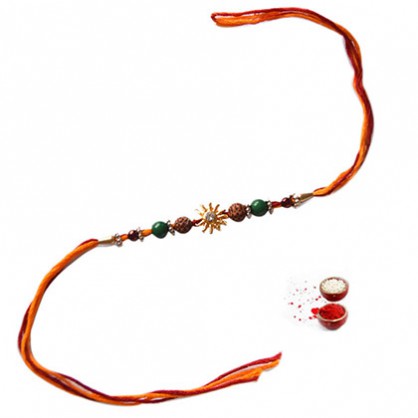 2.    Thread Rakhis
During ancient times, traditional rakhi with simple thread were tied over the right wrist of the brother.  With changing times, modern rakhi are now more than a simple thread. Colourful threads like Mouli, silk, satin ribbons or zari materials are been used for making thread rakhi. Eye catch materials like sequins, stones, silver, gold, pearl and other fabulous materials are been added on to enhance the appearance of the rakhi thread. Multicolored rakhi thread also looks elegant & classic.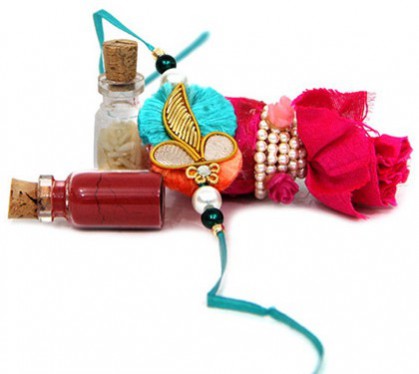 3.    Zari and Zardosi Rakhis
Zari Rakhis are made of fine threads decorated beautifully using metallic add on like bead-work, satin strands, stonework and so on. They are also crafted by using precious gold, silver and diamonds for imparting a royal look. Zardosi Rakhis are also extensively popular due to their exclusive and intricate metallic fine work. These Rakhi are more like of ornaments with Fancy combination of fabric and metal wire. The crafted work delicately combines resham, i.e. silk, sequins, studded stones, multi coloured beads, fabric thread with thin metal wire to make a marvelous rakhi piece.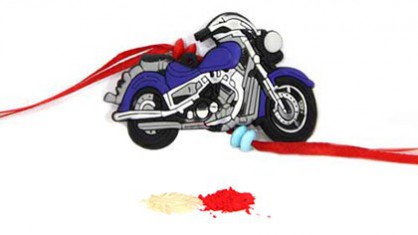 4.    Children's Rakhis
Children have special fondness for each festival. In fact they wait throughout the year for Raksha Bandhan to eat delicious sweets, chocolates and tying/wearing attractive rakhi. Thus, children rakhi looks elaborate, funky & colourful.   They are made of light & fluffy decorative pieces including innovative, fancy cartoon characters and humorous motifs designs. Kids get easily excited and delighted to see various cartoon rakhi on display. Rakhi makers launch special rakhi with popular cartoon and comic characters like Archies, Doraemon, Shaktiman, Spiderman, Little Hanuman, Mickey Mouse, Tom n jerry, Shrek and others.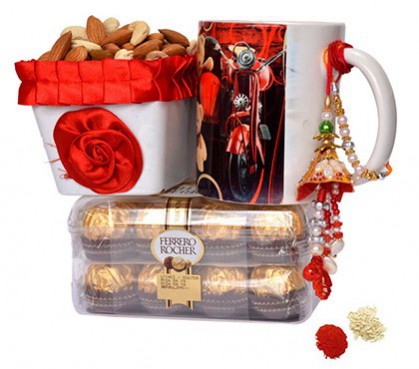 5.    Bhaiya Bhabhi-Lumba Rakhi Set
In some parts of India, there is a special custom of tying rakhi to brother & sister in law (Bhabhi) as well. This tradition is celebrated for creating a special bond of warmth & love with the Bhabhi.  After the marriage of brother, both brother & his wife become respect worthy for the sister. It is another way to welcome & cherish the new person in the extended family.
Thus keeping this tradition into account, Rakhi makers have come up with Lumba Rakhi set. It includes pair of rakhi with almost similar designs (or sometimes with little variations) for tying rakhi to Bhaiya & Bhabhi. So, these are five fanciful choices of modern rakhi. Log to Rakhibazaar.com and check out designer rakhi range at best price.
Related Posts :-