We share our pain, sorrow, joy and happiness with our loving sisters. They truly care about us (brothers) and wish to see us happy forever. We all should value our sisters and always make them feel greatly loved because they deserve to be pampered and to do so we got a chance once in a year in form of Raksha Bandhan. This is the occasion when we can gratify our sisters with amazing Rakhi return gifts.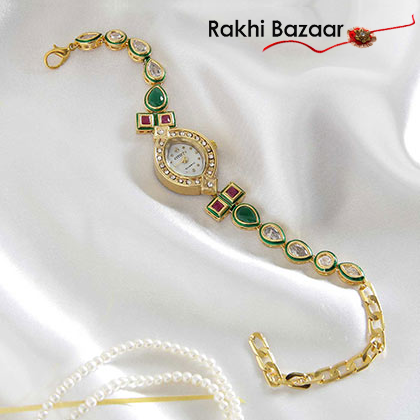 Return gifts are presented by brothers to their adorable sisters. These gifts are usually presented after Rakhi tying ceremony when sister tie Rakhi on brother's wrist, applies tilak (Roli and chawal) on the forehead of brother, performs Arti and treat him with sweets and gifts.  As exchanging gifts between siblings is a significant aspect of Raksha Bandhan festival, return Rakhi gifts for sister have their own importance. With the intention to help brothers to get best Rakhi returns gifts, here we have listed 5 amazing Rakhi return gifts for sister, as:
Cosmetics
Ladies of every age love to appear pretty. You can adore your sister by gifting a hamper including cosmetics and beauty products of renowned brands and it is surely be cherished by her greatly.  This gift will not only be functional but will also make her realize that how much you care for her.
Perfumes
If you wish to make your sister thoroughly amazed, then gift an excellent perfume carrying pleasant aroma to her. You can make a choice of combo of perfume and deodorant as well. This complete aromatic kit would really be admired by your loving sister.
Soft Toys
Soft toys are fluffy and cute therefore easily can win hearts of soft hearted sisters. Your sister will be extremely enchanted on receiving soft toys on Raksha Bandhan occasion. You can choose teddy bears, bunnies, kitten, and puppies as soft toys to gladded and adore your dearly loved sister.
Chocolate Boxes
Treat your adorable sis with a box full of luscious chocolates from renowned brands and surely she will jump up with joy on receiving this hamper on this blissful occasion. Though, chocolate is not a traditional part of Rakhi celebrations but nowadays any cheerful occasion not considered completed without treating each other with munching chocolates.
Rakhi Greeting Cards
Rakhi greeting cards are most genuine and thoughtful Rakhi return gift for a sister. You can write your own feelings that you have for your loving sister in this card or can write self composed poem in this cards. Express your love with an attractive and decent Rakhi cards to your loving sister, and there will be a big space for you in her heart.
If you wish to avail gift from above mentioned suggestions then you can avail it through Rakhibazaar.com easily. To explore more fascinating Rakhi gifts you can visit portal's collection of Rakhi returns gifts for sister. Moreover, portal is inclusive of a dazzling yet matchless collection of Rakhi for Brothers which includes plethora of premium Rakhis such as stone studded Rakhi, silver Rakhi, Designer Rakhi, pearl Rakhi, auspicious Rakhi and a lot more. These Rakhis can easily be delivered across India and overseas places hassle free.